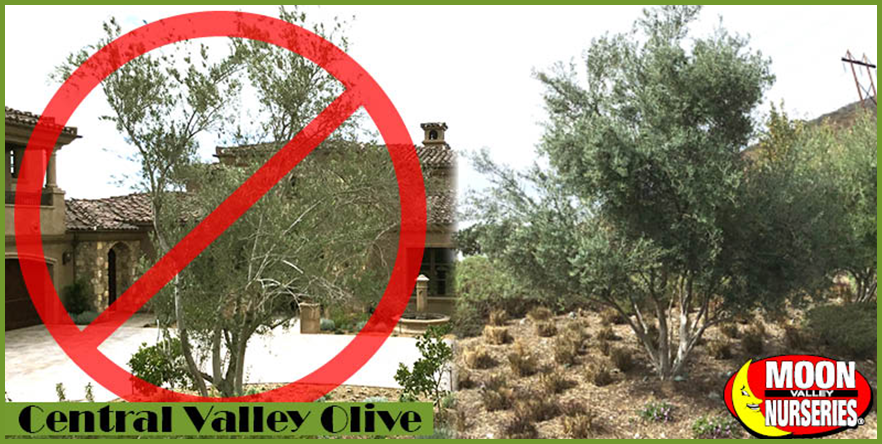 CENTRAL VALLEY OLIVES AND THEIR IMPACT ON HOMEOWNERS
Don't be fooled by cheap trees!
Beautiful silver green foliage with lacy arching branches combine to make a thick dense shade and are the perfect symbol of a Mediterranean escape. This is what makes the olive trees, (olea europea), so attractive to homeowners. Unfortunately, there is a disease that is threatening to ruin our beautiful trees and this disease has originated from the Central Valley region in California. Olive Quick Decline, as it is called, is quickly taking over the tree, causing branch die back and eventually the entire tree will parish. Olive Quick Decline has similar symptoms to leaf scorch from psyllids, (which is another issue in the Central Valley).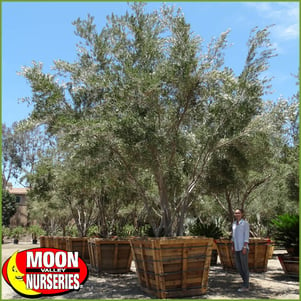 Quick Olive Decline can be spread by insects, pruning, and other environmental factors. The easiest and best way to prevent the spread of this disease is to avoid buying Olive trees from the Central Valley region and purchase local Southern California grown trees from reputable sources such as Moon Valley Nurseries. Contractors and landscapers are purchasing these Central Valley Olive trees because they are able to get inferior trees, cheaply, and make a larger profit all while undercutting local growers.
Don't be fooled by a low price on a cheap olive tree, you could be putting the rest of your landscape in danger by doing so. Moon Valley Nurseries has been growing trees for decades and has our very own Olive tree farm nestled in the beautiful Temecula wine country that is several hundred acres and growing! We grow all types of Olives from the fruiting Manzanillo and Mission Olive trees to Ancient Olives 100+ years old and the Fruitless Wilsonii Olive trees as well. All of our Olive trees are certified disease free and are guaranteed to stay that way for at least 2 years, no other company can say that! Moon Valley Nurseries has also been planting trees for decades and has a team of expertly trained professionals that will come to your home and get the job done right the first time.
Don't wait any longer and take any chances with your landscape, stop into any Moon Valley Nurseries today and purchase the best Southern California Olive trees available!