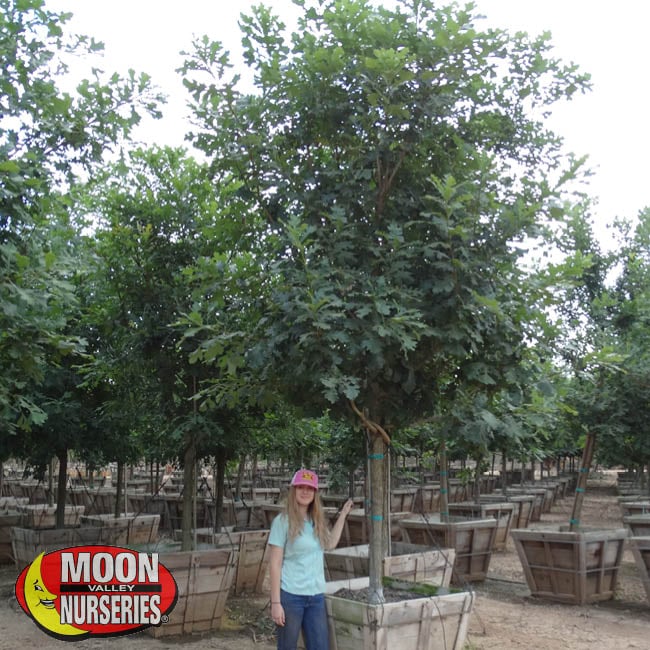 The Mighty Oak Trees Straight Out of Texas
In Texas, we love our oak trees! Whether we are climbing them or finding some desperately-needed relief, under their large canopy, from the intense summer sun. At Glen Flora Farms, we have been custom-growing our very own premium oak trees, such as Mexican Oak, Bur Oak, Live Oak, and Shumard Oak for over three decades. Obviously, oak trees are a favorite for anybody from Texas and we make sure to provide the best quality oak trees for them!
Moon Valley Premium Oak Trees – The Perfected Oaks
Why settle for just any oak tree when you can have the best one being grown just for you. At Glen Flora Farms, we offer container-grown trees, which eliminates root damage when transplanting to their new home. On top of that, our oak trees are pruned perfectly by our container-growing nursery specialists. This makes sure that you get the healthiest oak tree possible.
Oak trees love to grow in our Texas climate – they like warm, humid weather. They prefer to grow in a location with full sun exposure, which is at least six hours of direct sunlight. Give an oak tree enough room to breathe and grow, and they will easily change your entire landscape. If you decide on planting other plants around an oak tree, we offer a variety of plants and shrubs that can complement and highlight any of our oak trees. We recommend laying two to three inches of mulch around the base of the oak tree to keep it from drying out and planting some colorful small shrubs or ground cover near the base and under the canopy.