FEED YOUR LANDSCAPE FOR THE BEST GROWTH
Now is the time of year when everything on your landscape will benefit from an extra dose of essential nutrients to help them thrive all year long in our native soils. It doesn't matter what types of plants or trees you have on your landscape as palm trees, tropical plants, fruit and citrus, shrubs, and evergreen trees all need these nutrients to grow strong and healthy.
MOON VALLEY NURSERIES FERTILIZERS & SUPPLEMENTS
With so many fertilizers on the market, it can be overwhelming trying to find the right one for your landscape. Fortunately, the nursery pros at Moon Valley Nurseries have eliminated the headaches and struggle for you. We have developed highly specialized blends of fertilizer and supplements designed to trigger growth responses for our native soils.
These fertilizers have been tested time and time again. Our pros have been growing and planting trees and shrubs in our region for more than 30 years. We use all our fertilizer and supplement products on all our trees and plants in our nurseries, grow yards, and our hundreds of acres of tree farms. We have seen the amazing transformation our plants went through once we developed these products and are proud to be able to offer them to our customers at all nursery locations and online. Keep reading to see which products will work best for your yard!
TOP FERTILIZERS & NUTRIENTS FOR LANDSCAPES

Our Super Charged Moon Juice is a growth enhancer that utilizes a patented Furst liquid technologies mixture. This mixture contains an exclusive blend of organic enzymes and amino acids that stimulate growth signals within the plant. Environmental signals will normally regulate plant and tree growth cycles. Applying Moon Juice will help stimulate these signals in your plants and trees, helping to boost growth at any time of the year. Moon Juice also benefits trees and plants with a speedy recovery from seasonal stresses caused by extreme heat, freeze, wind damage, and transplanting.
There are other significant advantages when using Moon Juice. Some of these include new root hair growth and its ability to help plants ward off diseases and possible infections from outside sources. Moon Juice also makes watering more effective because it helps open the plant roots to uptake more water and nutrients. This can help reduce the amount of water your plants will need making them more waterwise.
Used as directed, Super Charged Moon Juice is extremely easy to use. All you have to do is mix the appropriate water amount and apply it to the root area. With Moon Juice – a little goes a long way!
When to Use:
New transplants

Weather stresses such as heat, freeze, wind damage
How to Use
For best results, we recommend monthly applications. At minimum, apply once per season: Spring, Summer & Fall.
Trees and Palms- Mix five tablespoons per gallon of water. Saturate entire root area with mixture. (Max. five gals)
Shrubs and VInes- Mix four tablespoons per gallon of water. Saturate entire root area with mixture. (Max. two gals)
Bedding Plants - Mix three tablespoons per gallon of water. Saturate planted area with mixture. (Max. one gal. per sq. yard)
Potted Plants - Mix three tablespoons per gal. of water. Saturate potted soil until medium wet. (Do not over saturate potted soil)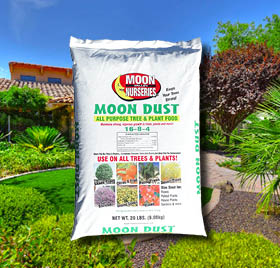 All trees and plants need Nitrogen, Phosphorous, and Potassium as their primary nutrients for healthy living. Moon Dust provides the essential elements in a perfect ratio that will benefit virtually every plant in your landscape. Just spread it on top of the soil, water thoroughly and it will feed your plants for months! Feed all your trees and plants no matter how big or small they are! Citrus and fruit trees love Moon Dust and produce larger, juicier and tastier crops after application. It also helps flowering shrubs achieve longer and more abundant bloom cycles.
It is easy to see why this custom organic blended Moon Dust is one of our top sellers for an all-purpose fertilizer. Not only does it supply plants with needed nutrients, it also helps stabilize the soil your plants grow in. This makes sure that your trees and plants are taken care of in every way.
When to Use
Vigorous root growth
Rich green leaves
Strong new growth
How to Use
Moon Dust is a quick-dissolving granular fertilizer. Simply spread evenly over the root area of the tree (under the canopy) or plant and water thoroughly after application. Do not allow fertilizer to pile up against the trunk or branches near ground level.
For Trees -

Apply at a rate of 1/2 cup per inch of trunk diameter.


Example: If the tree trunk is four inches across, two cups of fertilizer should be applied. Do not exceed three cups.

The best way to keep your tropical landscape looking lush and healthy is by using Super Palm Juice. Palms have special nutrient requirements compared to other trees that may be in your yard. Palms use a variety of different macro and micronutrients, including Potassium, Manganese, Iron, Sulfur, Zinc, Copper & Boron.
Super Palm Juice is a super easy-to-use liquid formula containing all these essential nutrients. It can enhance the appearance of your palms, keep them healthy and able to thrive in the intense summer heat, as well as make them much cold hardier than weak, malnourished palms.
Using as directed will produce thicker, stronger trunks while maintaining the healthy, dark green appearance that results in lush, dense crowns. Just give the Palm Juice a good shake, mix the appropriate water amount (varies by palm), give the palm a good amount of water after you pour the mixture, and you are done!
When to Use
Transplanted palms
Stressed or yellowing palms
Weather stresses
How to Use
Shake well before mixing with water. Mix Super Palm Juice with water at the rate of one cup (8 fl. ounces) of Super Palm Juice per one gallon of water. Thoroughly water each palm after applying the mixture.
For Younger and Dwarf Palms- Apply 1 to 2 gallons of mixture evenly around the entire area where the palm gets watered.
For Mature Palms - Apply 2 to 4 gallons of mixture evenly around the entire area where the palm gets watered.
Our Moon Green is a liquid iron and soil acidifier. It was created as a super easy and safe solution for correcting yellowing trees and plants. Iron Chlorosis is what causes the yellowing of plants and is a problem for many homeowners in our region. Moon Green helps reduce soil alkalinity, neutralizes tight clay type soils, and promotes darker and greener leaves and grass.
Infusing Moon Green with Furst liquid brings the critical organic enzymes and amino acids to the tree and plant that helps stimulate growth signals from the roots. These nutrients help stimulate root hair growth and stronger cell development, allowing water and essential micronutrients to pass through to stems and leaves much more efficiently.
When to Use
Reduce soil alkalinity
Neutralize tight clay soil
Create fuller hedge plants
Correct yellowing foliage
How to Use
Shake well before mixing with water. Mix Moon Green with water at a rate of four ounces per one gallon of water. Best to mix in a large bucket or watering container. Water thoroughly after applying the mixture and be sure to wash any of the mixture that may have splashed on to the foliage.
For Shrubs - Apply one to two gallons of mixture to the root area.
For Lawn/Garden Prep - With sprayer, apply mixture evenly at a rate of one gallon per 500 sq. ft.
For Trees and Palms - Apply three to six gallons of mixture to the root area.


One of the most challenging aspects of growing trees and plants is trying to grow them in hard, compact soil and the high pH imbalance often found in soil and water in our region. ur Soil & Water Conditioner is used to help break up the hard clay/alkaline soil present in our area.
This conditioner contains sulfur and gypsum which counteract salt buildups and helps to loosen tough, hard soil. Sulfur can reduce the high pH and allows excess salt buildup to be flushed out of the root system, creating a soil base that converts nutrition easier. Gypsum can work its way into hard, compact clay, loosening the soil, which leads to better drainage and healthier soils! We recommend several applications per year.
When to Use
Reduce effects of salt present in water and soil
Encourage deeper root growth
Loosen the tight/heavy soil
How to Use
Spread the fertilizer evenly underneath the entire tree or plant. Do not allow fertilizer to pile up against the trunk or branches near ground level. Water all trees and plants immediately after fertilizing. Using a hose to saturate the entire fertilized area is recommended to improve fertilizer efficiency.
For Lawns- Apply directly over the top of existing lawns or mix into soil before installing new lawns at a rate of 10 to 20 pounds per 100 square feet. Thoroughly water after application.
For Trees and Shrubs - Spread over entire root area and lightly mix into the soil. Thoroughly water after application.
Trees

– two to four cups every other month
Shrubs

– ¼ to one cup every other month
Not seeing a product for your landscape needs?
For Desert landscapes, lawns, and additional palm supplements check out these products below!
For the best trees on Earth, go straight to the Moon

™
Moon Valley Nurseries does it all. You name it, we got you covered. We are the growers of thousands of varieties of trees and plants. We are the nursery with the biggest and best trees. We design landscapes and make them come to life when we deliver, plant, and set up your perfect yard! We even offer free in-store design and free planting! Come by your nearest nursery and see why we are the best on Earth!