Back to main Blog
Luke Kalawsky
Luke Kalawsky has a passion for all things trees, plants, and landscape design. He has designed numerous landscapes as the head designer in the Surprise, Arizona region until he became a manager of our Central Phoenix Nursery. He now dedicates his knowledge, expertise, and creative capabilities to help the masses discover how to design, plant, and maintain their landscapes with his writings.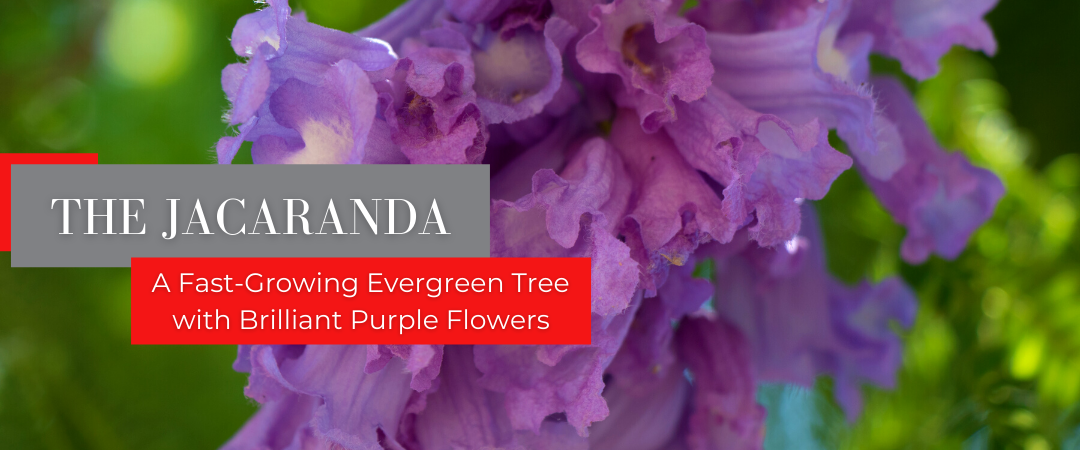 Jacaranda trees are one of the most beautiful flowering trees in the western United States. They have many qualities that set them apart and have made them a favorite amongst homeowners, business owners, and landscape designers alike.
In this deep-dive into the beloved Jacaranda tree, you will discover the many benefits and uses this versatile tree has to offer, as well some of the most commonly asked questions about Jacarandas.
PURPLE FLOWERS & COOLING SHADE
Jacaranda mimosifolia trees are most easily recognized during the late spring and early summer when they display a brilliant array of deep purple flowers. This incredible coat of blooms has earned Jacarandas the spot as the most beautiful purple flowering tree and our top-selling flowering tree overall.
If you are looking to add color to your yard or business, you'll be hard-pressed to find a better spectacle than jacaranda trees can bring to your landscape.
The admirable qualities of Jacarandas don't simply end with their jaw-dropping clusters of purple flowers. They are practical as much as they are beautiful. Jacaranda trees are great shade trees. Their fern-like foliage and the graceful, wide canopy provides filtered shade during the warmest seasons of the year.
Jacaranda trees can be grown as a single or multi-trunk variety, furthering their versatility. If you need more height to shade a second-story window, a single trunk Jacaranda will accomplish that goal with ease. If you are needing a more widespread growth pattern or are looking to the Jacaranda's ornamental qualities, the multi-trunk format will bring interest and curb appeal to any landscape.
ANSWERING THE MOST COMMON QUESTIONS ABOUT JACARANDA TREES
WHERE DO JACARANDA TREES GROW BEST?
Jacaranda trees are natives of Brazil and grow best in warmer climates, making them a perfect choice for landscapes in the southwestern United States.
They love full sun exposure and adapt to many different soil compositions. They are similar to Mimosa trees in appearance, but grow much better in full sun exposures and tougher soils.
HOW FAST DO JACARANDA TREES GROW?
The Jacaranda is a fast-growing tree appreciated by many landscape designers and homeowners for its quick growth rate, allowing it to cover a yard with cooling shade faster than many other flowering trees.
They also can grow larger than many other ornamental trees, further establishing them as a great choice for when color is desired, but a shade tree is needed as well.
WHEN DO JACARANDA TREES BLOOM?
Jacaranda trees bloom massive clusters of deep purple flowers in mid to late spring. The flowers continue to bloom into the early summer. The bell-shaped flowers attract hummingbirds and butterflies, adding to the Jacaranda's whimsical appearance when in bloom.
HOW TO CARE FOR JACARANDA TREES
Jacaranda trees are easy to care for trees that require little maintenance to get the many benefits they bring to the table. A bit of extra attention does go a long way, however, as regular application of nutrient-rich fertilizer, such as our Moon Dust, will promote more lush growth of the fern-like leaves and an abundance of purple flowers in the spring.
We recommend fertilizing on a monthly schedule starting in the early spring and continuing into late summer to early fall.
Once Jacarandas establish in a landscape, they become drought-tolerant and require little to moderate watering. They also benefit from pruning and trimming in the fall to shape them as desired and clear out any unnecessary growth.
WHERE TO BUY JACARANDA TREES FOR SALE
Moon Valley Nurseries grows all our Jacaranda trees right here in our local climate and soil to ensure an easy and successful transition to your yard. We have thousands of the best Jacaranda trees for sale at our nursery locations. Our nursery pros are happy to help you select the perfect trees for your landscape.
Our professional planting crews make sure your trees are ready to thrive and we guarantee everything we plant for you! From our farms to your yard, nobody does it better. For the best trees on Earth, go straight to the Moon!