Christmas Trees Are Here! Are You Ready?
One of the many joys of this time of the year is getting to celebrate the Christmas holiday season with family and hand-selecting the perfect Christmas tree to decorate and adore. For some people, they have been waiting all year JUST to get their perfect, aromatic tree and start the holidays off the right way!
At Moon Valley Nurseries, it has become a tradition to bring the best trees to our California neighborhood families to enjoy year after year. At every Christmas tree lot, we have many trees to choose from Noble Fir, Fraser Fir, and Douglas Fir.
Our Christmas trees are cut fresh and express-shipped straight to California to bring our customers the best trees in the area. Keep reading to learn more about these fir tree varieties, how to pick the best tree, and how to care for it once it's in your home.
Best Christmas Tree Varieties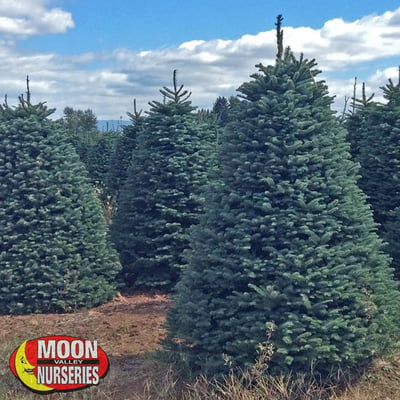 Noble Fir
The Noble Fir is a holiday favorite for the Christmas season. Noble Firs are beautifully-shaped with symmetrical branches that make them ideal for hanging both light and heavy ornaments. Their open branching allows for easier and faster decorating than other trees.
People also love them because of their longevity. Families will enjoy the attractive blue-green needles throughout the Christmas season. Their sturdy branches can also offer excellent greenery for wreaths and garland decorations.
At Moon Valley Christmas lots, you can find freshly cut Noble Fir trees as small as tabletops and as tall as 20 feet. If you appreciate the aroma of a fresh-cut tree, you'll love that we have the longest-lasting fresh-cut trees you can find in town.
Fraser Fir
Many people consider the Fraser Fir tree to be the perfect holiday tree, and we agree! The Fraser Fir grows in a wider Christmas tree shape with strong branches that can hold up every ornament, even the heavy ones, and strings of lights!
The branches are evenly spaced to allow for more areas to decorate with your favorite ornaments. This fir tree produces one-inch, soft needles that are green on top and silver underneath.
For ultimate needle retention, keep watering as needed, and this tree will be looking good for weeks - maybe even longer! The tree preservative at every Moon Valley Nurseries tree lot will enhance your tree and keep it thriving for you to enjoy that much longer.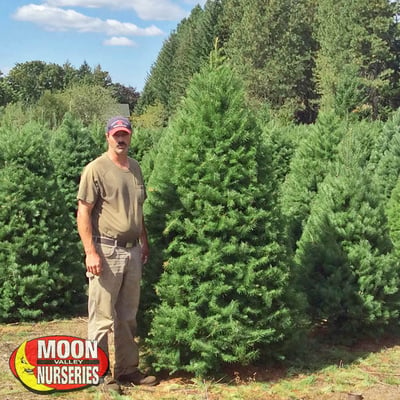 Douglas Fir
The Douglas Fir has a beautiful display of 1 to 2-inch green needles that release the most potent fragrance of all other trees. The Douglas Fir is instantly recognized by the crisp, sweet aroma and it's this scent that makes it one of the most popular Christmas tree species in the United States!
These trees have more delicate branches and can hold a good number of ornaments but not quite as many as Noble or Fraser Firs. The foliage can be very dense, It is sometimes so thick that you can't even see the trunk!
Moon Valley Nurseries has Douglas Fir trees in nearly all sizes, from small table-top sizes to trees up to 15 feet tall. The Douglas Fir does need more water than other varieties so it's best to make sure they have water regularly and not be placed near any heat sources (i.e. windows, fireplace).
Tips to Find the Perfect Christmas Tree
Bounce the tree: Hold the tree up a few inches from the ground and drop it (be sure you don't let the tree fall on its side!) If a few needles drop, you have a good tree. If many needles drop, move on, and find another.
Test the needles: Grab the interior side of any branch on the tree. Close your hand and pull it towards yourself. If you end up with a bunch of needles in your hand, move on. Fresh trees should have minimal to no needles falling off the branches.
How to Keep Christmas Trees Healthy All Month
1. Make sure to find a perfect spot for your tree: It's best to keep Christmas trees from direct sunlight, air vents, and away from fireplaces. Be prepared and pick a place for your tree before you even stop by and pick it out. This way, you can set it up as soon as you get home!
2. Stand your tree upright immediately after arrival: Fill the water basin once the tree is securely set up. We offer a professional tree preservative to add to the water basin, which is available for purchase at our Christmas lots to help keep your tree stay fresh through the holidays.
3. Check and fill the water: Check the water levels every few days and keep it filled with water and the tree preservative (if purchased). Watering is the essential step to keep your tree healthy through the holidays (and maybe even into the New Year!).
Visit Moon Valley Nurseries Christmas Tree Lots
Moon Valley Nurseries is proud to be able to offer the California communities the best Christmas trees in the state! Come by any day between 9 am to 9 pm, at any of our multiple locations, and let us help you find the best tree for the best time of year! Click here for California location details and more!