Back to main Blog
Luke Kalawsky
Luke Kalawsky has a passion for all things trees, plants, and landscape design. He has designed numerous landscapes as the head designer in the Surprise, Arizona region until he became a manager of our Central Phoenix Nursery. He now dedicates his knowledge, expertise, and creative capabilities to help the masses discover how to design, plant, and maintain their landscapes with his writings.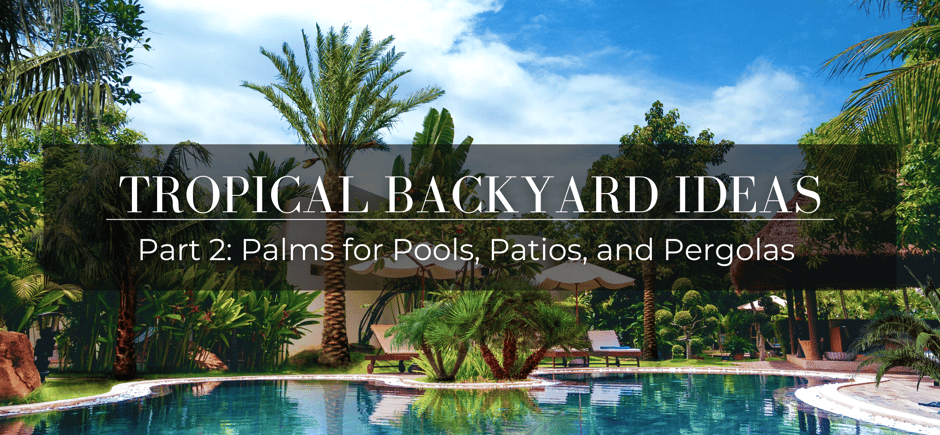 For most of us, the idea of relaxing on sandy beaches with a cold drink in hand while lying under the gentle sway of palm trees are moments we dream about, look forward to, or even put away money for. The purpose of a relaxing vacation is to rest and let the world fade away.
In this installment of our Tropical Backyard Ideas series, you'll learn how to recreate that feeling of the tropics, but in your own backyard! Using a variety of palm trees and a few clever design ideas, you won't have to go far to getaway!
If you haven't read the other articles in our Tropical Backyard Ideas series, check them out for some tasty drink recipes that are sure to delight your tastebuds, and the best selection of flowering trees to add some serious color to your backyard oasis!
LAYER FOR LUSHNESS
In order to create an immersive tropical look and feel around your pool, patio, or pergola, it is important to use a landscape design technique called layering. Layering is the concept of placing larger trees and plants as focal points that you'll build layers around with progressively smaller plant material, thus creating a "layered" look. Below you can see an example of a wonderfully layered Tropical landscape style surrounding a very nice poolside tiki hut!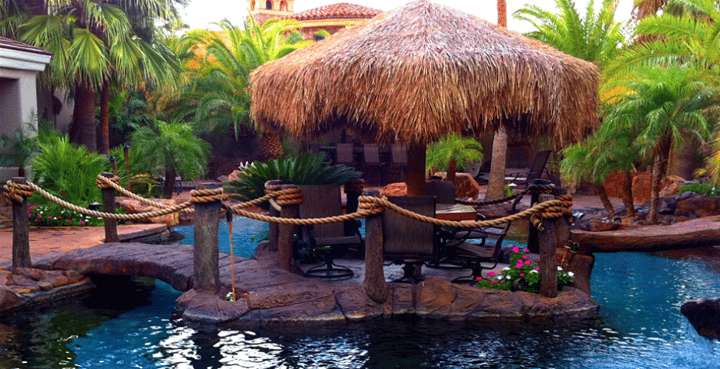 This technique helps bring lushness and variety to your yard and is an incredibly important aspect of creating a tropical paradise in your backyard. If you would like more information on layering and to see examples of other styles of layered landscapes, you can read our article on layering here!
PALMS FOR SHADE AND STRUCTURE
Taller palms make a great starting point for tropical yard designs because they help define the structure of the area as well as providing an excellent amount of shade to relax under. These large palms, with full crowns and interesting trunk patterns, make a lovely centerpiece to build your layers around and help to reinforce the mood of your backyard oasis.

Nothing screams tropical paradise more than a world-class island resort. These getaway destinations use resort-style date palms to create their signature regal atmosphere. You can bring that same high-end look to your yard using these majestic palms.
Click Here To Shop Resort Style Date Palms™!

Canary Island Date Palms, also known as Pineapple Palms, are one the best palms for tropical-styled shade. They have a wide trunk that builds up to a huge crown full of lush palm fronds. These palms are the perfect choice for the person who wants a big, tropical canopy to cool down areas of their yard.
Click Here To Shop Canary Island Date Palms!

This special Piru variety of Queen Palms, exclusive to Moon Valley Nurseries, features more robust trunks and fuller crowns than your typical Queen Palm. When you need a tall palm that looks fantastic in clusters and brings your landscape a hearty helping of structure and shade, the Piru Queen Palm™ is a solid choice!
Click Here To Shop Piru Queen Palms™!
SMALL AND MEDIUM PALMS TO ADD INTEREST
The second stage of developing your personal paradise is to fill in your layers with medium and smaller-sized palm varieties. These palms are a perfect option for greening up areas around patios and pergolas and sit nicely nestled around your taller palm trees.

Another Moon Valley Nurseries® exclusive, the King Piru Palm™ takes the best qualities of two select palms and marries them together for a powerhouse of strong characteristics. They feature very full crowns and lush foliage atop a thick reddish trunk with a beautiful overlapping pattern. King Piru Palms™ are also hardy in extreme heat and cold.
Click Here To Shop King Piru Palms™!

Whether you want to have a purely tropical oasis or pull in some Tuscan influence, Mediterranean Fan Palms are an excellent choice for clustering around patios and pergolas. They also work incredibly well as an attention-grabbing specimen around your pool.
Click Here To Shop Mediterranean Fan Palms!

Sago Palms are one the best choices when it comes to adding accents to your backyard paradise. While not actually a palm, but a cycad, these bright green plants are equally at home adding interest around your pergola or patio as they are around your pool deck.
Click Here To Shop Sago Palms!

CHANGE THE WHOLE VIBE
One unique plant we would like to give an honorable mention to is Golden Bamboo. Bamboo instantly adds an exotic Asian flair to your tropical hideaway. It doubles an excellent privacy screen and can be used to border off areas such as your patio or a pool cabana to make things feel cozier and more private.
Click Here To Shop Golden Bamboo!
PARADISE FROM THE PROS
Planning, designing, and planting a tropical backyard that is worthy of appearing on the Travel Channel can be hard. If you would rather leave all the technical details and creative aspects of forming your oasis to the pros, we have you covered!
Our landscape design professionals have years of experience in plotting out tropical getaways in thousands of yards. They make the process easy by selecting palms, trees, and plants that look amazing together, perform well in our climate, and meet your desired levels of maintenance and care. After the design and selecting the exact specimens for your yard, our planting crews will have everything expertly planted for you, so you don't have to lift a finger. Talk about resort-style living!
Our professional landscape designers are here to help you create a paradise in your landscape. We offer free in-store consultations and can come out to your home as well! To schedule your design consultation and begin transforming your landscape into your dream paradise, click the link below!
To enjoy more tropical backyard ideas, check out our other articles in this series:
TROPICAL BACKYARD IDEAS - PART 1: TIKI BAR TRANQUILITY
TROPICAL BACKYARD IDEAS - PART 3: THE FLOWERING TREES & PLANTS OF PARADISE
Updated March 2022 by Luke Kalawsky