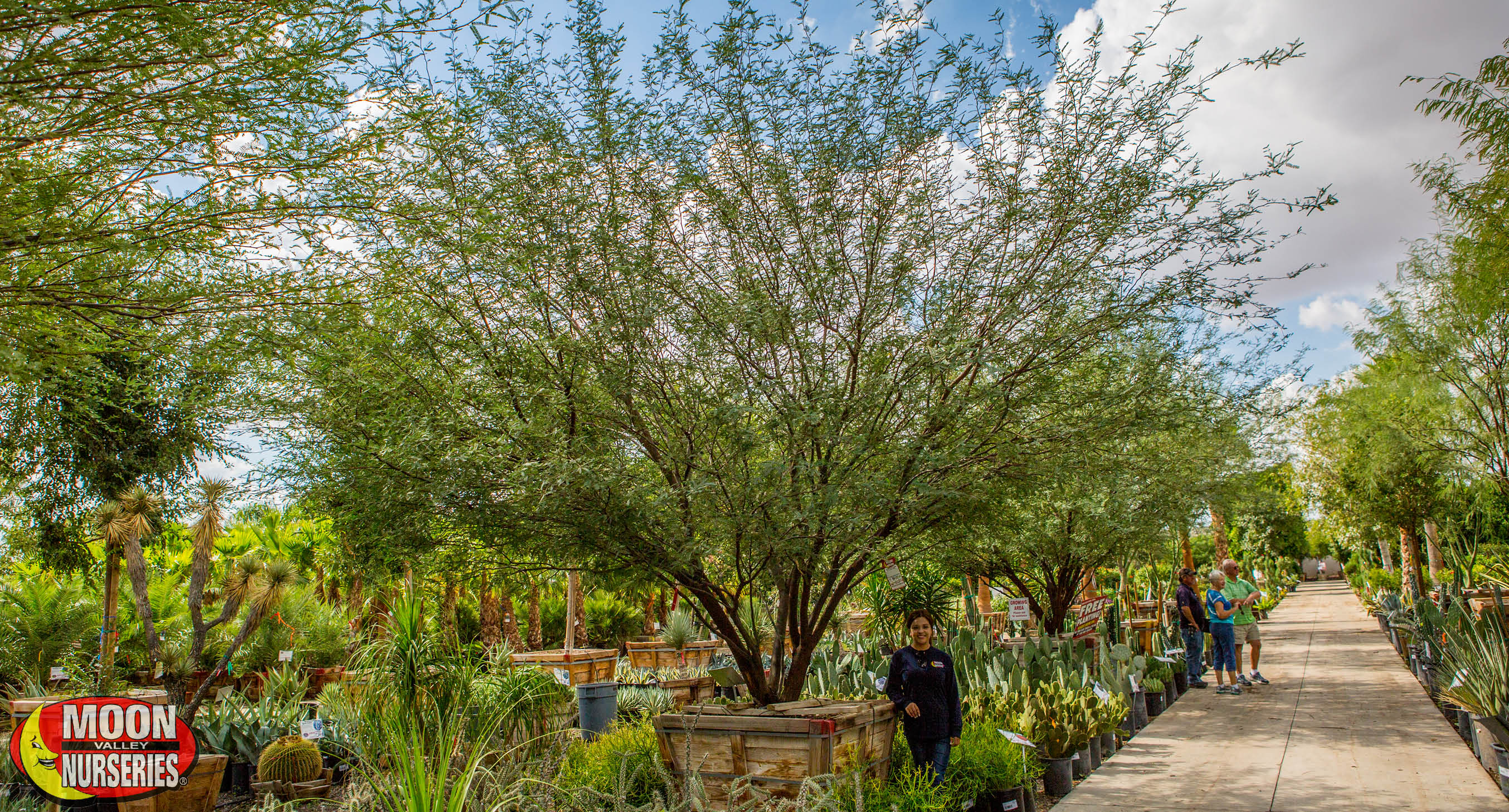 It's summertime in Las Vegas, time to cool off by the pool! Yes, it's sweltering outside, but we can still enjoy our yard. Evergreen trees keep their foliage all year long, perfect for providing shade and creating privacy so that you can enjoy your yard no matter how hot it gets outside.
Drought-tolerant evergreens have minimal water requirements. These trees are amongst the best evergreens for summer because they can add a splash of color to our arid environment. The green foliage is a welcome sight, and so is the amount of shade these trees bring to the landscape. Plus, these evergreens can stand up to heat waves and handle any kind of water restrictions. If you are looking for a beautiful addition to your yard, look no further than evergreen trees!
Evergreen Trees for Summertime in Las Vegas
Did you know that we custom-grow the best trees and plants in our local climate so that they will thrive in your landscape? It's true. We also have the biggest trees in the smallest boxes so it cannot be any easier to have an instant landscape, and save money, too. Here are five of our best evergreens for summertime in Las Vegas.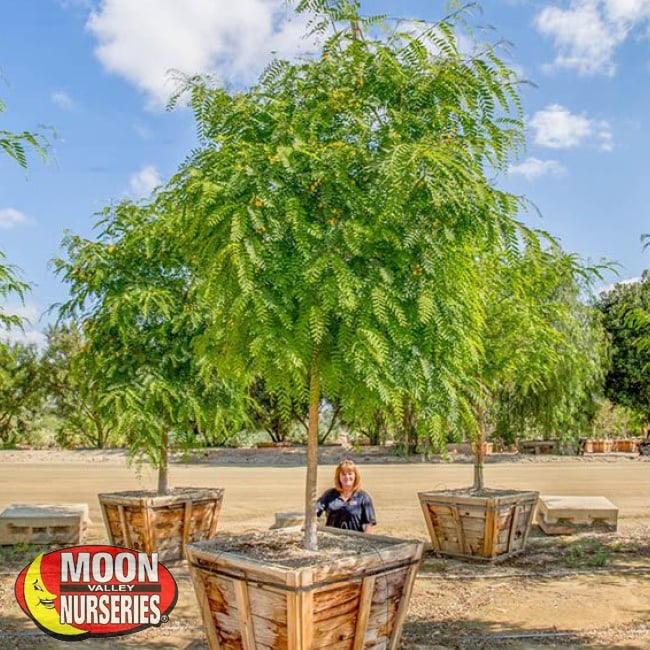 Tipu (Tipuana tipu): When it comes to shade, there are not too many trees that can top Tipuana tipu trees. These semi-evergreens are drought-tolerant so they are perfect for any water-wise landscape. This colorful flowering tree transforms yards in the summer thanks to its profusion of golden blooms that coat the tree. When the sun is in high-gear, you can run for cover and find some relief under its high canopy of feathery, bright-bluish green foliage. We can bring the look of the tropics to any yard in Las Vegas by planting Tipu trees!
Australian Bottle Tree (Brachychiton populneus): This is a hardy evergreen tree that grows a distinctive canopy shape when mature so that it can provide lots of shade. Plus, its narrow growth habit makes it a favorite for closed-in areas. Their evergreen leaves can block unwanted views and help build a private yard. Here in Las Vegas, we like to plant them in rows where they create a windbreak to help protect from our high wind days. Of course, they are water-wise, too, so once established, they will have minimal water requirements.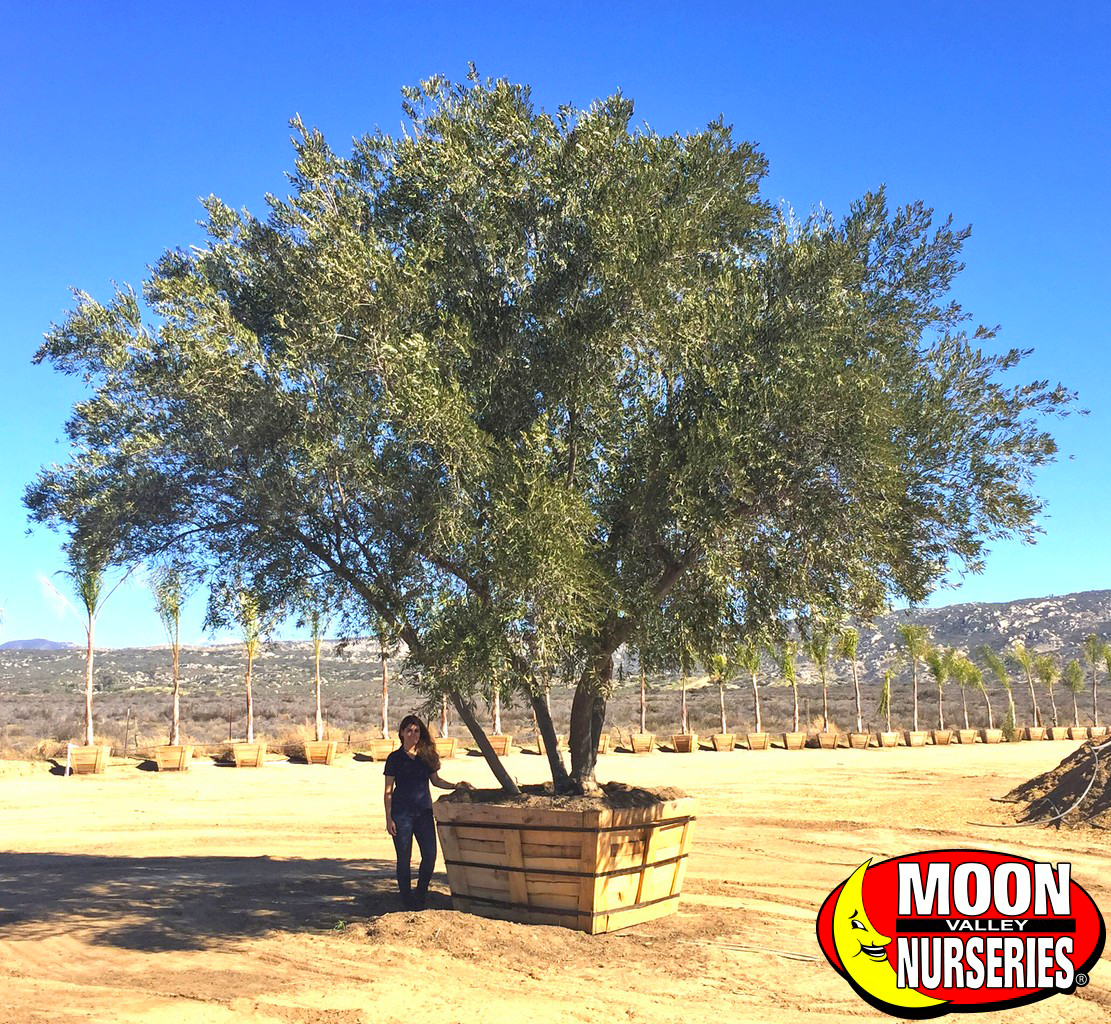 Olive Tree (Olea europaea): We grow and sell guaranteed fruitless olive trees! That's right. This aesthetically pleasing evergreen tree is drought-tolerant and the perfect size for any landscape in Las Vegas. We can bring the look of the Mediterranean to front yards and back yards, and their multi-trunk structure is ideal for highlighting with nighttime landscape lighting. Its gray/green and silver foliage is a standout in any landscape. Plus, mature size Olive trees can provide plenty of shade. We like to plant them against structures, where their silhouette can bring shade to sun-facing rooms. This evergreen tree thrives in the desert sun, too!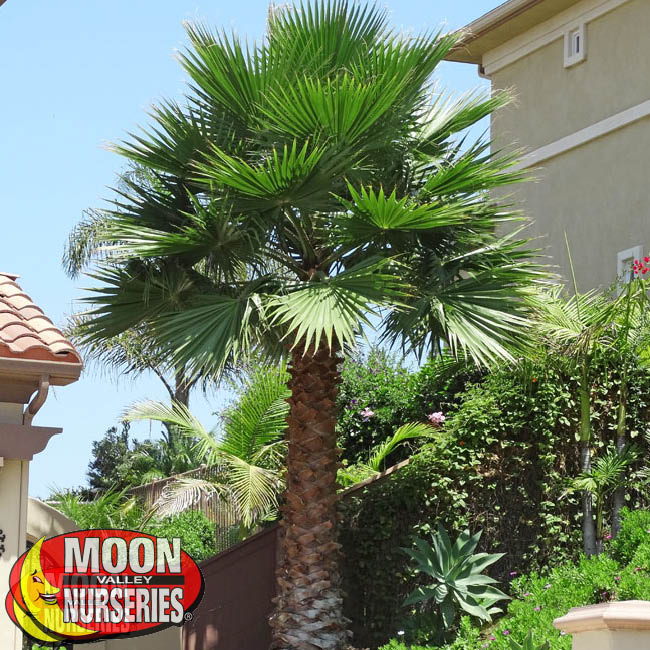 Mexican Fan Palm (Washingtonia robusta): If you plan to be hanging out by the pool all summer, why not make it tropical. Mexican Fan Palms are the classic tall and slender palms that can create an oasis when planted in groups. We also like to line them up along a long driveway to create an impressive entrance. This is an excellent water-wise tree that can handle the stress and heat of the summer. They have large, fan-shaped, deep green fronds that lend a tropical vibe to any landscape.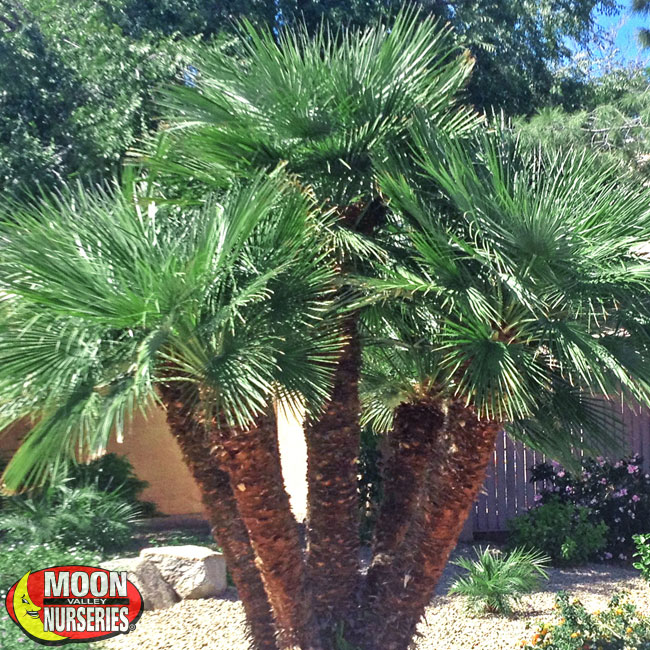 Mediterranean Fan Palm (Chamaerops humilis): The hardiest of all palms is also one of the best choices for planting near swimming pools and spas. This is an evergreen with a slow growth rate, so it will rarely outgrow its space. They love the heat, so they do well in the reflected heat and glare of swimming pools and spas. They can handle the Las Vegas heat and once established, are water-wise with minimal watering needs. A Mediterranean Fan Palm is an excellent plant for a focal point in a tropical garden. We can also plant them in groups, where they can create a tropical privacy hedge to block unwanted views in style. And, here in Las Vegas, we could also use them as a windbreak to protect our property from high winds.
We Do the Planting in the Summertime!
Our professional planting crew is ready to add a splash of greenery to your landscape. We can do the work so that you can come home to a beautiful new yard. We make it easy! We design, deliver, and do the digging and planting. Watch us do the work from the comfort of your air-conditioned home and when we're done, take in the cool shade provided by our evergreen trees. Allow us to help you create your dream landscape. Visit your nearest nursery location, or you can always call us and place your order, too!