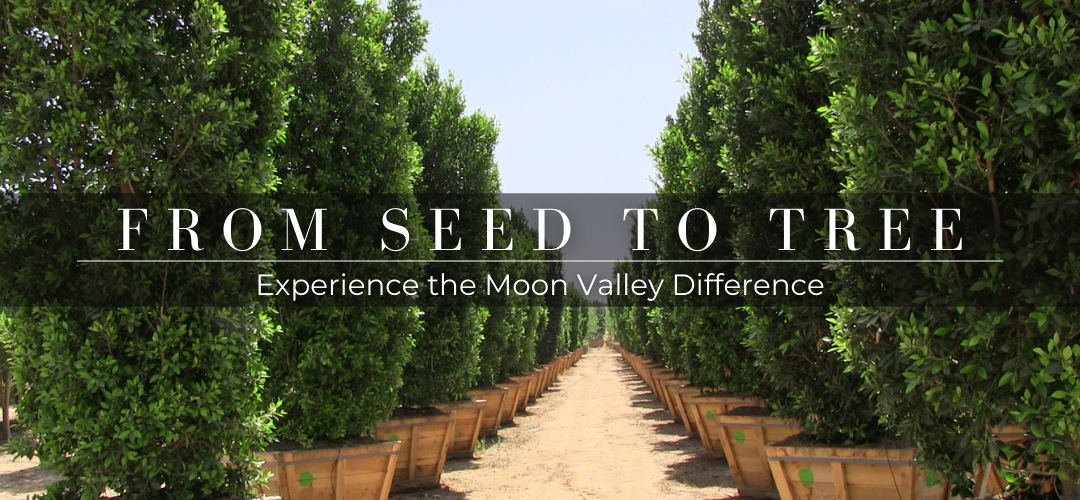 What do we mean when we want you to experience the Moon Valley Nurseries difference? Our amazing selection of trees, shrubs, and other plants and the "You Buy It, and We Plant It, Guarantee" that other nurseries cannot touch. As a bonus, we are proud to provide a passionate staff of landscape design specialists and nursery pros that can help you create your dream yard!
Below are just a few of the reasons to experience the Moon Valley Nurseries difference – from seed to tree. Visit your nearest location to get the full experience and the best-quality trees on earth!
WE ARE THE GROWER!
We are the grower so that we can assure the quality of all trees! We grow all our trees at our farms and doing it this way allows us to maintain the highest level of quality. We do not use any middleman. With no middleman to deal with, we can have an extensive inventory and retain our better growing practices. We have been growing trees for over 20 years. When it comes to palms, no in the world has developed stronger, hardier, and more disease-resistant palms than what you can find at Moon Valley Nurseries. We only grow our trees from our premium quality specimens, so every tree we grow is going to be the best quality tree - bar none!
LOCALLY GROWN TREES AND PLANTS
Nobody does it better than Moon Valley Nurseries! All the trees, shrubs, and other plants we offer at our nurseries are grown for our local climate. Everything is grown with our soils, fertilizers, local water, and in full sun! Growing for our local climate means that we can grow the fruit trees that grow best in our area, such as low-chill stone fruit varieties. We have also developed a custom root stock that is guaranteed to produce the sweetest fruits, and a plentiful harvest! Waterwise, fruit trees, tropical, privacy trees - we have got you covered!
CERTIFIED NURSERY PROFESSIONALS WITH YEARS OF EXPERIENCE
You are in good hands. Our nursery professionals are experienced in all aspects of the nursery business and will be glad to help you select the perfect trees for your yard! We make it so easy to have a dream landscape. When you visit any of our nurseries, you can handpick the perfect trees, shrubs, and other plants for the perfect spot in your yard! With free landscape design available at the nursery, it is easier than ever to have your dream yard designed by a landscape design specialist that is passionate about design and trees!
WORLD'S LARGEST SELECTION OF SPECIMEN SIZED TREES
No other nursery can match our quality and selection. Because we are the grower, we can assure their quality is the best you will find anywhere, and we can offer the lowest prices in town! We value engineer our products so that you can have a tree that will bring years of joy, as well as add plenty of beauty and value to your landscape. Visit your nearest nursery and enjoy the surroundings. Our nurseries are beautiful because of the professionally grown and nurtured trees we grow. We love our trees and love to make our customers happy!
FREE PLANTING!
Once you have hand selected your perfect tree, you can rest easy and let us do all the work. We offer free professional planting on all specimen trees, and guarantee every tree that we plant!