Back to main Blog
Luke Kalawsky
Luke Kalawsky has a passion for all things trees, plants, and landscape design. He has designed numerous landscapes as the head designer in the Surprise, Arizona region until he became a manager of our Central Phoenix Nursery. He now dedicates his knowledge, expertise, and creative capabilities to help the masses discover how to design, plant, and maintain their landscapes with his writings.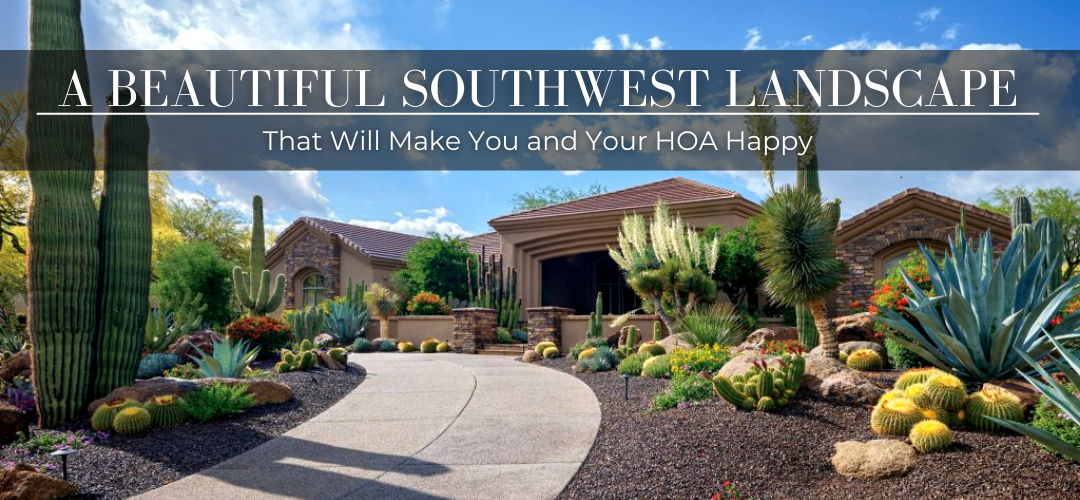 A question we often run across from many of our customers here in Phoenix is what they can plant within their HOA guidelines. Many HOA's here in the Valley have definitive lists of what trees and plants are and are not allowed in the community. These approved plant lists are commonly made up of desert native and low water usage trees and plants. This can often lead to disappointment if the homeowners were hoping to have a landscape style other than a Southwest theme.
Luckily, our nursery pros and landscape designers are very knowledgeable of the guidelines of many of the local HOA's, and we have the experience and know-how to design a Southwest style landscape that will make you proud of your yard. Read on to discover the beauty of creating a well-designed yard that keeps you AND your HOA happy!
OUR LANDSCAPE DESIGNERS WORK WITH YOUR HOA'S PLANT PALETTE
Our professional landscape designers are familiar with many of our local HOAs tree and plant requirements. We have been planting stunning landscapes in all areas of Phoenix for 25 years and counting! You can rest assured that we will design and plant a beautiful yard for you, all while keeping it within the guidelines of your community. Our experts can adopt any HOA approved plant list into incredible, designs that will be the talk of the whole neighborhood!
Most of the trees and plants in our Southwest Style Guide are approved by many local HOAs, take a look to get some landscaping ideas!
START WITH LARGER TREES AS FOCAL POINTS
The first step in developing an attractive landscape is choosing a few larger focal points to set the stage for the rest of the design. Using fast-growing shade trees to do this cools down the yard while framing the rest of the design around a central focus.
Thornless, drought-tolerant trees like the Chilean Mesquite or Desert Museum Palo Verde are approved by many local HOAs and provide nice filtered shade with a huge amount of character.
Some home owner's associations allow trees like the yellow-flowering Tipu or classic Southern Live Oak, which make great central shade trees to design around as well!
CREAT DEPTH AND INTEREST WITH LANDSCAPE LAYERING
Once our designers help you to pick the best trees for creating focal points in the yard, we will begin to create layers with other plants or smaller trees to create depth and interest. To read more on the impact landscape layering can have on your yard, check out our post here!
You may prefer or more structured look such as this home, with its organized clusters of Golden Barrel cacti around around a mature Desert Spoon and Ironwood tree.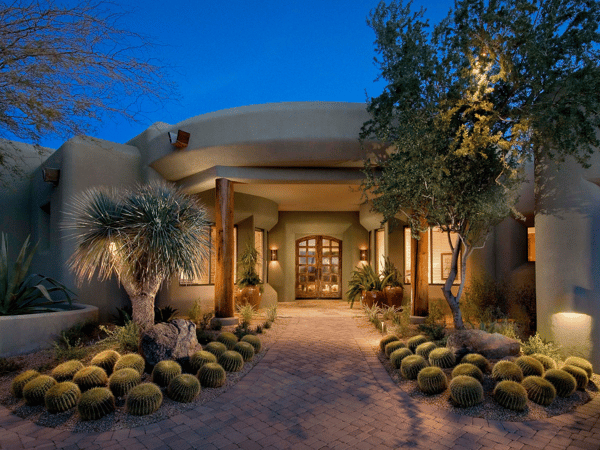 Some homeowners enjoy a more natural approach and prefer a sporadic placement to the layers to create a more native feel to the landscape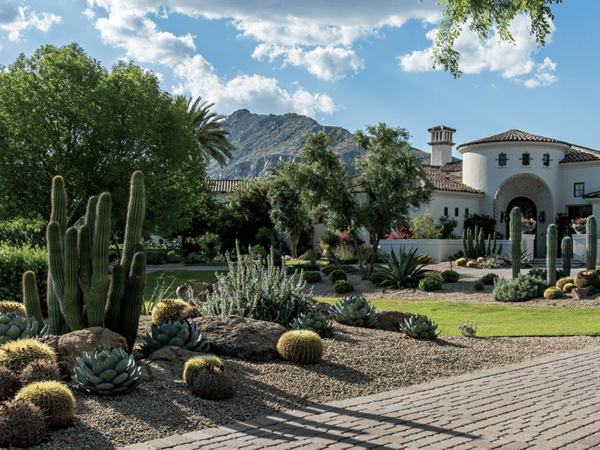 INCORPORATE A VARIETY OF TEXTURES AND COLORS
The layers create a layout in the yard that allows you to fill in with unique plants that incorporate different textures and colors into the landscape. Our designers will show you a selection of plants, cacti, aloes, and agaves that your HOA approves to find your favorites to use as accents. You can then choose your exact unique specimens from our massive inventory. Our expert designers will use these to tie together the design and ensure it brings joy to you and your HOA for years to come!
To get more details on how we can make your landscape dreams a reality within your HOA requirements or to schedule your free design consultation, click the link below to speak with one of our professional landscape designers.