Crape Myrtles, we all love the sight of these heat-loving beauties in bloom, and in Southern California, it is not unusual to witness the glorious sight of their spectacular colors from summer to late fall! These are one of the few trees that produce vibrantly colored blossoms in the summer, when not much else is in bloom, delighting homeowners and everyone else that catches the sight of these small trees in action. Red, pink, lavender, dark purple, white – these are some of the flower colors you are likely to encounter while making your way to the beach, and the sight of these blooms may even help you relax during your daily commute through Southern California traffic delays. Of course, nothing beats having one or two or three or more of these ornamental beauties adorning your property. So, while we may be busy in our daily lives, at least we can come home to a thriving, beautiful landscape scene that requires very little maintenance and offers plenty of big rewards.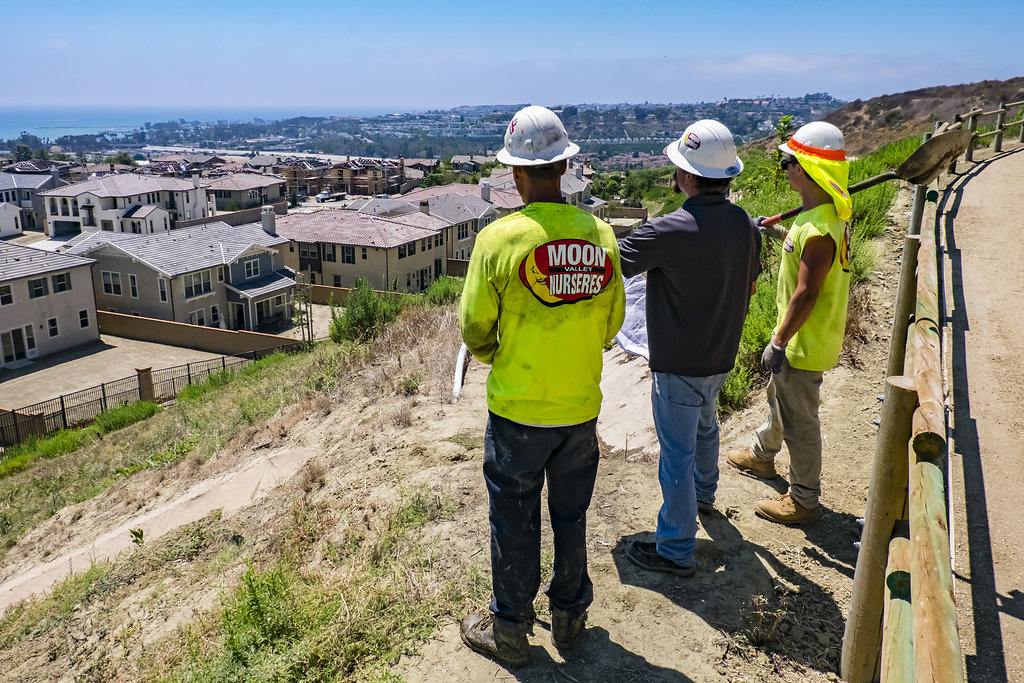 Homeowners can plant these ornamental beauties anytime of the year, though many do like to buy them in the summer when the bloom is in full effect. Buying and planting them in the summer is perfectly fine, just be sure to plant them in a spot that gets plenty of full sun exposure and give them infrequent but deep watering while they are transitioning into your landscape. Sometime and somewhere, it was observed that the flowers had a crepe-like texture, which is why you often see it called the "crepe myrtle," of course, you won't be having this one for breakfast. Lagerstroemia is deciduous, so they do lose their leaves, but that's ok because they also have a beautiful peeling bark that makes them attractive all year long. All in all, these are fast growing trees offering numerous blooms that will make your yard the envy of the neighborhood! Lagerstroemia is a beautiful choice for privacy hedges, where they can quickly become thick and bushy trees that provide a blooming privacy screen! We also like to line a driveway with these stunning flowering trees. Tip: plant multiple colors together and create a truly unique and picturesque landscape scene!
Do I need fertilizer?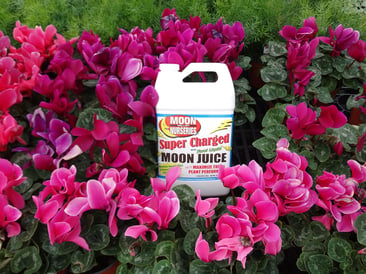 These trees can adapt well to poor soil and are tough plants, so they do not need much fertilizer. In fact, too much fertilizer can result in too much leaf growth and fewer blooms. You can lightly apply fertilizer if your yard has inferior soil, and we recommend a slow-release fertilizer if you choose to do so. Use fertilizer if you need it and do it in the spring when the first leaves start to appear. Lightly fertilize twice a month throughout the spring and summer months and doing this will promote optimal new growth. Of course, you can find the ideal fertilizer you need at any of our Moon Valley Nursery locations throughout Southern California. Don't forget the mulch! Also, remember, always water the trees after applying the fertilizer.
Water and Light requirements?
Lagerstroemia thrives in full sun, and yes, like any sun-worshipper, they love the heat too, so they grow best in a spot that receives plenty of full sun exposure. In fact, the more sun they get, the more brilliant the blooms, which is great news for those of us in Los Angeles (average of 284 sunny days) and San Diego (average of 146 sunny days), that can't get enough of the vibrant flowers. So, in short, the more sun, the more blooms! Another splendid thing about these show-stopping trees is how well they tolerate drought conditions. Once established, these drought-tolerant beauties will have little to moderate water requirements!
How and when to prune?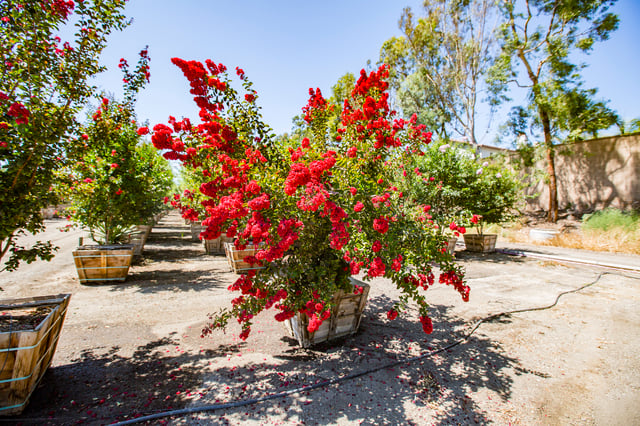 Homeowners and landscapers love the versatility of these plants. They look beautiful in Asian gardens, Cottage Gardens, and can be artfully pruned as the perfect addition to any modern garden. Crape myrtles bloom on new wood, so they should be pruned in winter when they are dormant or early spring. With the larger trees, we like to remove the basal suckers, twiggy growth, crossing branches, and those branches that are growing towards the middle of the plant, and doing this can expose the beautiful bark of the trunks – perfect for highlighting with night time landscape lighting. You can always snip off spent flower clusters to neaten the appearance and doing this can also promote a second, lighter bloom. There is no "incorrect" way to prune them, and it is a matter of personal taste, so have fun experimenting! Of course, you can always allow your beautiful tree to grow into its natural shape, and it will still bloom heavily if watered and fertilized properly.
Tools you will need to prune:
You can use any garden pruning tool. However, these are the tools we prefer:
Gardening gloves
Long-handled loppers
Hand shears
Chainsaw (for the larger branches)
Moon Valley Nurseries has the perfect Crape Myrtle varieties available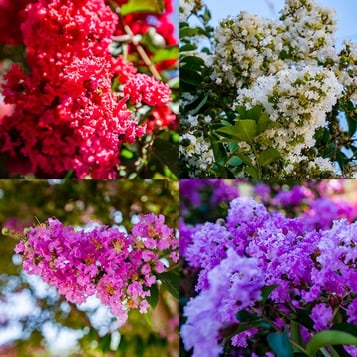 Moon Valley Nurseries grows all the best varieties for Southern California, offering mildew resistant cultivars that can tolerate coastal conditions. For coastal areas consider 'Natchez,' which produces white flowers and orange-red autumn color, 'Muskogee,' with lavender flowers and red fall color, and 'Tuscarora,' offering pinkish red flowers and orange-red autumn color. Other excellent selections available right now are 'Dynamite,' with ruffled red flowers and orange-red fall foliage and 'Catawba,' with dark purple flowers and orange-red fall colors. We have the larger trees available right now for immediate gratification! Buy as big as you can if you want an instant landscape full of beauty and color!
We make it easy to have a beautiful, thriving landscape!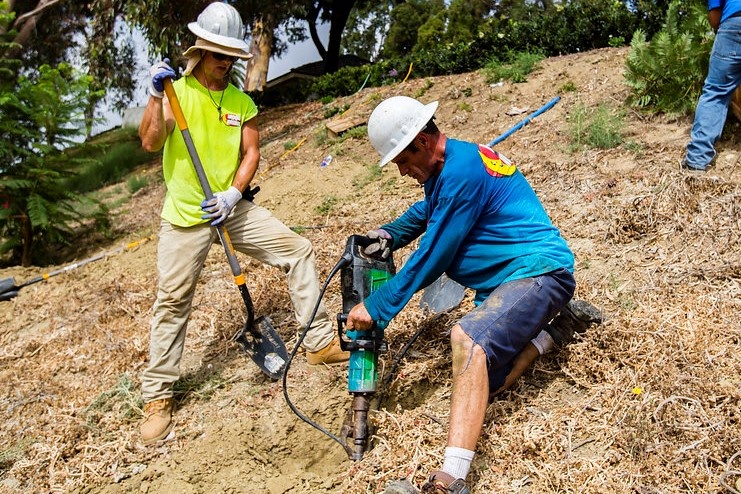 The easiest way to ensure a thriving, beautiful yard that can increase property value is utilizing the professional planting service from Moon Valley Nurseries. This way, you can handpick the perfect flowering trees at any of our nurseries in SoCal and our team will ensure proper planting. Our professional planting service includes the delivery, digging, and planting the trees in the perfect spot in your yard! We also add the mulch, fertilizer and everything we plant is guaranteed to grow.