Back to main Blog
Felipe Benavides
Felipe has been working in the Nursery and Garden center for many years and bring extensive knowledge to trees, plants, and landscape design.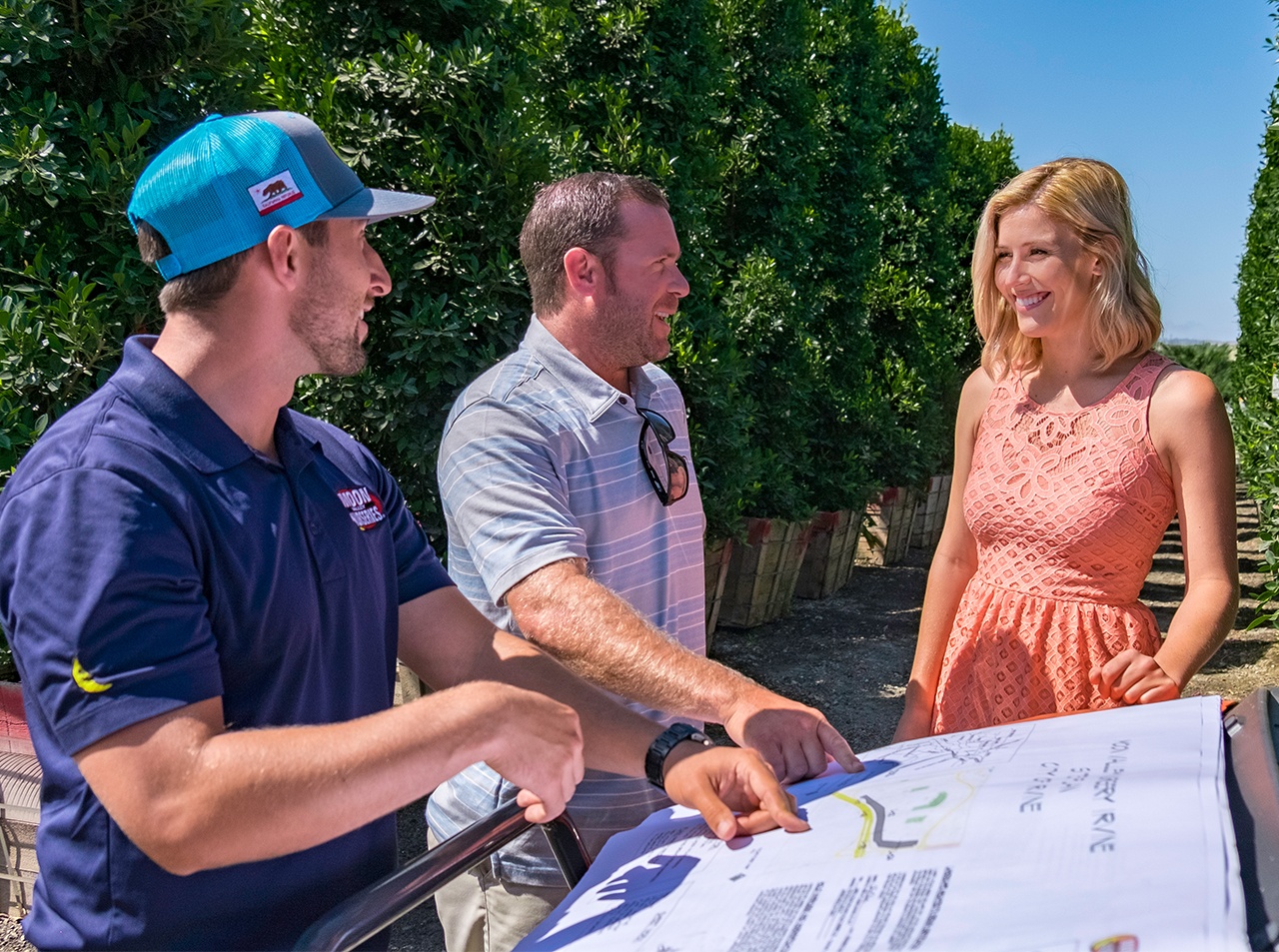 There is no wrong way to landscape your yard. A study by the Virginia Department of Horticulture found that well-designed points of interest in your front yard can raise the value of a home by up 42 percent. Curb appeal matters! Having a good strategy helps to create a thriving landscape that is both beautiful and valuable.
Think of Your Property as an Opportunity
In Southern California, we have a lot of options of what we can do with our yard. With water use utility rates skyrocketing, the need for water-wise yards is rising. The good news is that we can grow a variety of plants, including trees, palms, and succulents that are drought tolerant and beautiful, too.
Working with a professional landscape designer is the best way to create a successful landscape design. Get creative and have fun. There are plenty of themes to consider, too. There is no need to stick to just one type of design. We can create a colorful xeriscape in the front yard with a tropical themed oasis in the backyard!
It's no secret that the weather in SoCal is perfect for year-round outdoor living. A backyard retreat comes alive with hardscape features such as a pool, spa or built-in grill. Create a private retreat, and you may never want to leave!
Prepare for Your Visit
Coming to the nursery prepared for your visit ensures success. Have a plan and take your time to get it right. Most of all, get inspired! Taking photos of the yards you love is an excellent way to let the inspiration flow! Bring pictures from websites, magazines, and books to show to the designer. Cruise neighborhoods and take photos of your favorite yards. Bring in photos to get the designer familiar with the styles, plants, and colors that you love.
Do you want to landscape your front yard, backyard or both?
Are there any existing problems or concerns with your landscape?
How do you plan to use your property?
Do you have any special plants you want to include in your design?
Do you know how much you want to spend?
Any favorite colors you want to incorporate?
Do you want to create more privacy or block out any unwanted views?
What are your favorite landscape themes?
Are there any HOA restrictions we need to know?
Try the Virtual Landscape Designer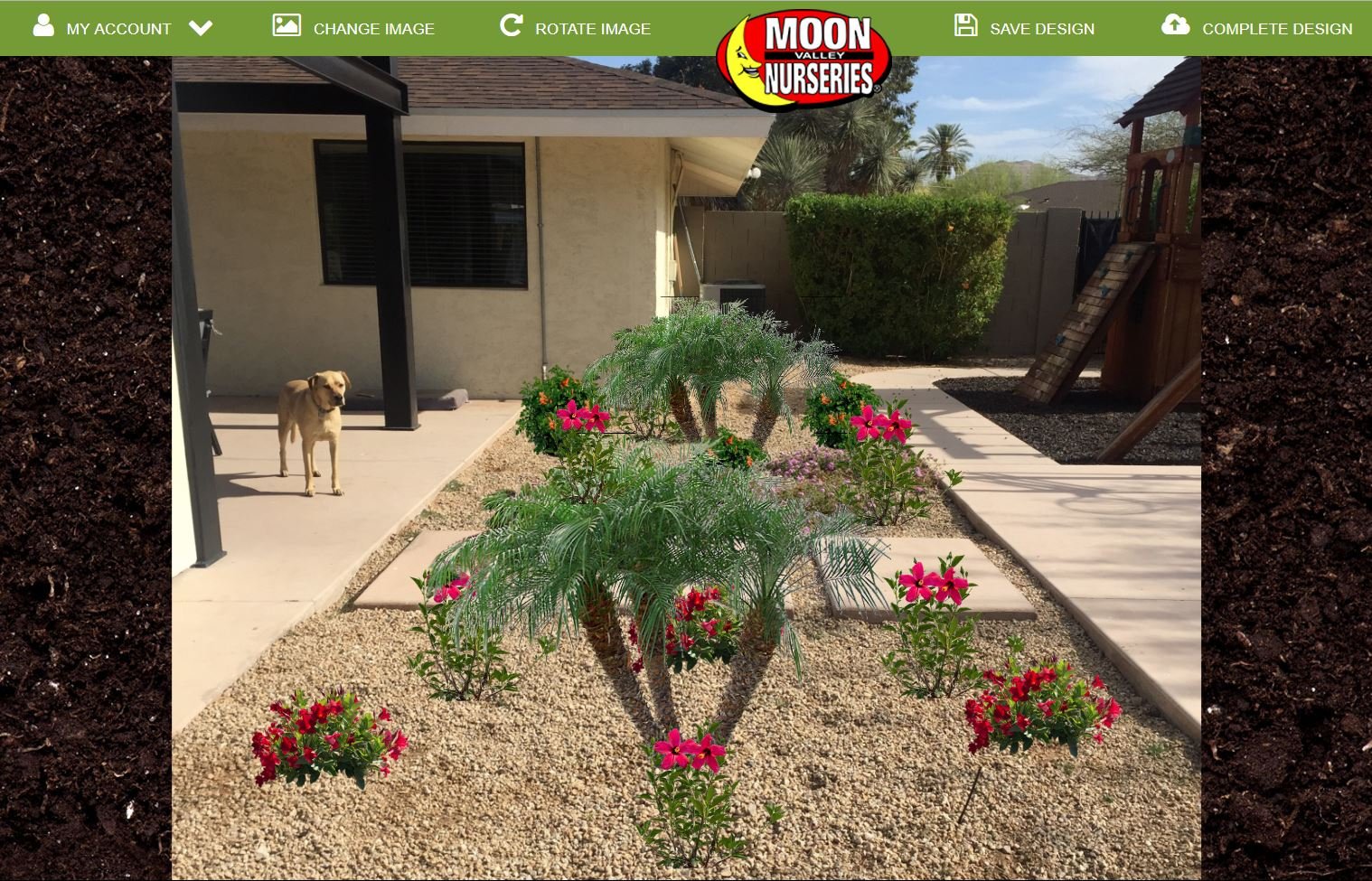 Did you know that there is a useful Virtual Landscape Designer on our site? This easy-to-use landscape design app can help you to start planning your dream yard. Our drag-and-drop-tool makes it a breeze! Upload a photo of your property. Drag pictures of trees and plants and drop them into the places where you want them. That's it! This novel approach to landscape design can help you visualize a completed landscape project! Click here to try the Virtual Landscape Designer!
Nothing Beats a Visit to Moon Valley Nurseries
Of course, an actual physical visit to our nurseries is the best way to find what works best. At our nurseries, you can see and touch the trees and plants you want in your landscape! Once you select the perfect trees and plants, a designer will come back to your house. With the designer on your property, we will flag the yard and come back the next day to ensure that the design is still on everyone's mind.
It's ok if you do not have the time to prepare. We can do it all for you. Our landscape design specialists are professionals that cater to your needs. We will be glad to help you through the entire process, from start to finish. We make it easy with free landscape design consultations at the nursery!