Back to main Blog
Luke Kalawsky
Luke Kalawsky has a passion for all things trees, plants, and landscape design. He has designed numerous landscapes as the head designer in the Surprise, Arizona region until he became a manager of our Central Phoenix Nursery. He now dedicates his knowledge, expertise, and creative capabilities to help the masses discover how to design, plant, and maintain their landscapes with his writings.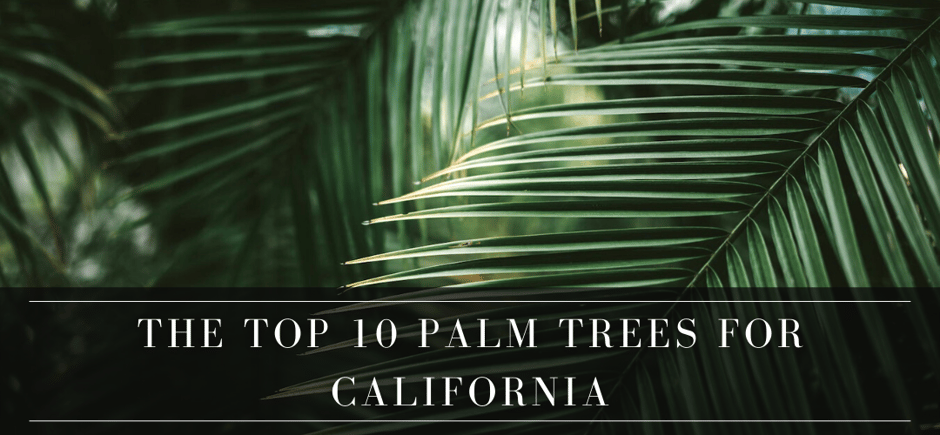 Palm trees are an excellent addition to any landscape design when you are looking to add a tropical or Mediterranean flair to your yard. Maybe you'd like to spruce up your poolscape by planting some tropical palms or resort-style palms around your pool to add to the relaxing feel of your backyard oasis. How about adding some multi-trunk Mediterranean fan palms and other stately palm trees to your front yard design to generate huge amounts of curb appeal?
No matter what area of your yard you'd like to plant palm trees in, here are the top ten palm tree varieties to plant in California landscapes.
Palms in the Date Palm family are a wonderful way of adding a distinguished, resort-style look to your landscape. Their long, graceful fronds and textured diamond-cut trunks bring a majestic, stately appearance to any yard.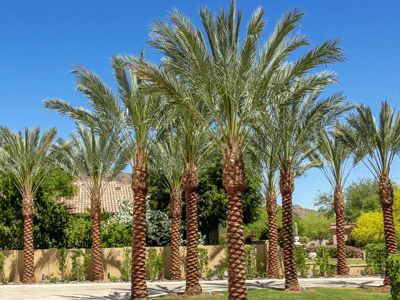 There are many reasons why these majestic palm trees are found at most upscale resorts and shopping centers. They look fantastic, are extremely hardy to cold, heat, and drought and they provide a cool umbrella of shade. They are remarkably easy to maintain, so they'll always look their best wherever they are planted in your yard!
For formal plantings, plant Resort-style Date Palms™ in rows of same height specimens. They look great planted along entries and driveways or as regal property borders. For a semi-formal or natural effect, plant Date Palms in groups of 3 or 5 of varying height, creating a desert oasis or tropical paradise look.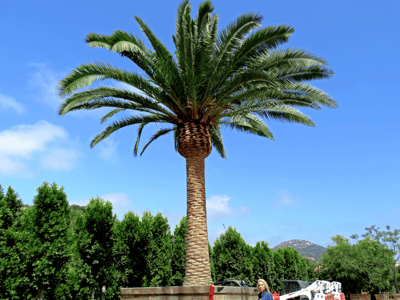 The Pineapple Palm also known as the Canary Island Date Palm, is an extremely hardy and durable palm that thrives from the coastal areas of Southern California to warm Southwestern regions such as Arizona and Texas. They are known for having a large base with an even larger pineapple-shaped crown covered with large arching fronds that can reach 8-12' long.
These palm trees are gorgeous when lit up at night and work well by themselves or planted to line walkways, pools, sitting areas, and driveways. Their elegant look is prized not only by businesses, malls, and developers but has quickly become a homeowner favorite.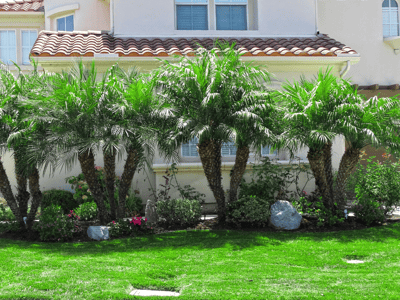 The versatility of Pygmy Date Palms means they can be used in many landscape applications. Their dwarf growth pattern and non-invasive roots allow them to be planted in tight spaces around pools, patios, courtyards, and in pots. The Pygmy Date Palm can also be grown in shadier areas making them a fantastic option for planting under or in between larger palms, and in clusters.
Additionally, Pygmy Date Palms are one of the cleanest palm varieties, furthering their position as one of our preferred palm trees to plant around pools and patios. They require minimal maintenance and only need to be pruned when the soft, bright green foliage turns brown as it ages.
The deep greens and lush fronds of tropical palm trees allow you to create an island getaway right at your home! These palms are perfect planting companions to the other palms in this guide. Kick back and enjoy a tasty cocktail near the plants of the tropics!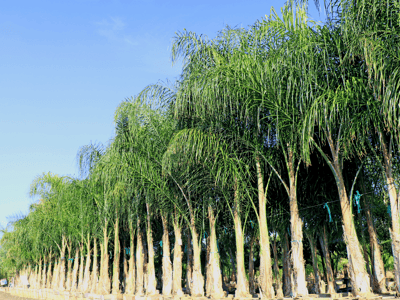 Our majestic Piru Queen Palms™ bring a tropical look and feel to any landscape, whether lining neighborhood streets or growing in your very own tropical backyard retreat.
Grown purely from superior Argentine seedlings with better genetic traits, these Moon Valley Nurseries Piru Queen Palms™ are at the top of the class in the Queen Palm family due to their superior durability and grand appearance. Piru Queen Palms™ feature thicker and harder trunks as well as greener palm fronds and fuller crowns than other Queen Palms do.
Piru Queen Palms™ are a focal point anywhere you choose to plant them and will complement a wide variety of landscape and home architectural styles. Occasional seasonal trimming, such as removing dead fronds, will help to keep the majestic look of these palms intact all year round.
.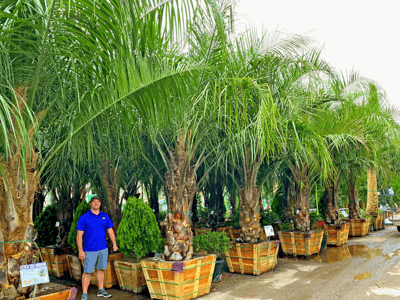 Our King Piru palms™ feature the most desirable aspects of Moon Valley Nurseries proprietary "Piru" strain of extra robust Queen palms blended with the grace, beauty, and exceptional durability of selectively bred Pindo palms.
These palms thrive in temperamental soils that other palms may struggle in. Alkaline, salty, heavy clay, and even caliche-type soils are no problem for the King Piru Palm™. Since they are hybrid palms, and therefore sterile, you can expect very little to no litter throughout the year. Going one step further, these palm trees have the incredible ability to not only thrive in the hottest summer sun our area can bring but they're also cold hardy in winter temperatures down to 12 degrees F!
When it comes to color, the King Palm is one of the best palm tree varieties for Southern California. The dark-green palm fronds rarely drop below the crown shaft adding a rich color that makes the lime-green crown shaft pop. King Palms also produce seasonal eye-catching blooms of vibrant purple flowers with a white undertone.
King Palms are some of the best palms to plant around pools, in tropical landscape designs, or as focal points in front of a home. As King Palms grow, they also produce a great canopy of shade to relax under. The King Palm is a slow-growing variety that requires only minimal maintenance. We grow all our King Palms from exceptional seeds in our local climate as this process allows us to offer the best King Palms in Southern California. Our King Palms are extremely hardy, drought-resistant, and require minimal water.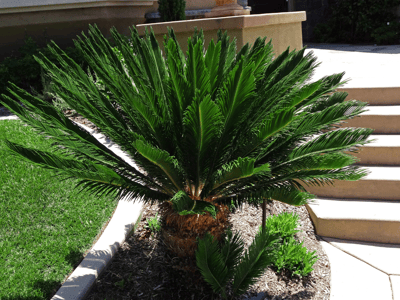 While most would think by its common name that it is a palm tree, the Sago is actually a Cycad and is more closely related to pine trees than it is to the palm family. Regardless of their heritage, Sagos are a top pick for many landscape and garden designs. Plant a few Sago Palms when looking for smaller accent plants to contrast with larger palms or nature-inspired planting clusters featuring a variety of palms and tropical plants. Their slower growth also makes them a perfect choice for planting in pots and containers.
Sago Palms are tolerant of cold and heat and can be grown in full sun exposures as well as full to partial shade. They require minimal maintenance and the only pruning needed is to remove old leaves. Due to their drought tolerance, Sago Palms work well in all landscape styles from tropical to xeriscape-styled yards.
These hardy palms love the sun, cold, and everything in between! While most palm tree varieties are easy to care for and low maintenance, many types of Fan palms can be planted in very hot environments while being able to handle extreme cold and winter freezes as well.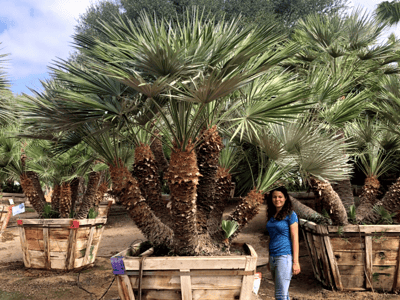 These medium-sized palms trees are a must-have for Tuscan or Spanish-themed yard designs. Mediterranean Fan Palms are showy, multi-trunk palm trees that, when planted as a focal point, are capable of adding stunning curb appeal to front yards and will become the highlight of poolside landscaping arrangements.
If you're looking to take this versatile palm to the next level, install night lighting effects. When you give these palms time in the spotlight, their unique multi-trunk structure becomes illuminated, while the fronds cast unique shadow patterns on nearby walls.
These wonderful palms are also well known for their durability. They require minimal water once planted and can become drought tolerant once established. Mediterranean Fan Palms can tolerate full sun and are cold hardy, able to survive periods of freezing weather conditions.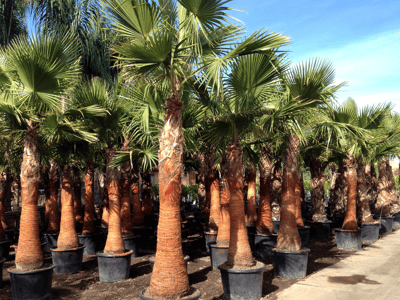 Hybrid Fan Palms are perfect for bringing a coastal vibe to your yard. They have thicker trunks and have an overall reduced height compared to traditional Mexican or California Fan Palms, making them far more suitable for home landscape applications. Their trunks can receive a "cigar-cut" giving them a clean look and highlighting their rich red color.
Hybrid Fan Palms are great for use as taller focal points in palm-centric landscapes. They are fast-growing, durable, and easy to care for. Thanks to the Hybrid Fan Palm's grand, statuesque appearance and spectacular fronds, homeowners may want to install night lighting to show off this palm's attractive features at all hours.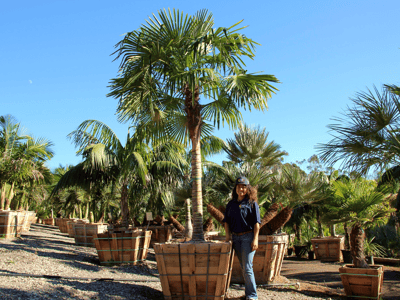 Windmill Palms are robust, small to medium-sized fan palms noted for their tropical, resort-style looks. Homeowners everywhere can bring a little slice of paradise home thanks to this palm's adaptability. A moderate to fast grower, they thrive in full sun or light shade and require only low to moderate water use once established. Young Windmill Palms can be grown indoors in a container, just be sure to place it in a room with bright, indirect light.
These fan palms are great for use in small patios, narrow spaces, gardens, entryways, and any place in your landscape where a gentle tropical appeal is desired. These palm trees also look fantastic around swimming pools, where smooth water can reflect the graceful fan-shaped fronds.

How to Care for Your Palm Trees
Palm trees are generally some of the easier trees to care for, but it is important to know some care tips for palm trees to keep them looking their best. Let's take a look at the three biggest factors of growing healthy palms.
How do you fertilize palm trees? Palm trees love Manganese, Iron, and Zinc, which aren't always present in the right doses in our local soil. Supplementing your palms with these vital nutrients will keep them healthy and producing beautiful foliage! For best results, pick up some of our Super Palm Juice™ which has been specifically designed for our local climate and soil to keep palm trees looking fantastic.
How much do you water palm trees? Different palm varieties are going to have different watering requirements, most varieties, however, can be watered once to twice a week in the winter, two to three times a week in the spring and fall, and three to four times a week in the summer. You can always find the complete care information for your specific palm varieties by speaking with our nursery pros or you can find a care guide for your palms on our website.
How do you trim palm trees? Luckily, palms have an easy-to-follow guideline that makes trimming them a breeze! The foliage of your palm trees are known as fronds. When these palm fronds reach a 90-degree angle in relation to the trunk, you can cut them off as well as any that drop below that 90-degree mark and begin to droop towards the ground.
Our professional designers love to create landscape designs with palm trees, and we have thousands of palm trees for sale at all our nursery locations. If you would like to have some expert help in creating the home paradise of your dreams, feel free to reach out to incredible designers. They will create a resort-worthy escape in your yard while making the process easy so you will be able to simply enjoy your new landscape instead of needing a vacation from planning it out!
To learn more incredible yard care advice, design tips, and tree knowledge, check out our library of articles! We have a massive catalog of entertaining and informative articles written by our experienced nursery professionals to help you succeed with all of your landscaping goals.