Top trees and palms to plant this summer
Your pool will be the envy of the neighborhood!
Summer has arrived and as the temperature starts to rise we are all looking for a way to escape. If you can't jet away to a tropical location why not bring the tropical location to you! And no, we are not crazy. We're talking about creating a paradise in your backyard that is the perfect place to unwind and unplug. We call it a staycation. There are many ways to accomplish this staycation paradise and our nursery pros have identified three ways to accomplish this and they are large shade trees, amazing and unique palms, and attractive flowering shrubs. Below are a few recommendations they to help you with your staycation paradise.

Shade Areas You Spend The Most Time Around
Whether it is the grill for an amazing summer BBQ, the sandbox, the jungle gym, or even just the backyard the last thing you want to do is suffer under the summer sun. This is why you should plant a giant shade tree. Be sure to keep in mind that you don't want a tree that is going to produce a big mess. You don't want to be having fun while cleaning up litter from a tree. That is why our nursery pros have recommended these low maintenance and fantastic shade trees.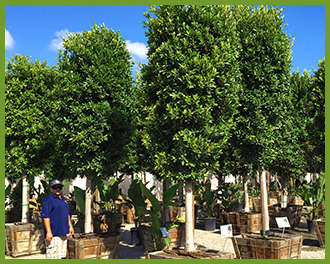 Ficus (Arizona only)
These fast-growing evergreen shade trees are the perfect option if you're looking to block out a large from the summer sun. It's foliage dense which allows no sunlight to penetrate through its canopy and as an evergreen it will keep its foliage all year. It can be pruned to any shape and because its canopy is so dense it provides great privacy as well. When properly placed around a home, its canopy can provide enough shade to help cool down the backyard and your home, which can lead to lower utility bills.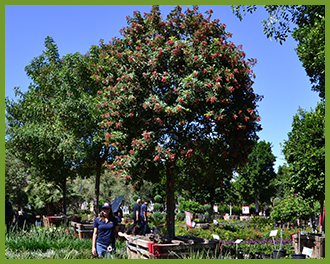 Brazilian Pepper
This medium sized tree is great for those tight areas in your backyard that you're looking to provide some shade too. Super easy to care for, this tree requires little to no water once established. Also an evergreen, this tree features bright red berries that contrast beautifully with its dark glossy green leaves.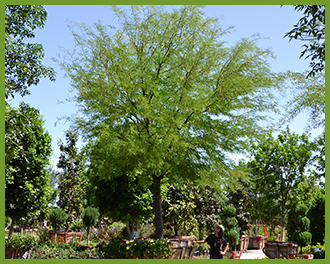 Chilean Mesquite
The fastest growing tree on this list, the Hybrid Chilean Mesquite is the classic desert tree with a wide canopy of soft, bright green, ferns like foliage covering its dark and exfoliating trunk and branches. These trees require no water once planted and the layered canopy does allow sunlight to penetrate through if you were thinking about planting some shrubs around the tree. Best of all, the Hybrid Chilean Mesquite that we offer at Moon Valley Nurseries is a thornless variety.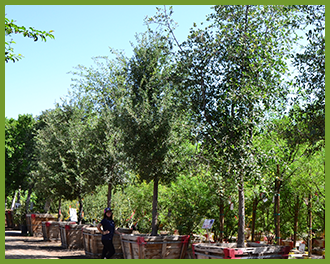 Live Oak
This hardy evergreen can handle all seasons in our region. It can tolerate extreme drought and windy conditions. This tree can thrive in your landscape with full sun and little to no special care required. Its dense, gray/green foliage and large spreading crown provides an ideal shady spot for a picnic on your lawn.
Japanese Privet
Another small to medium sized tree that is great for a tight space is the Japanese Privet. Another evergreen, this tree requires moderate watering and will thrive in full sun exposure and even partial shade. It is drought tolerant, heat tolerant and cold hardy, making it a great candidate for landscapes in our region. In the late spring, fragrant white flowers bloom in large clusters, creating an attractive scene that can attract hummingbirds.



Silhouette Your Yard With Gorgeous Palms And Give it The Resort Look
If you have been to any of the high-end resorts around town you have for sure seen their impressive palm trees. They are huge, gorgeous and very unique. At Moon Valley Nurseries we carry all of those palms because we actually supply those palms to the resorts. Below are a few traditional palms you see at resorts and a few extras that will for sure give your staycation a "wow" factor that will impress family, friends, and neighbors.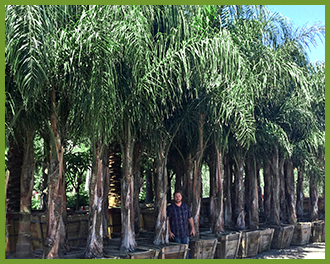 Piru Queen Palm
Specially grown at Moon Valley Nursery farms, the Piru Queen Palm is unlike other Queen Palms. Our Piru Queen Palms feature thicker and harder trunks, denser and greener fronds, and produce fuller crowns than other Queen Palms. Our Piru Queen Palms can handle hot summers, cold winters, and windy days. The Piru Queen Palm is supported by a narrow trunk which makes it ideal for tight spaces around your pool, but it does require overhead space as the palm grows to statuesque heights.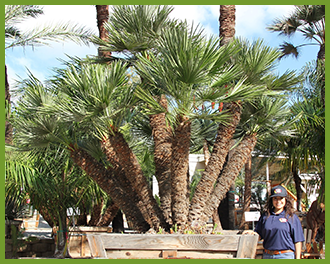 Mediterranean Fan Palm
Compact size and ability to thrive in the hot summer months and survive the cool winters has made the Mediterranean Fan Palm a popular choice for tropical landscapes. Commonly used as a stand-alone focal point around pools, the Mediterranean Fan Palm sprouts multiple trunks and is slow growing. They require minimal pruning and can be drought tolerant. As a bonus, they look great in containers.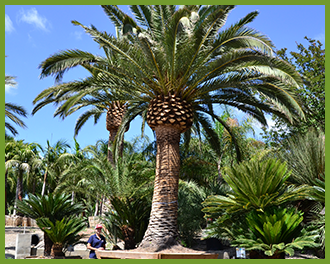 Canary Island Date Palm
Named for its resemblance to a pineapple when the palm is younger, the Pineapple Palm produces wide fronds and requires space when planted around a pool. It grows slowly, eventually forming a wide trunk and its fronds begin to rise from the ground, creating a classic palm tree shape. The Pineapple Palm can handle the cold and loves the sun. It's a popular choice for tropical landscape and is commonly seen around resorts.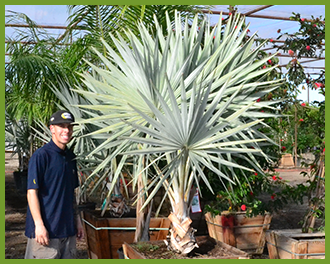 Bismark Palm
A very large palm, the Bismarck Palm unique look makes it stand out as a wonderful accent in tropical landscapes around pools due to its blue-green colored fronds. Fast growing, the Bismarck Palm produces a striking canopy that reaches several feet wide and is great for blocking unsightly views around pools. It loves the full sun exposure and is low maintenance.
Windmill Palm
A narrow and vertical palm, the Windmill Palm is one of the most durable palms known. It thrives in intensely hot locations, requires minimal water and can handle periods of freezing weather with little or no damage. Commonly used as a stand alone or focal point, the Windmill Palm makes excellent accents to larger palms.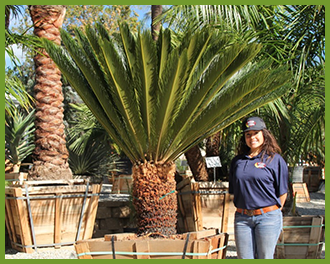 Sago
This palm may look like a palm, but it's actually a Cycad. This genus has been relatively unchanged for 200 million years, making the Sago a living fossil. Sagos are slow growing and the only maintenance they require is when removing the old fronds. The fronds extend out from the center of the trunk exposing the eye-catching brown trunk. Both cold and heat hardy, the Sago can be grown in full to partial sun and it a wonderful option to be planted in large pots and containers.
Triangle Palm
As the name suggests, the Triangle Palm grows with the fronds emerging in a triangular arrangement, giving this tree a patterned structure unlike anything else commonly seen in our region. Native to Madagascar, these trees thrive well in our hot summers and are quite resilient to low care, mismanagement, and poor soils.


Turn Your Pool Into A Resort
Now that we have covered different trees and palms that you can plant in your backyard for a staycation we're now going to look at different types shrubs you can plant around your pool to give it that resort-style look. You also want to keep in mind how much litter the shrub will produce. The last thing you want is to be cleaning your pool every day. The varieties we are going to recommend will produce very minimal litter which providing you with the resort style pool.
Torch Glow Bougainvillea
The Bougainvillea Torch Glow stands out as one of the most unique Bougainvillea varieties. Blooms on the Torch Glow last longer which reduces the amount of cleanup compared to other Bougainvillea varieties. It produces multiple compact stems that grow upright and out from the base that twists as they grow. The stems form a conical shape at the top where a vibrant display of showy pink flowers clusters together.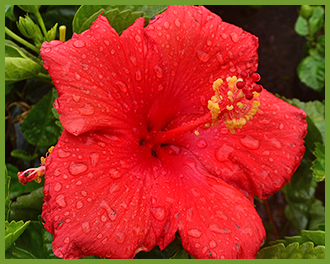 Hibiscus
These flowers are the for sure sign that your own a tropical getaway and you can plant them here in our region. Available in a wide range of colors the included red, white, yellow, pink, and orange, these beautiful flowering plants are a fantastic shrub around pools. They grow great in partial sun and will acclimate to full sun easily. Fertilize monthly from March through September to encourage the best growth and a prolific blooming season.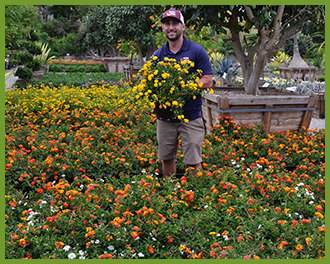 Lantana
Lantana is one of the most colorful plants for our region. So many colors to pick from and so many different varieties like that Trailing Lantana, Mounding Lantana, or Bush Lantana. They will bloom from spring to fall and are a great way to attract butterflies to you resort style pool.
Tropical Bird of Paradise
These tropical shrubs are great for pools and great to plant in containers around your pool. It has large banana like leaves and its flower produces these showy orange colors that are complimented nicely by blue accents. Tropical Birds will acclimate to full sun but prefer protection in afternoons during hot summers.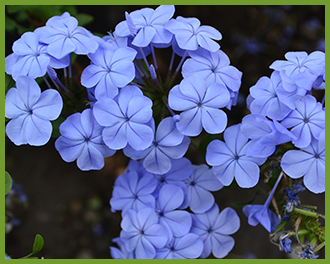 Plumbago
Blue flowers are rare. There aren't many trees or shrubs that produce this amazing color and one of the best for our region is the Plumbago. They can bloom spring through fall and are best used as a background accent so when they are blooming the color jumps and when scruffy attract no attention.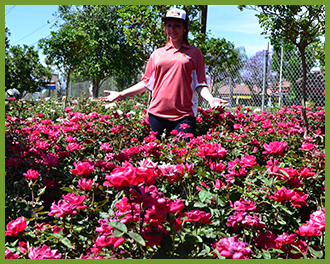 Roses
Roses perform extremely well in our region and can grow in the full sun. Roses are sometimes viewed as delicate but in fact, they are one the hardiest plants we offer. There are hundreds of varieties and thousands of cultivars of this beautiful showstopper. Some even use the Rose as a hedging material to create breathtaking levels around their backyard. These are great options for around the pool area.
We offer free planting and we are your one stop shop for all your landscape needs. Our experts have decades worth of experience and they will be able to assist you with any and all projects you may have. Click here to map a nursery near you.