The Weather is Perfect to Get Outside and Get your Lawn Looking Great
It is officially February, and if you have lived here long enough, you'll know that the "Arizona Spring" is pretty much here already! The last month brought us some cold temperatures, but the days are getting warmer as the sun stays out a bit longer each day.
There is no better time than now to start getting your landscape ready for spring growth. This is also the beginning of another excellent planting season for new additions to your yard. Taking care of your yard now with weeding, pruning, and fertilizing will ensure a healthy and full landscape for the rest of the year. Our nursery experts have shared a few tips and tasks for your landscape this month. Continue reading below...
Tips to Keep Your Landscape Healthy
Plant New Trees in Your Landscape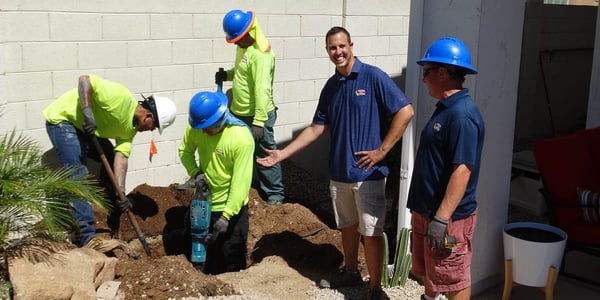 Luckily, we live in an area where it is planting season all year, depending on what you indent to plant! Winter is often a slower time of year for landscapes as most things go dormant. Over this time, many homeowners start to think about how to improve their yard. Those landscape plans you have been saving for the spring can finally happen! Planting in early spring is ideal because it will give your trees and shrubs plenty of time to establish their root system and still give you plenty of top growth through summer. Right now is the best time to plant palms, hedges, shade trees, fruit trees, and so much more! Ask your local nursery pro which trees would be best for your area.
Time to Fertilize and Feed your Landscape
With everything in the landscape about to enter back into the growing season, this is the right time to give those trees, shrubs, palms, and other plants a boost with an all-purpose supplement from Moon Valley Nurseries, like our SUPERCHARGED Moon Juice. We recommend using our custom blended fertilizers and supplements for your landscape needs as they are specifically formatted for Arizona soil and weather conditions.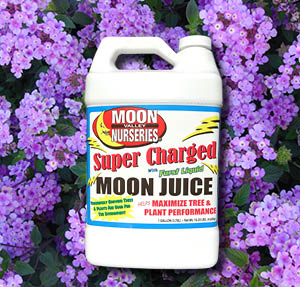 Our fertilizers and supplements are formulated to promote vigorous growth and can help your landscape recover from any stresses that may have occurred over the winter season. You can purchase Moon Juice and other products, such as our Soil and Water Conditioner (to loosen tough soil) and Moon Royale Turf Fertilizer (for your lawn) at any of our nurseries.
Check and Adjust Your Watering Needs
As the temperature starts to get higher slowly, it is essential to monitor your landscape for proper water usage. In the winter, cooler temperatures and less sunlight allow the soil to stay moist for a more extended period, so watering schedules were stretched out by a few days. Now that the sun is out longer, your soil may dry out faster, which means you will need to update your watering schedule. Check for signs of underwatering through February.
Good Rule of Thumb: Check the soil up to 3 inches deep. If it is dry, then it is time to water.
Keep Weeding Your Yard
With grass and plants starting to come back to life, it also means that weeds are going to start popping up. The sooner you can handle any weed infestation, the better. As weeds grow, they drop more seeds that will turn into their own weeds within days. We recommend taking care of them before they are even an issue. Using pre-emergents now will keep your yard free of weeds. Preventing weeds from showing up is essential so that you aren't spending the next few months pulling weeds and, instead, relaxing in your private oasis.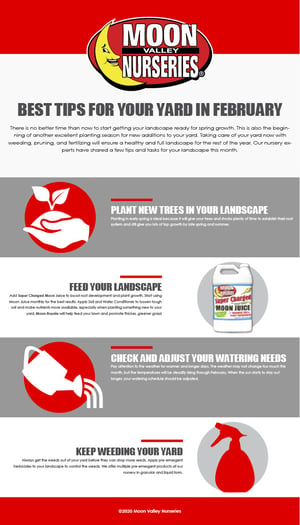 Click to Download/Print the Best Tips for Your Yard
What to Plant in February

This vibrant evergreen is sure to give any landscape year-round attractiveness. The silky, dark green leaves create a wide-spread awning that produces an abundance of shade. This is a perfect choice for the Arizona desert environment due to its love of heat and its drought tolerance. Available in both single or multi-trunk varieties, Brazilian Pepper trees are water-wise and require little water once established. The Brazilian Pepper tree attracts butterflies and hummingbirds looking for a snack, so sit back in the shade of your Brazilian Pepper and appreciate these incredible visitors.

Specially grown at our tree farms, the Piru Queen palm is unlike other Queen palms around. Our Piru Queen palms feature thicker and stronger trunks, denser and greener fronds, and produce fuller crowns. Our Queen palms can handle hot summers, cold winters, and windy days. The palm is supported by a thick trunk, which makes it ideal in tight spaces around your pool, but it does require overhead space as the palm grows to statuesque heights.

The Carolina Cherry is native to the Southwestern area and thrives when grown in our region. This evergreen can be grown and used as a large shrub or as a small tree, whatever your needs might be. It grows easily in full sun exposure and requires little upkeep for it to grow and thrive. The Carolina Cherry has become a popular choice for its overall minimal maintenance, natural upright cone-like shape, and ability to tolerate heat, drought, and wind. These features make it great to be used as a weather barrier as well as for privacy purposes!
Moon Valley Difference
Moon Valley Nurseries is your one-stop shop for all your landscape needs. Our experts have decades worth of experience and they will be able to assist you with any projects or questions you may have regarding trees, shrubs, design, and more! Come by and check out the amazing trees and deals we have to offer our Arizona community.
For the best trees on Earth, Go straight to the Moon.