Back to main Blog
Luke Kalawsky
Luke Kalawsky has a passion for all things trees, plants, and landscape design. He has designed numerous landscapes as the head designer in the Surprise, Arizona region until he became a manager of our Central Phoenix Nursery. He now dedicates his knowledge, expertise, and creative capabilities to help the masses discover how to design, plant, and maintain their landscapes with his writings.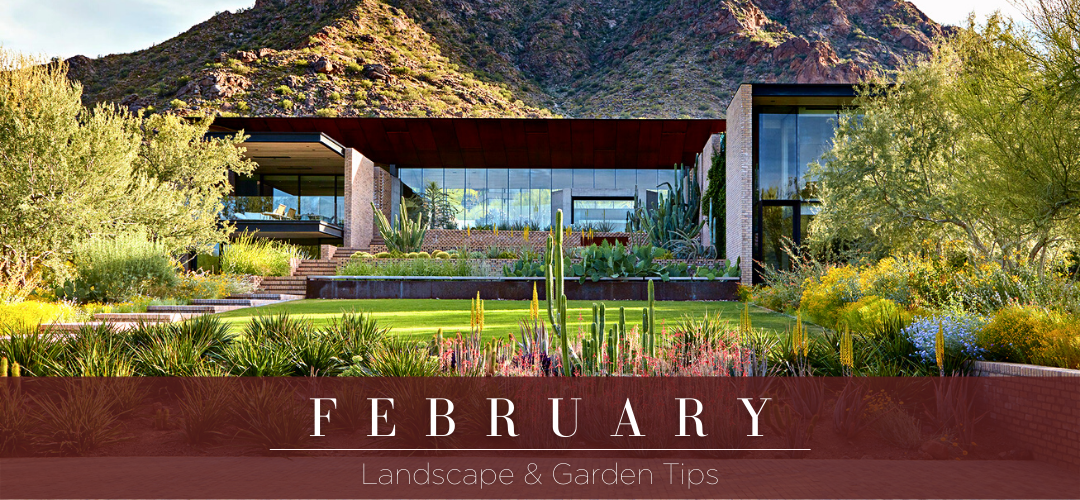 With February officially here and 2023 in full swing, there is no better time than now to start getting your landscape ready for spring growth. This is also the beginning of another excellent planting season for new additions to your yard or a reimagination of your landscape.
Taking care of your yard now by understanding watering schedule changes, removing weeds, beginning to fertilize your landscape will ensure a healthy and full landscape for the rest of the year. Take a look at our list of 4 easy tips and tricks to refresh your landscape this month.
1. Plant new trees in your landscape.

Planting during this advantageous season allows your trees and plants to focus solely on developing a healthy root system in your yard.

2. Check and adjust your watering needs.

In the winter, cooler temperatures and less sunlight allow the soil to stay moist for a more extended period, so watering schedules can be stretched out to only a couple days a week.

3. Keep weeding your yard.

We recommend prohibiting weed growth in your yard before it is even an issue by u

sing pre-emergents now to keep your yard free of weeds into spring and summer.

4. Begin feeding your trees and plants. We suggest starting to fertilize your landscape during February, this will allow your trees and plants to begin pushing new healthy growth.
1. Plant New Trees in Your Landscape

Planting during the first few months of the year presents several advantages. Many trees and plants take some time during the colder months to focus on their root growth by molting or dropping their leaves and going dormant.
Planting during this period of time allows your trees and plants to focus solely on developing a healthy root system in your yard.
Additionally, this gives your new greenery maximum time to grow during the spring and summer growth seasons. Use this month to talk to our nursery pros and landscape designers to put together a plan for your new trees and plants or landscape redesign.
2. Check & Adjust Your Watering Needs

In the winter, cooler temperatures and less sunlight allow the soil to stay moist for a more extended period, so watering schedules can be stretched out to only a couple days a week. Now that the sun is beginning to stay out longer, your soil may dry out faster.
This means you will need to update your watering schedule, feel free to consult one of our nursery pros and check our watering guides to ensure the trees, palms, and plants in your landscape are getting the perfect amount of water.
Nursery Pro Tip: Check the soil up to 3 inches deep. If it is dry, then it is time to water.
3. Keep Weeding Your Yard

With grass and plants starting to come back to life, it also means that weeds are going to start popping up. The sooner you can handle any weed infestation, the better.
As weeds grow, they drop more seeds that will turn into their own weeds within days. We recommend prohibiting weed growth in your yard before it is even an issue.
Using pre-emergents now will keep your yard free of weeds. Preventing weeds from showing up is essential so that you aren't spending the next few months pulling weeds and, instead, relaxing in your beautiful yard. You can find a variety of pre-emergents and weed killers at all of our nursery locations.
4. Begin Feeding Your Trees & Plants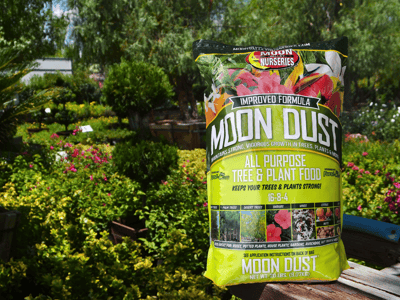 Your landscape is gearing up for the spring growing season, which means it is time to begin fertilizing all your trees, shrubs, palms, and other plants with nutrient-rich fertilizer, such as our Moon Dust™.
We recommend using our custom blended fertilizers and supplements for your landscape needs as they are specifically formulated for trees, plants, palms, and grass growing in our local soil and weather conditions.
Our fertilizers and supplements are designed to promote vigorous growth and can help your landscape recover from any stresses it may have endured during the winter season. You can purchase our custom Moon Products at any of our nursery locations or online at our website.
The Best Trees to Plant in February
February is a great month to plant new trees in your yard. We have put together a list of the top trees to add to your landscape this month. For other great suggestions for February plantings, feel free to reach out to our nursery pros. We are happy to help you take your yard to the next level!
These vibrant evergreens are sure to give any landscape year-round interest. The silky, dark green leaves create a wide-spread canopy that produces an abundance of shade.
Brazilian Peppers are a perfect choice for our desert environment due to their love of heat and drought tolerance. Available in both single or multi-trunk varieties, these pepper trees are water-wise and require minimal water once established.
These trees produce a bright red peppercorn that is wonderful in exotic dishes. The pepper from these trees adds a complex, punchy flavor. Brazilian Pepper treed also attract butterflies and hummingbirds, allowing you to sit back, relax under shady canopies, and enjoy a little extra life in your garden.
Specially grown at our tree farms, the Piru Queen Palm™ is unlike other Queen Palms around. Our Piru Queen Palms™ feature thicker and stronger trunks, denser and greener fronds, and produce fuller crowns.
Our Queen Palms can handle hot summers, cold winters, and windy days. The palm is supported by a tall, thick trunk, which makes it ideal for tight spaces around your pool where you need some shade and style. These palms are particularly useful for creating a tropical escape when clustered in odd-numbered groups!
Carolina Cherries are native to the Southwestern area and thrive when grown in our region. These hardy evergreens can be grown and used as a large shrub or as a small to medium-sized tree. They make excellent privacy hedges, property borders, shade trees for smaller areas, and ornamental trees.
They grow easily in full sun exposures and require little upkeep to grow and shape. The Carolina Cherry has become a popular choice for its due to its low maintenance needs, natural upright cone-like shape, and ability to tolerate heat, drought, cold, and wind. These features make it great to be used as a weather barrier as well as for any privacy purposes!
We Are Your One-Stop Landscape Shop!
Moon Valley Nurseries is your one-stop-shop for all your landscape needs. From your first step into any of our nurseries, you will be able to choose from our massive selection of thousands of the highest quality trees, palms, and plants. Our free planting from our expert planting crews will ensure your trees are set for success the first day they are in your yard and for many years to come! Our nursery pros and landscape design experts have decades worth of experience to assist you in bringing the best trees on earth straight to your home!