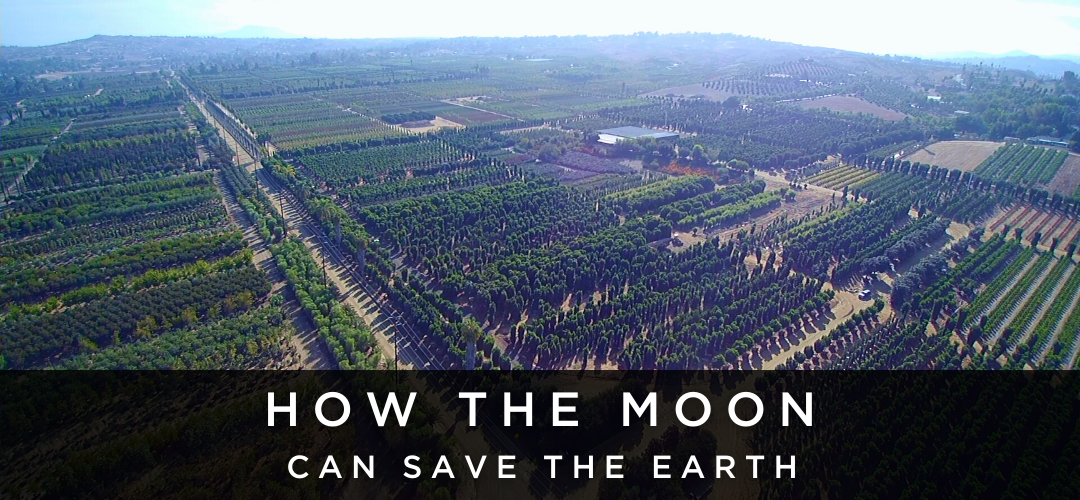 We believe that caring for our environment and planting trees positions our communities, cities, and nation for a brighter future. Here at Moon Valley Nurseries everything we do is intended to be as efficient and sustainable as possible.
Moon Valley Nurseries' G
reen Initiative
From the way we build and reuse our boxes, to the mulch we make at our farms and plant with, every aspect of our operations is strategically designed to add to the green benefits of planting over 300,000 trees a year.
As the largest box-tree grower in the world, we've grown and planted a massive number of trees. and have many other sustainability programs in place to help to create a cleaner, greener Earth.
Reduce & Reuse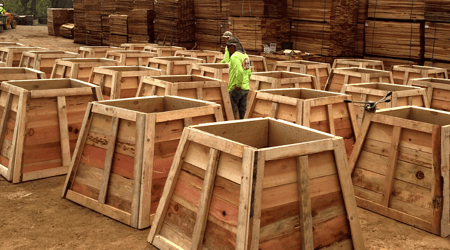 We rebuild and reuse the boxes our trees are grown in to reduce lumber usage to a minimum. With each tree we plant, we take the boxes back where they are refurbished and used to grow more trees!
Our premium mulch is made by processing our green waste to create a nutrient-rich and absorbent mixture. Our mulch is then used to create a water well around every tree we plant helping with erosion control and keeping ground temperatures cool, which benefits your trees and your environment! You can find our premium mulch to use in your landscape at any of our nursery locations!
Reducing Carbon Emissions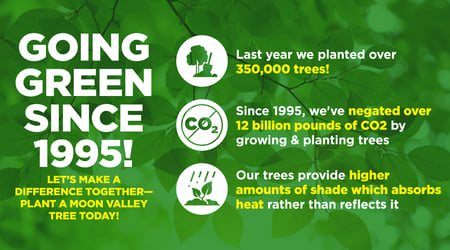 On average, each one of our trees offsets carbon emissions by about 116 pounds per year. When you consider that we plant over 300,000 trees per year and that we've been planting big, beautiful trees since 1995, that is a lot of oxygen that we've placed back into our environment!
In fact, since we've been in business, Moon Valley Nurseries has grown and planted over 9,000,000 trees, offsetting Co2 emissions by over six million tons. That means we have negated the carbon footprint of over 300,000 Americans for life! You're welcome!
Heat Reduction & Energy Savings for You!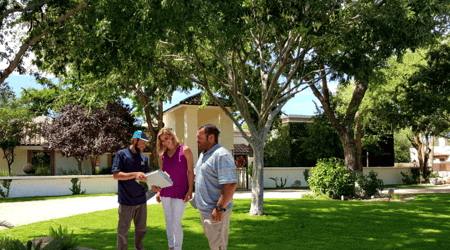 By adding trees to your landscape, you help reduce the temperatures of your property and home, which in turn means less energy usage for air conditioning. This natural insulation translates to significant savings on your electric bills.
According to the U.S. Department of Energy, a few well-positioned trees can reduce the energy consumption for cooling and heating a household by up to 25%!*
Help Us Make Our Communities Healthier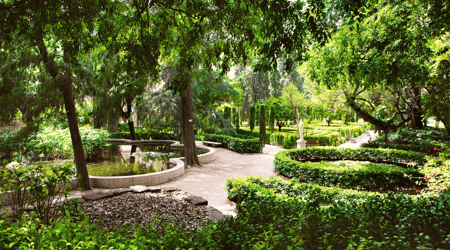 We love to make our neighborhoods and cities greener, cooler, and more beautiful. Help us achieve our goal of more sustainable communities and a brighter future by allowing us to design and plant the landscape you've always dreamed of! It's a win-win scenario!
You get to reap the benefits of a gorgeous landscape design as well as the satisfaction of knowing you're contributing to our goals to cover the carbon footprint of hundreds of thousands of Americans. Help us achieve our goal by allowing us to help you achieve yours! Be a part of something big by simply enjoying a more attractive yard!
*https://www.energy.gov/energysaver/landscaping-energy-efficient-homes