Back to main Blog
Felipe Benavides
Felipe has been working in the Nursery and Garden center for many years and bring extensive knowledge to trees, plants, and landscape design.

Tips
on what you'll need to prepare you for your next nursery visit!
Landscaping, when it comes down to it, is all just opinions. There are no right or wrong ways to beautify your yard. In fact, you get to be creative and have fun with your yard so that you do not have to stick to just one type of theme. For instance, you could have your yard be tropical in the front and desert in the back or vice versa. Of course, if you want to feel like you have an oasis in your backyard so that you can hang out in your pool, you will probably want a tropical themed design. Adding privacy may also be high on your list too, especially if your goal is to create a private backyard retreat. Other standard options in our communities are drought tolerant, low-water use landscapes, such as succulent gardens. No matter what landscape style or theme you choose, you will want to identify the stuff you really like, so you are not just guessing and wasting time.
Curb Appeal Matters
While there is no right or wrong way to landscape your yard, a good strategy is a key factor to success. Per a study by the Virginia Department of Horticulture, well-designed points of interest in your front yard can increase the value of your home by up to 42 percent. It is advantageous to be informed and prepared so that you can be ready for your nursery visit. Why waste you and the designers time if you do not have to? A good way to prepare for your visit is to take pictures of yards you love. Look around your neighborhood. There is most likely that neighbor with the yard that everyone raves about and is also the envy of the neighborhood. Of course, throughout Arizona, Nevada, and California many of the residential communities have an HOA too, so it is also a good idea to know what your HOA allows.
Design Apps
Modern technology has made many things much easier, and this rings true with some custom landscape design jobs. For instance, you have probably seen our design app on our Moon Valley Nurseries website. Our customers loves this landscape design app because it allows them to start planning a dream yard by using a program with a drag and drop tool. Try it, you will find that it is easy to use and is super fun too. Upload a picture of your yard and drag and drop pictures of trees and plants into the spots where you want them. Doing this allows you to have a better idea of a completed landscape project – a fresh approach and an easy to use app indeed. Of course, there are apps for iPads and Androids too, so feel free to experiment.
Of course, nothing beats an actual physical visit to a nursery, where you can see and touch the trees and plants you want, so take your time, have fun and get inspired. Bring your images and ideas and speak with your local nursery pro. Once you handpick what you want, you can have a designer come back to your house, flag it, and come back the next day so that the design is fresh on everyone's mind. From tropical themes to desert themes and privacy options, here are some of our favorites that are suitable for a broad range of landscape designs.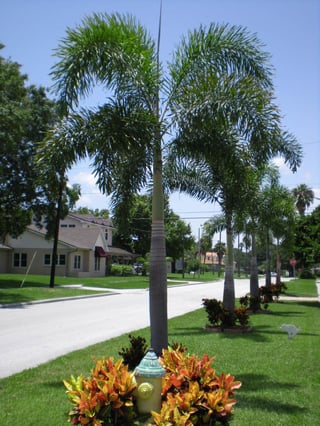 Foxtail Palm (Wodyetia bifurcata) – if it's a tropical vibe you are after, you cannot go wrong with Foxtail Palms. They are the perfect addition near swimming pools, walkways, and anywhere a tropically plant is wanted. They are prized for having one of the most unique and spectacular foliage displays of all palms. They are perfect for creating a relaxing private backyard oasis! We recommend planting a few and attaching a hammock to the robust trunk for the ultimate relaxation spot!
Tipu Tree (Tipuana tipu) – we have plenty of sunny days throughout our area and
Tipu trees can come to the rescue when you need a little break from the blazing sun. This colorful fast-growing tree can grow to be medium to large sized, with a high canopy of feathery, bright bluish-green foliage that provides a vast amount of shade. In late spring to early summer this tree puts on a showy spectacle as a coat of golden blooms arrive, adding cheerful color during our June gloom period. This semi-evergreen brings year-round beauty and plenty of curb appeal to any yard.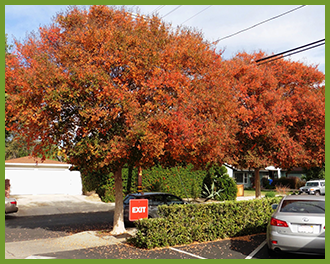 Crape Myrtle (Lagerstroemia) – if you want to bring lots of color to your garden, Crape Myrtles can do it! When the hot weather arrives, vibrant colors in shades of pink to purple to red and white decorate your yard. These are attractive small trees in the fall too, with colors such as gold, orange, and red making an appearance and complementing the season perfectly. We like to use nighttime landscape lighting to highlight the beautiful multi-trunk structure. 'Muskogee,' 'Natchez,' and 'Tuscarora' are mildew resistant varieties suitable for coastal conditions.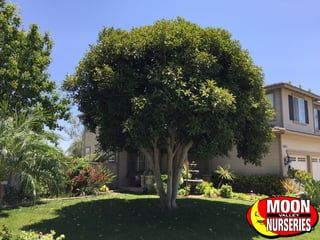 Rusty Fig Tree (Ficus rubiginosa) – a great climbing tree, Ficus rubiginosa is a tree destined to help create memories, whether as the spot of your first kiss or the time you got "lost" exploring the branches and broad spreading canopy. Homeowners rave about its low-maintenance features. It's the perfect size for smaller yards too, so we like to plant them to block unwanted views and as an attractive shade tree near the street or in the center of a lawn.
Plant more trees so that we can make our neighborhoods green and our air cleaner. To find out how to incorporate any of these trees into a new or existing landscape, visit your local nursery professionals at any of our Moon Valley Nurseries!