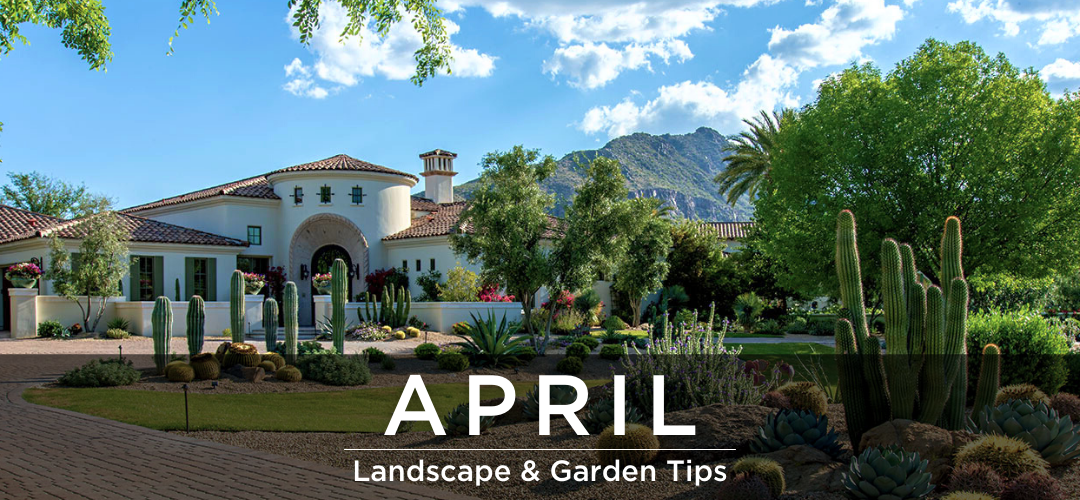 Spring has arrived! The fruit and citrus blossoms are filling the air with their incredible fragrance, flowering trees and plants are exploding with coats of color, and trees that enjoyed attention for their fall colors are beginning to grow new foliage. Spring is a beautiful time of year, and also happens to be the best time to plant everything!
Our nursery pros have pulled together the best advice to help you get the most out of this opportune season for your yard. We have curated our top tips for watering, fertilizing, and trimming your current trees and plants, how to handle any pesky weeds, and the best trees to plant in spring!
ADJUST YOUR WATERING SCHEDULE FOR SPRING

Now that we have fully transitioned from winter to the spring season, we need to adjust our watering schedules for the planted material in our landscapes. Keep an eye on how the temperature fluctuates. We have just a few weeks left before the temperature ramps up and when it does, you may have to add another day of watering, depending on the trees and plants you have in your yard. When watering, set the hose or drip system to apply the water very slowly over a longer period of time. This method allows the water to penetrate deeper and reach the entirety of the plant's root system. For more information on best watering practices, check out our watering guides!
FERTILIZE YOUR YARD
FOR THE BEST SPRING GROWTH

It's the prime growing season right now, and fertilizer is food for your plants. It's the difference between surviving another season malnourished or thriving like a champ! All our custom-blended fertilizers have been specifically crafted for our native soils. We have fertilizers for everything in your landscape, from shade trees and palms to fruit and citrus, to flowering trees and more! In addition, we also have fertilizers that can assist the material in your landscape that is still recovering from the winter or any other stress. These can be purchased at all Moon Valley Nurseries locations or online.
Shop our custom-blended fertilizers and nutrients!
PULL WEEDS & USE PRE-EMERGENT

Unfortunately, most of us don't always have time to pull every weed that emerges from the ground, so our yards may be taken over by many different types of weeds. Some might even be getting so mature that they are starting to look like little tree or shrub saplings. Nobody wants to be pulling weeds in the summer with the sun beating down on them or in the dark, trying to avoid the heat. Using the pre-emergent products that we carry at all our nurseries will keep your yard weed-free, and right now is your last opportunity to stop the weed growth before it begins. Be sure to ask our experts about how to use them and which product is best for your landscape.
PLANT NEW LANDSCAPE PROJECTS

Any landscape projects you have been planning will benefit the most from being planted right now. Your new plants will establish quickly in your yard and be able to take advantage of the full spring and summer growing seasons. Our professional landscape designers and planting crews are thrilled to show you around our nurseries, help you handpick the best trees and plants for your home, and get the project expertly planted with our free planting services!
Excellent Trees to Plant Now
Planting trees in your yard helps cool down the home, reduces energy usage, and brings a lush, full look to your landscape. Explore the top trees to plant this spring season: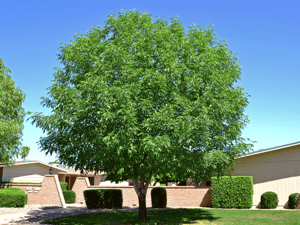 Majestic Beauty Ash:
If you are looking for a park-style tree that can provide a large amount of shade, any ash tree variety will do, but our Majestic Beauty Ash™ trees possess some wonderful characteristics that help set them apart! They have large, deep-green leaves that stay on the tree through most warmer winters, making these a mostly evergreen ash tree! Because they are hybrids, the Majestic Beauty™ is also seedless, meaning there is almost zero clean up required from these low-maintenance shade trees!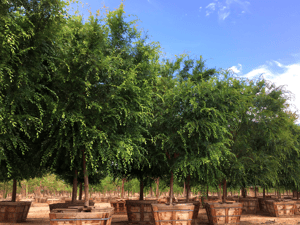 Chinese Elm:
Once the sun is out and the weather starts to really heat up, you will be glad to have the massive amount of shade that specimen elm trees provide! Our Chinese Elm 'True Green' strain features deep green leaves and an upright growth habit that looks beautiful in any landscape. These exceptional shade trees are also perfect for a wide array of yards, as they handle the heat and cold in equal stride and become drought-tolerant, once established.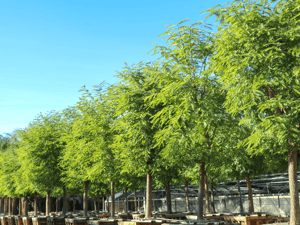 Tipu:
These colorful trees are a favorite throughout Arizona neighborhoods! These trees are naturally accustomed to hot summers and tough soils, so they love to grow in our area! They put on a spectacular show when the golden blooms arrive from late spring and into early summer. Thanks to their feathery green foliage, wide canopy, and upright growth pattern, they also provide a massive amount of shade. Plus, you'll get to enjoy the scene as butterflies feed on the nectar the flowers produce!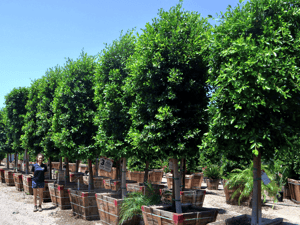 Ficus Nitida:
One of the best trees for creating privacy is also one of the best shade trees you can plant in our region! These evergreen trees love to grow where there is plenty of full sun exposure. We love to plant them around property lines to block unwanted views, and they are an excellent tree for tropical-themed landscapes! That's not all! They keep their lush, green appearance even in the most drought-ridden landscapes. If you live near a busy street, we recommend planting these trees to act as a natural privacy screen and sound barrier.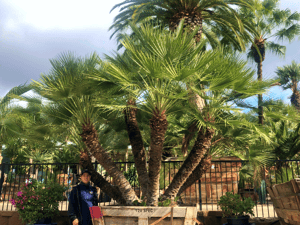 Mediterranean Fan Palm:
The Mediterranean Fan Palm, a favorite landscape palm for Arizona homes, is ideal for planting near swimming pools or usage as a focal point in any yard. They are drought-tolerant and love the sun! These smaller palms look stunning when used as an accent plant against architectural features. They are also excellent for planting near the base of taller-growing palms. Raise the wow factor to high by lighting them up with spotlights and other types of night lighting.
GREEN THUMB GARDENING ADVICE
Mulch: Prepare your landscape with mulch before it gets too hot. Add a few inches of mulch to keep the soil cool during the warmer summer months and to keep the soil warm during cooler days.
Vegetable Garden: Homegrown food is healthier and saves you money. Keep planting vegetables such as beans, carrots, cucumbers, melons, peppers, squash, and sunflowers.
Pruning: Prune spring-flowering plants once they finish blooming. Thin-out flower seedlings now so that they have enough space to grow.
Eliminate Pests: Insects and other pests may be lurking in your garden this time of year. Keep an eye out for aphids, spider mites, and other pests that like to bug our plants during the spring season. We carry a variety of insecticides and pesticides, many of which are safe to use on edible plants. Stop by your local Moon Valley Nurseries to view our selection of pesticide products if you are experiencing a bug or pest problem in your garden.
OUR DESIGNERS ARE HERE FOR YOU THIS SPRING!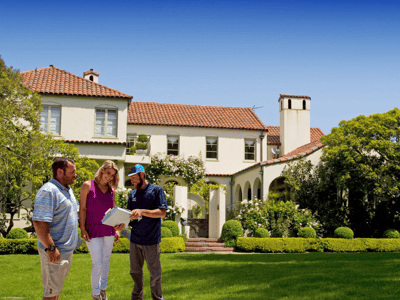 Our professional landscape designers are ready to help you get the most out of this spring. Each year, they look forward to this season because they get to see the yards they design explode with new growth and blooms, bringing instant joy to all the homeowners that entrust their landscapes to them. Enjoy your landscape to the fullest this spring by scheduling a free design consultation with one of our experts today!
To learn more incredible yard care advice, design tips, and tree knowledge, check out our library of articles! We have a massive catalog of entertaining and informative articles written by our experienced nursery professionals to help you succeed with all your landscaping goals.
Updated by Luke Kalawsky on March, 29th 2022