Transform Your Landscape
With all the varieties of trees and plants available from Moon Valley Nurseries and our knowledgeable landscape design experts, there are infinite ways to put together an entire yard design just for your home.
Our favorite designs are the ones that completely transform our customer's yards overnight. Keep reading to find out how you could renew your yard with only a few trees. No matter what type of design style you are looking for, our design experts can create your perfect yard.
Add a Tropical Background Around Your Pool
Benefits of Planting Palms by the Pool
If you have a pool in your yard, then you are already halfway to having the ultimate tropical landscape. Good job! To finish off the look and bring the tropical island vibes to your home, you want to add some palms around your pool or yard.
Our nursery professionals recommend two ways to add palms to your yard and pool. The first way we might design around your pool is to plant palms close together to create a dense backdrop focused on your pool.
Another favorite design concept is planting palms more spread out throughout the yard to cover the landscape with palms and bring the resort-feel throughout your property.
Three of our ideal palms to add to this type of design are our Piru Queen, Date, and Mediterranean Fan palm varieties.
Palm Variety Suggestions for Southern Nevada
Date palms are the ultimate pool palm! You can find Date palms at most resorts and shopping centers. Around pools, Date palms provide excellent shade due to their full fronds and they have practically no litter, keeping your pool cleaner!
The Date palm looks excellent when planted in clusters of 3 to 5 and is hardy to cold and heat, and drought-tolerant.
The Mediterranean Fan palm is a great palm that grows in multiple trunks and is considered slow-growing compared to other palm varieties. These work great in areas where you do not need a ton of height and need something that will not outgrow its planting location. These palms are incredibly tolerant of numerous elements.
The Piru Queen palm is an exclusive tree from Moon Valley Nurseries. We specially designed our Piru Queen palms for our desert climate. They are custom grown at our farms to be extra hardy in heat and cold.
These palms have distinctive appearances compared to other palms that you will see, and their thicker trunks and fuller crowns make these stand out when compared to the rest. These palms are excellent when planted in groups to add shade and are fantastic in tight planting locations.
Create a Privacy Hedge Around Your Home
Benefits of Planting Hedges to Maximize Privacy
If you feel like you do not have the privacy you want in your home, hedges are one of the best design options that will solve your problem. They even add more benefits to your property as a greener yard, higher property value, and increased curb appeal.
Privacy is one of the most important things to us, and that we get to come home to a place that feels safe and away from the world. Not only does that apply to your home, but also your yard. Some of our favorite plant materials to use for privacy are our Carolina Cherry, Japanese Blueberry, and Wax Leaf Privet.
Hedge Material Suggestions for Southern Nevada
Native to the Southeastern United States, the Carolina Cherry has become a popular choice for its minimal maintenance, natural upright conical shape, and ability to tolerate heat, drought, and wind.
The Carolina Cherry is a small to medium-sized evergreen with dark green, lustrous wavy-edged foliage on brown thornless stems. The foliage can handle regular trimming and be sheared into a tall screen or sound barrier which make them a near-perfect option for many homes.
The Japanese Blueberry is a visually appealing evergreen that grows fast with dense and lush dark-green foliage. It requires minimal maintenance, and its narrow form allows it to fit in tight spaces like entryways. It thrives in the full sun, and it handles the cold quite well. It can be sheared into any shape, and it produces small white flowers in the spring.
The Wax Leaf Privet is a dense and rounded evergreen named after its thick and waxy leaves that are smooth to the touch. The Wax Leaf Privet can be used for different landscape applications and is commonly used as a hedge because of its density that creates a full screen. In the springtime, you may start to see (and smell) white flowers in the foliage.
Start Your Personal Orchard in Your Yard
Benefits of Growing Your own Fruit
The benefits of growing your own fruit include being able to produce fruit that tastes better, knowing that your fruit is pesticide-free, and having multiple varieties of citrus and fruit right in your yard!
Besides the harvest that they bring you annually (sometimes more often!), our citrus and fruit trees grow large enough to create shade in your yard and cool down your yard to grow shrubs and groundcover near your fruit trees. Three varieties that we love to plant in the Las Vegas region are lemons, oranges, and apples trees.
Fruit Tree Suggestions for Southern Nevada
Meyer lemons are a favorite due to their many culinary uses and their thin peel that makes squeezing the freshest lemon juice a breeze! A pitcher of fresh-squeezed lemonade is coming right up to make the summer even better.
Oranges are juicy, nutritious fruits you will love having in the comfort of your backyard. Growing your own oranges enables you to always be ready to eat a healthy, sweet orange or navel orange when you get a craving.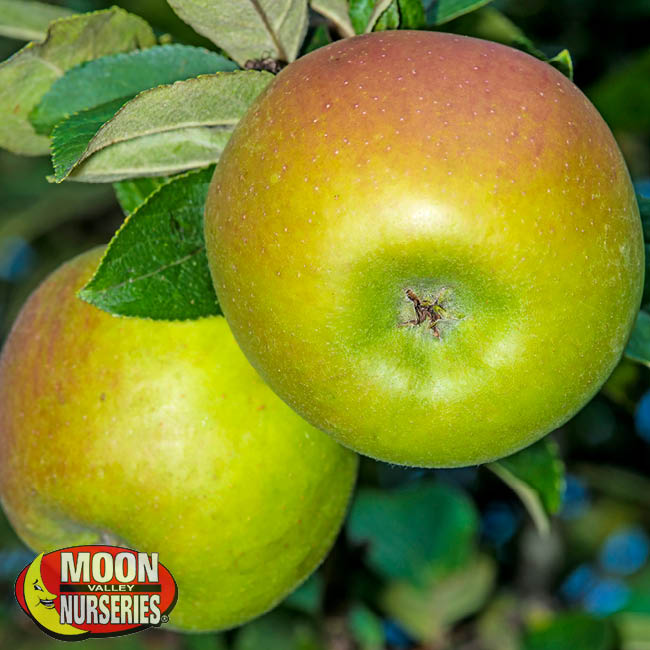 Low-chill apple varieties that grow best in our area include Anna, Fuji, and Dorsett (Golden). When it's hot and bright outside, these trees can also provide shade coverage. These are excellent landscape trees that can add beautiful color to any yard.
Start Designing with the Moon Valley Nurseries Team
Click here to learn more about our landscape design consultations and schedule a consult today.
Visit us at the location nearest to you and let us help you get your project started!
More from Moon Valley Nurseries
Click here to learn about our FREE in-store landscape consultations. Our design consultations are easy as 1-2-3.
Click here to learn more about our tree care services in Las Vegas. Find out how our team prevents future headaches with healthy maintenance.
Click here to find out if a xeriscape design is right for your next project. Learn about the amazing benefits that come from xeriscaping your yard with waterwise plants and trees.