WHY THE BEST TREES ON EARTH COME FROM THE MOON!
Since the beginning back in 1995, Moon Valley Nurseries has always been about passion for trees, palms, plants and more! Owner Les Blake started our nursery because he was instilled with this passion from his early days planting orchard trees alongside his father and even granddad, for whom he's named. He became enthralled with seeing how trees can transform landscapes, provide shade and fruit, or simply bring a tranquil environment to homeowners. With a lot of grit, a ton of resolve and not much money, he took his love of the business and started Moon Valley Nurseries.
Fast forward to today, and you'll find that Les has grown his business by surrounding himself with great people who share his same passion for trees. From our nursery pros to our tree planters, landscape designers and even our accounting staff; everyone here at Moon Valley Nurseries loves being involved with the process of growing and planting the most amazing trees on the planet.
IT ALL STARTS IN OUR LABS AND GREENHOUSES
Our constant desire to bring ever-better quality trees and palms to our clients takes time, planning, and a lot of expertise. Much in the way an experienced winemaker must craft and prepare a product that won't be ready to consume for years, we must always be preparing trees for the years, sometimes decades-long journey from inception at the farm to planting in your yard.
Our arborists are at the forefront of technology and methodology when it comes to creating masterpieces each and every time we grow a tree. It all starts with our "mother" trees. These are near perfect specimen trees we've grown or acquired for the sole purpose of cloning to create that identical tree for our customers. The mother trees exemplify all the characteristics and benefits that make them ideal for cloning. When compared with other trees, even within their own species, these trees demonstrate better growth habits, thicker trunks, greener foliage, better root structure – all the desirable traits that make them candidates to recreate for your yard.
Our arboriculture labs employ the most advanced methods to create the clones of our mother trees that eventually become our nursery inventory for you to select from. These methods include: Tissue culturing which involves creating a new tree from just an individual cell of the mother tree, initially started in a culture dish and transferred to a soil medium. Air layering is how we train a branch of the mother tree to become its own self-sufficient identical version of its parent. Rootstock grafting is the process we use to maintain exact genetic consistency across most fruit-producing trees as well as many seedless and ornamental shade trees. Genetic seed selection is another way we create trees and palms only using selected seeds from designated mother trees with the ideal traits we're looking to recreate.
GROWING UP ON THE FARM
Once our gracious mother trees have given us their cloned saplings, our staff must tend and care for them for years until they're ready for your yard. Because of our never-ending quest to grow the best, we've created state of the art growing facilities in all our regions to provide trees grown in the local conditions they'll need to endure for the rest of their lives.
We've invested heavily in water testing and purification systems, nutrient injection systems, and ultra-efficient irrigation techniques all to balance environmental friendliness with market effectiveness. Our professional maintenance staff has years of experience in proper pruning, staking, and fertilizing practices to make sure our baby trees end up just as lovely and beautiful as their mother trees.
We even developed our own custom fertilizers, just for growing in our region. Moon Dust, Moon Juice, Palm Juice and more are all used regularly at our farms and available for purchase at our nurseries. We're always ahead of the curve and stay in compliance with all federal and state department of agriculture requirements regarding all aspects of our growing operations. This entire process continues for several years until our baby trees are grown up and ready for your planting in your yard.
NEW TREES ARRIVING DAILY
It's always a show when one of the semi-trucks from our local farms arrives at our nurseries loaded with new trees just for Moon Valley customers. Like opening a cask of fine wine, the new trees invigorate the nursery, and it creates quite a bit of work to get them unloaded and put into their designated departments. Our staff is always glad to have more inventory because it always seems to get sold so quickly. Once our nursery professionals help you design and select the perfect assortment of trees and plants for your landscape, it's time for our babies to leave the nest.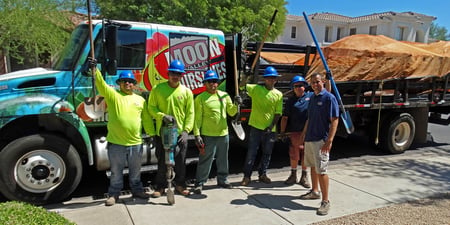 TO YOUR YARD AND BEYOND
Delivery and planting day at your home is always exciting, interesting, and transformational. Our professional installation crews have years of experience plus are continually training in the best practices for planting, safety, and efficiency. We provide our crews with the newest vehicles plus innovative and custom-designed equipment like side-loading lift gates, custom tree dollies, handcrafted sharp-shooter shovels, jackhammers, and more. We do the digging, planting, starter nutrients and more!
All with the end goal of the best trans-plant for the trees and a safer environment for our workers. It's always rewarding to see the transformation that new trees and plants can create, but more rewarding to see the smiles and thumbs up from our clients. Once our crew is done, and the truck is leaving your home, our work still isn't done. We recognize the investment that our customers make with us is also our investment, so we guarantee each and every tree we plant for you.
LEGACY OF THE MOON VALLEY TREES
A famous old Chinese proverb states, "The best time to plant a tree was 20 years ago, and the second-best time is today." At Moon Valley Nurseries we have trees of all ages… some even over 20 years! Trees are the most prominent feature in nearly all landscapes. Planting trees is one of the easiest and best ways for everyone to help the environment as well. We believe great trees are years in the making, but it's definitely a labor of love for us, because the trees we're starting today may be the legacy your kids, grandkids or even great-grandkids build a tree house in years from now.