Now is the Best Time to Plant Trees in Las Vegas
The fall season has finally arrived, and as always, it's the best time to plant in the desert! Warm sunny days and cool nights create the perfect condition for trees and plants to establish strong vigorous root systems while getting a break from the sun above ground. This ideal balance encourages root growth all season and offers even more benefits to fall planting.
Benefits of Planting in the Fall
Better Root Establishment
In our region, the soil usually never freezes, which allows your newly planted trees an opportunity to establish its root system throughout the fall/winter.
Less Water Usage
Because of the shorter days and the cooler weather, newly planted trees and shrubs will require less water than they would need if they were planted during the spring.
Quality time to Grow for Spring
By the time spring hits, your tree or shrub will have a solid, better-established root system and will be able to focus its energy on top growth.
Best Landscaping Tips for the Las Vegas Area
Change Watering Schedule
If there is one thing that Las Vegas homeowners with beautiful yards are good at, it's that you stay on top of your watering game. Now that we are in October, you must re-adjust yet again, except this time you can finally start cutting back on your water usage!
The weather change is going to help the ground retain moisture longer, therefore, permitting us to use less water going forward. Make sure that you are watering less often but still watering with the right amount of water each session. The soil should be saturated about two to three feet deep around the tree.
Remove Weeds
The first step when fighting off weeds in your yard is prevention. You will save yourself so much time if you apply pre-emergent herbicide to your yard before the weeds even start to grow!
If any weeds do get past the pre-emergent herbicide, you should try to pull them out as soon as you see them pop out of the ground. As they grow, they drop more seeds, and then you have more weeds! If you pull them early, you can terminate new growth before it even starts. Consider adding mulch to areas to reduce the number of sprouting weeds. Ask our nursery professionals what the best option might be for your landscape.
Fertilize Trees, Plants, and Lawn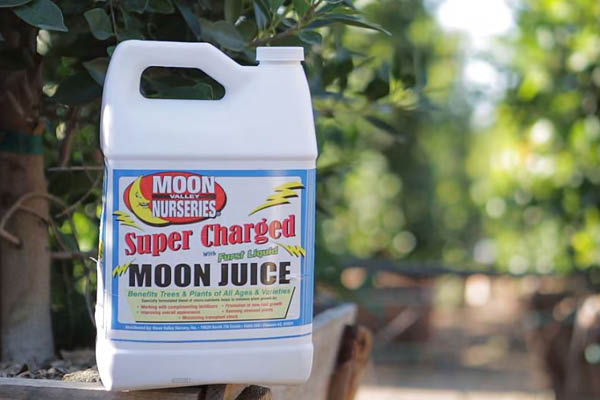 We cannot stress the importance of fertilizing everything in your landscape, and we mean everything from trees, flowers, and plants to your lawn! Because fall is a prime growing season in our region, this is when your trees and plants are going to be utilizing the most nutrients from fertilizers.
Once the temperature drops, the material in your landscape will decrease its top growth and focus on root growth. This creates the best environment for your new trees to establish a healthy root system. Fertilizing now and throughout the winter will allow the plant to soak up those much-needed nutrients and store them for explosive spring top growth.
Everything should be fed with the proper fertilizer and supplements to ensure optimal growth during this crucial time.
Our Moon Dust Fertilizer is our top-selling product because it works on everything in your yard! Moon Dust can be used on all your trees and plants. It boasts larger and tastier fruit production when applied to citrus and fruit trees and significantly increases bloom cycles in flowering plants and trees.
Our custom blended Super Charged Moon Juice is a staple that should be used on all your trees, plants, flowers, vegetables and more all year round. Moon Juice helps boost growth and helps your existing trees recover faster from any heat stress it endured over the summer.
If you have a lawn in your yard, you will want to add our Moon Royale Turf Fertilizer to bring your grass back to life! Lawns can sometimes take the hardest beating from the sun, so it's important to help give it optimal nutrients going into fall. Moon Royale will help break down the soil and quickly green up any lawn type.
At a Moon Valley Nurseries location near you, you can find fertilizers and other beneficial products for every plant in your landscape. Our fertilizers can be used on everything from turf, palms, desert trees, shade trees, palms, and more. Now is the best time to give your landscape a helpful boost!
See our full line of products here to help your yard flourish this fall.
Trim your Trees
Making sure you have your landscape well-cared for is a vital part of keeping your yard beautiful and protecting your investment. You should trim off any dead or sun-damaged branches, cut back any excessive branches, or branches that may have been damaged by summer storms.
If you have citrus and fruit trees in your landscape, take time to examine them and remove any suckers (green branches that grow fast and steal nutrients from your tree). Once the suckers are removed, your tree will have better nutrient intake to focus more effort into growing delicious fruit.
Moon Valley Nurseries Tree Care Division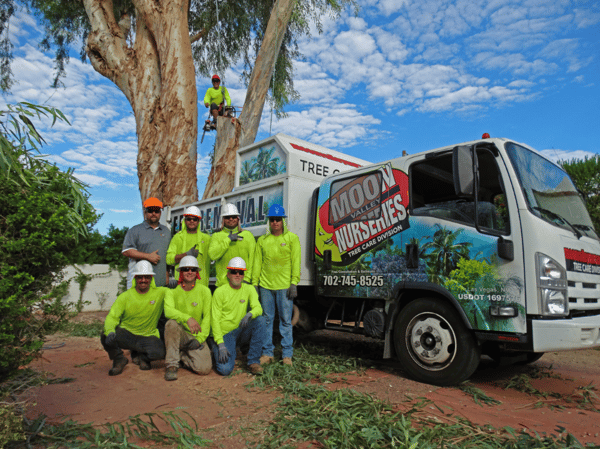 Our Tree Care Division is available in Las Vegas and surrounding areas to help with any of your tree care needs or concerns. Our ISA Certified arborists and nursery professionals can handle any job such as storm clean-up, tree trimming/pruning, tree and stump removal, and deep root fertilizer injections.
Reach out to our Tree Care Division to schedule a consultation or ask any questions you may have about your trees.
Learn More from Moon Valley Nurseries
Click here to learn more about fall planting season and why it's the best time to plant trees in Las Vegas.
Click here to find out which hedges can give you the ultimate privacy in your home.
Click here to see the best trees to plant when you want to add fall color to your landscape this season.