Back to main Blog
Luke Kalawsky
Luke Kalawsky has a passion for all things trees, plants, and landscape design. He has designed numerous landscapes as the head designer in the Surprise, Arizona region until he became a manager of our Central Phoenix Nursery. He now dedicates his knowledge, expertise, and creative capabilities to help the masses discover how to design, plant, and maintain their landscapes with his writings.
Fall is the Best Time to Plant Trees
Can you plant trees in the fall? The answer is a resounding YES! Fall is the absolute best time to plant trees and plants across many of the Western United States. Planting trees at the right time means that they are more likely to thrive, ensuring you get the most out of your landscape investment.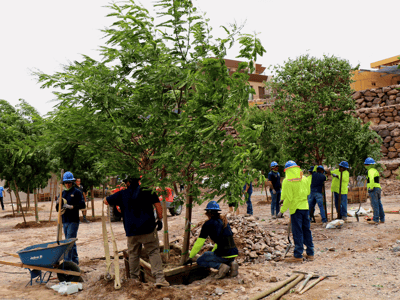 For any landscape project you have been wanting to complete, you can't pick a better time than right now during the fall planting season. Hurry though, the window for optimum planting conditions doesn't last long!
Fall officially begins on the autumnal equinox, which lands on September 22nd this year. Planting in autumn lets your trees focus on establishing their root systems, ensuring they are ready for the next growing season. This way, the root systems will grow before warmer weather returns, meaning your trees will be ready to explode with lush growth as soon as the temperatures start to rise. Let's explore the benefits of planting trees in the Fall.
Extra and hardier root growth sets the stage for explosive spring and summer growth
Cooler weather is perfect for tree planting – less transplant stress due to extreme heat
Trees will be better equipped to deal with heat and drought in the following seasons
Far less evaporation of soil moisture allowing roots to get all the necessary water
You can get almost immediate seasonal fall color from newly planted deciduous trees!
Good for DIY gardeners – less heat to contend with!
Let's face it; the world needs more trees. Their beauty is both inspiring and calming, they remove pollution from the air, and they can cool down our yards and homes. Fall is planting time, and out here in the Southwest, we have many deciduous trees that develop brilliant colors before dropping their leaves.
Trees such as the beautiful Arizona Ash, Arizona Sycamore, Raywood Ash, Crape Myrtle, and "Red Push" Chinese Pistache add color to your yard with bright fall foliage that is sure to add plenty of curb appeal! Colors such as orange-red, purple, bright yellow, and rich red-burgundy appear, sometimes even on the same tree, always putting on a spectacular display that you must see to believe. These are some of the best trees to plant this fall to enjoy the show of autumn color!
For more beautiful fall foliage, check out our article on the 7 Best Fast-growing Trees for Vibrant Fall Color!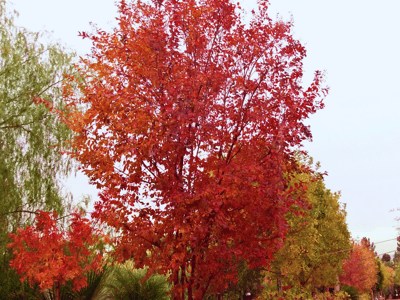 Frothy blooms in ice cream-like colors have made this small to medium-sized tree a landscaping favorite throughout the Southwest. The stylish Crape Myrtle tree is perfect for color lovers even when not in bloom as the colors in fall range from golden, orange, and red and will adorn any yard and landscape with seasonal beauty.
In the winter, you can use nighttime landscape lighting to highlight the handsome silhouette and bark that sheds to reveal a deep red inner bark. We grow the best varieties for our area including Dynamite, Natchez, Muskogee, Tuscarora, Tuskegee, Lipan, and Catawba Crape Myrtles.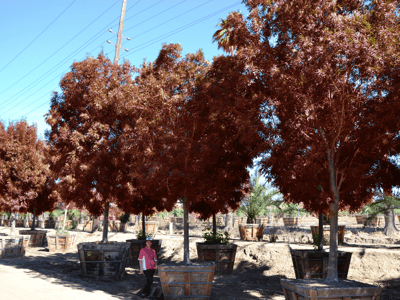 We love the fall colors these deciduous trees bring to landscapes. Raywood Ash trees produce the darkest green foliage of all Ash varieties and during the fall, their large canopies are dominated by a stunning rich burgundy color. These Ash trees are a favorite to use as street trees, shade trees, or even single specimens.
A great source of color in fall, they are also perfect big trees for shade during the summer months. These beautiful trees thrive in full sun and are drought tolerant once established, making them ideal for growing in any Southwest landscape.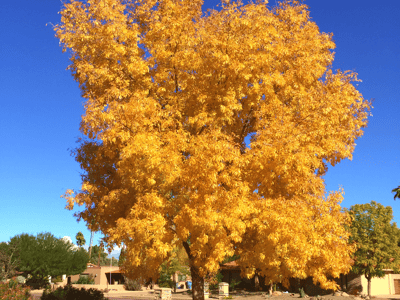 Plant these large trees now and enjoy a spectacular scene when the beautifully rounded canopy of bright green foliage transforms to an attractive golden yellow in the fall.
These fast-growing deciduous trees create an abundance of shade in the summer to cool down the temperatures of your home, and once the leaves have dropped, they let the warmth of the sun in during the winter.
These Ash trees love to grow in full sun and are drought-tolerant specimens once established. These are excellent shade trees that are sure to add beautiful fall color with plenty of curb appeal. An Arizona Ash is a magnificent fast-growing tree that will bring many years of beauty to your yard.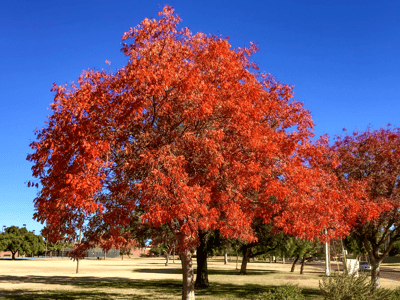 During the summer, this beauty produces a clean, dark green umbrella-shaped canopy that, when placed correctly, can cool down the temperature inside your home and provide a shady spot to cool off while you're out in the yard.
Plant these Red Push Chinese Pistache trees as focal points and watch in awe as the leaves turn to an attractive, beautiful orange-red color in the fall! There are not many other trees that produce such a vibrant and broad range of fall colors in our climate.
Fun Fact: Sometimes the Chinese Pistache is incorrectly referred to as a Chinese Pistachio tree. These Pistache trees, however, do not grow pistachios.
Arizona

Sycamore (Platanus wrightii)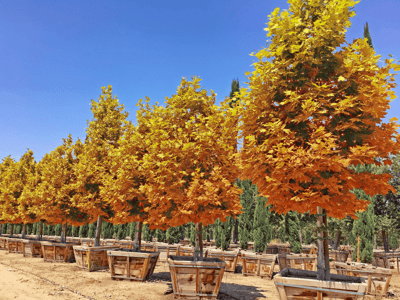 Arizona Sycamores are Southwestern natives that can grow to become large deciduous trees. They have a spreading canopy that casts cooling shade during hot summer days while allowing the warmth of the sun in after they drop their golden fall foliage!
Sycamore trees are rugged and thrive in areas that get plenty of full sun exposure. Once established, they have low to moderate watering needs, and the roots act as good soil binders to prevent excessive erosion. We like to plant them as lawn trees, shade trees, trees for privacy, and any other spot where they can grow and be enjoyed by the entire family!
Large trees will make the greatest impact in any landscape. Why wait years, sometimes decades to have big trees when you can buy specimen trees right now at Moon Valley Nurseries! After all, big trees will add a lot of value to your home no matter where you live.
If you want additional guidance on where to plant any trees or plants in your yard, speak with any of our nursery pros at our nurseries or give us a call so that we can assist you! An instant landscape awaits and we make it even easier to achieve the landscape of your dreams with our professional planting teams that ensure the perfect trees are planted in the perfect spot in your yard!