Back to main Blog
Luke Kalawsky
Luke Kalawsky has a passion for all things trees, plants, and landscape design. He has designed numerous landscapes as the head designer in the Surprise, Arizona region until he became a manager of our Central Phoenix Nursery. He now dedicates his knowledge, expertise, and creative capabilities to help the masses discover how to design, plant, and maintain their landscapes with his writings.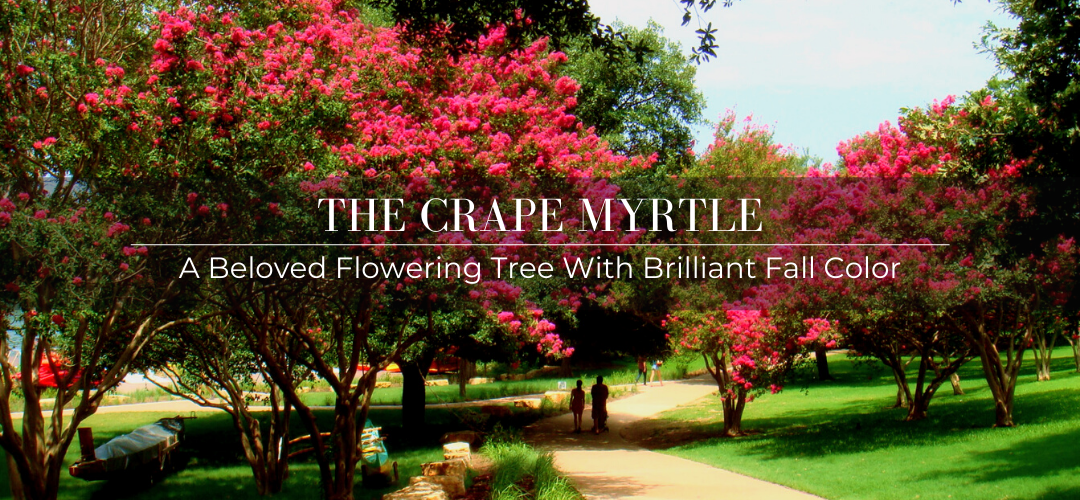 Crape Myrtle trees are tough to beat when it comes to adding heaps of interest to your landscape. These showy trees' ability to bring year-round color and curb appeal is unmatched.
In this deep dive into the renowned Crape Myrtle tree, you will learn the variety of ways this flowering beauty creates a spectacle in any landscape it is planted in, as well some of the most commonly asked questions about Crape Myrtles.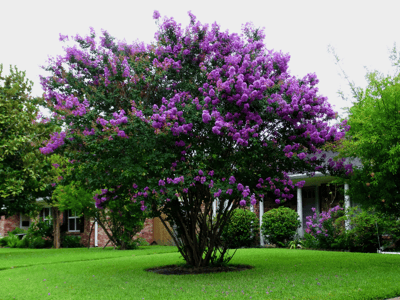 Crape Myrtle trees, also known by their botanical name, Lagerstroemia indica, are most well-known for their enormous clusters of flowers that bloom from late spring into the late summer. These trees can flower in various colors such as purple, red, white, lavender, light pink, and dark pink depending on the variety you choose.
The jaw-dropping blooms that these flowering trees put on aren't the only reason they have earned the title of the most colorful tree. The Crape Myrtle's fall color is nothing short of stunning. During the autumn season, you can expect a myriad of deep orange-reds and bright yellow-golds, lighting up your landscape with a vibrant display of the changing of seasons.
The Crape Myrtle tree's fall color is an especially appreciated addition to yards in Arizona, Nevada, and parts of California that otherwise may not see a large quantity of autumn foliage.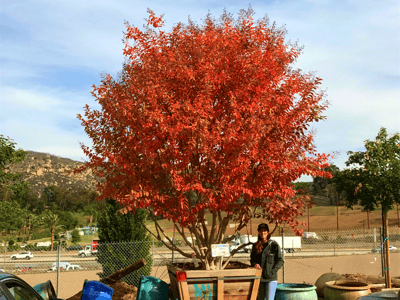 The inspiring qualities of Crape Myrtles don't end with their plump bouquets of flowers and lustrous fall foliage. They are also very practical in their ability to act as a medium-sized shade tree perfect for shading select parts of a yard or single-story home. They additionally can be planted in rows and used as hedge material to create the most colorful living privacy screen around!
Crape Myrtles can be grown in single or multi-trunk varieties. If you prefer a more uniform, formal shape a single trunk Myrtle is the way to go. However, if you want to dive into the natural character and intrigue of the Crape Myrtle, a multi-trunk variety will highlight the tree's foliage and flowers on a unique twisting trunk structure.
Fun Fact: Crape Myrtle trees are often mistakenly referred to as Crepe Myrtle trees. They received this misconception due to the fact that wrinkly flower petals closely resemble crepe paper. Additionally, we have nothing against the delightful French cuisine, but Lagerstroemia trees share no association with the tasty crepe.
ANSWERING THE MOST COMMON QUESTIONS ABOUT CRAPE MYRTLE TREES
WHERE IS THE BEST PLACE TO PLANT A CRAPE MYRTLE?
Crape Myrtles grow exceptionally well in a variety of climates and soils. They love full sun exposures and can adapt to many different soil compositions, making them a wonderful fit for hard, dry Southwestern soils as well as more soft acidic soils in more humid environments.
HOW FAST DO CRAPE MYRTLE TREES GROW?
Crape Myrtle trees have a moderate growth rate which compliments their ornamental appeal. They can be shaped and trimmed to accommodate a wide selection of planting areas. If you are looking to use your Crape Myrtles to provide some shade to a yard or home, we recommend starting with more mature specimens to fulfill the need for shade right away.
WHAT COLORS DO CRAPE MYRTLES COME IN?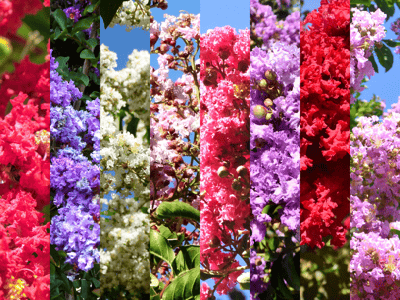 Crape Myrtles come in many different flowering colors dependent on their variety. Each cultivar of crape myrtle will bloom a different color. Here at Moon Valley Nurseries, we carry a wide selection of Crape Myrtle cultivars. Here is a breakdown of the different Crape Myrtle varieties we carry based on their flower color:
WHEN DO CRAPE MYRTLE TREES BLOOM?
A Crape Myrtle tree's blooming period starts in late spring and can extend through late summer. The tree will retain a coat of the enormous flower bunches longer than most varieties of trees that bloom, further positioning the Crape Myrtle as one of America's favorite flowering trees.
HOW TO CARE FOR CRAPE MYRTLES TREES
Lagerstroemia indica trees are easy to care for trees that require little maintenance to keep looking great throughout the year and growing their best. We recommend fertilizing on a monthly schedule starting in the early spring and continuing into late summer to early fall. Apply regular applications of nutrient-rich fertilizer, such as our Moon Dust, to promote more lush growth and vibrant flowers during their blooming cycle.
Once Crape Myrtle trees have been established in a landscape, they become drought-tolerant and require little to moderate watering. They also benefit from pruning and trimming in the late winter or early spring to shape them as desired and clear out any unnecessary growth.
Some cultivars of Crape Myrtle trees can be susceptible to powdery mildew, however, the strains that we custom grow at our farms are a mildew-resistant variety, further increasing the hardiness of our Crape Myrtle trees!
WHERE TO BUY CRAPE MYRTLE TREES FOR SALE
Moon Valley Nurseries grows all our Crape Myrtles right here in our local climate and soil. We grow our trees this way so that they are fully acclimated to our regions' weather, temperature, and soil conditions and to ensure an easy and successful transition to your yard.
We have thousands of the best Crape Myrtle trees for sale at our nursery locations. Our nursery pros are happy to help you select the perfect trees for your landscape.
Our professional planting crews make sure your trees are ready to thrive and we guarantee everything we plant for you! From our farms to your yard, nobody does it better. For the best trees on Earth, go straight to the Moon!