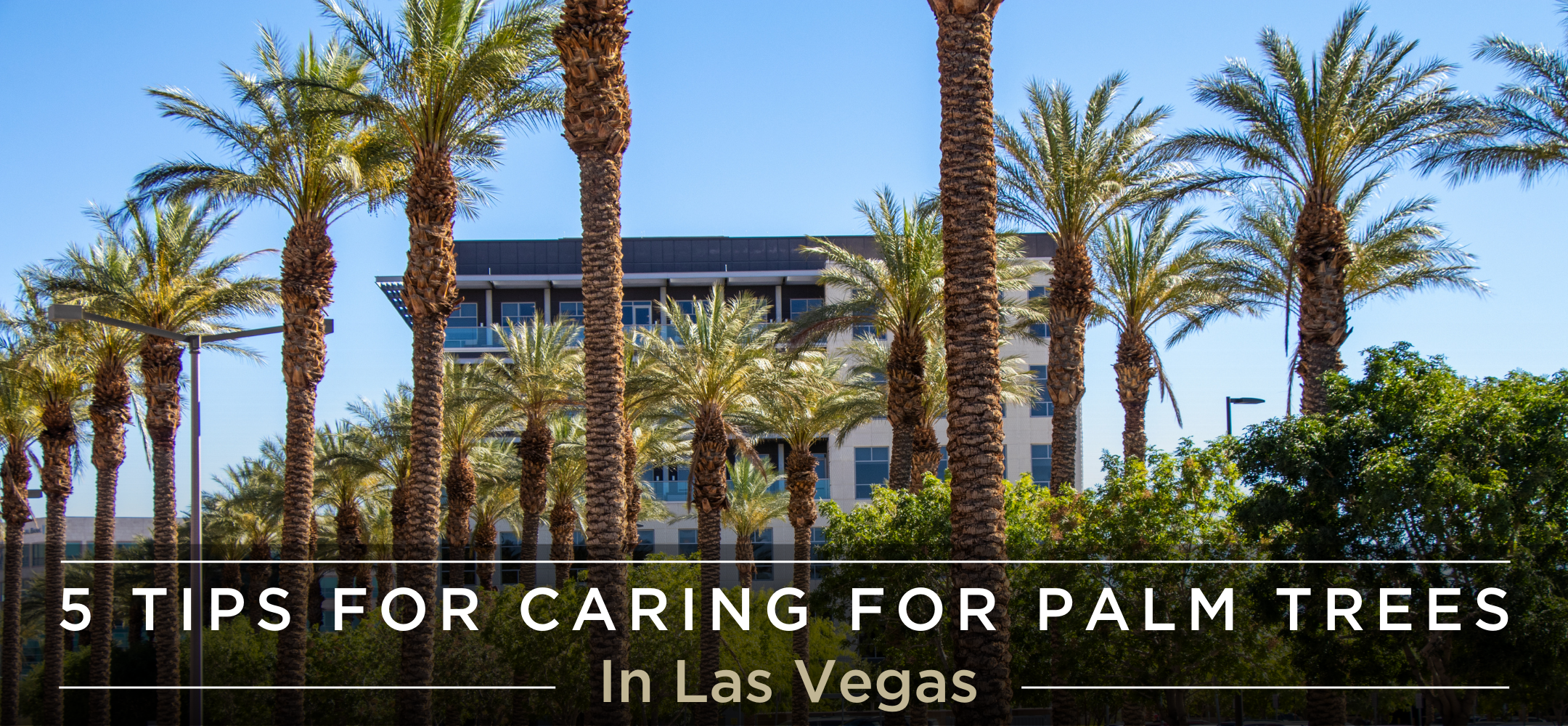 Palms are an integral part of the Las Vegas landscape. In the summer, palm trees and swimming pools are a match made in heaven. When you're cruising the Las Vegas strip, you can't help but notice the majestic palms lined up along the median. Palms are a welcoming sight in our arid environment no matter where we plant them!
Did you know that some palms are cold hardy enough to grow in places such as Portland, Seattle, and Denver? Yep, even though most palm trees are subtropical or tropical, they can grow in unexpected places such as those we mentioned. In Las Vegas, we can grow many different types of palm trees – from Resort Style Date Palms and Piru King Palms to Mexican Fan Palms and Mediterranean Fan Palms.
Many homeowners in Las Vegas favor palms because they can bring a tropical look to desert landscapes. They make stunning accents planted as single specimens, in rows, and clumped in groups. There is no doubt that palm trees can add a tropical feeling year-round. Of course, the tropical appearance we love is due to healthy plants featuring lush and green foliage. Yellow and brown foliage is not what we imagine a healthy palm to look like. The good news is that with special care and attention, we can keep our palms thriving and looking beautiful.
How To Tell If Your Palm Trees Are Unhealthy
Specific issues with palms are easy to spot. Taking immediate action to remedy the situation can save the lush appearance of your palm. Below are three things to look for.
Look for yellowing leaflets: Examine the older fronds and see if they are turning yellow. If so, the palm is lacking magnesium. A deficiency in magnesium can turn once green fronds to yellow. Older fronds are the ones that are lower on the tree.
Look for orange or yellow spotting: A potassium deficiency can cause older fronds to have yellow or orange spotting. It can also cause the trunk to be narrow.
Look for scorched fronds: Newer fronds can appear scorched if there is a manganese deficiency. A lack of manganese can make the leaflets start to curl, too.
Improper fertilization is a common cause of death of palm trees. Moon Valley Nurseries has all the fertilizers you need for palms to thrive in Las Vegas, such as our Super Palm Juice, Super Charged Moon Juice, and Moon Micro Boost.
Five Tips For Healthy Palm Trees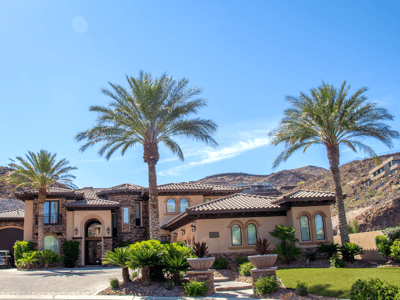 Taking good care of your palms is essential. All it takes is a little bit of maintenance, and we can keep our palm lush and lovely. Maintenance can help palms keep their leafy tropical allure.
Our experts helped us compile these five tips for keeping the foliage of your graceful palm green and healthy. Keep on reading to learn more on how to keep your palm healthy!
Planting: Find out where you want to plant your palm. The right place will vary on what type of palm you have. Factors to consider are sun exposure and the amount of space required to grow.
Let the Pros do the digging: Professional planting is the best way to have the look of your ideal yard. We have an experienced crew that will plant your palm the right way! Professional planting from Moon Valley Nurseries includes all the digging, planting, and mulch. We also add our Super Charged Moon Juice. Plus, everything we plant is guaranteed to grow!
Watering: Palms that are well established will thrive in fertile, well-drained soil. Irrigation is essential to newly planted palms. Keep the soil moist as it is beneficial to keep the palm healthy. Lack of water can lead to stress. Symptoms include slow growth and browning on the tips of the oldest leaves.
Some palm species show signs of stress when the leaflets wilt. The trunk can hollow out or collapse due to water stress. You will want to water deeply and do it four to five times a week when the temperatures reach above 100 degrees. For best results, use a soaker hose with a very slow trickle or use drip watering. Be sure to check the soil moisture. A great way to do this is to scrape the surface at least six inches deep. An electronic soil moisture meter or probe works great, too.
Tip: Since it is so hot in the summer, we recommend watering in the early morning or late afternoon.
Fertilizing: Keep your palm healthy looking with the proper fertilizers. Super Palm Juice has magnesium, which can prevent iron deficiency. This easy-to-apply liquid reaches the roots fast! This incredible juice can also stimulate root growth and can help protect them against stress. Moon Juice is another beneficial fertilizer with manganese – an essential nutrient that can help palms prevent and recover from stressors.
Cleaning and Trimming: Hose off the palms periodically with a water hose to help control spider mites and other sucking insects. We can provide humidity with frequent washing, too. Palms that are self-cleaning will shed the old leaf bases on their own. Trim those that hold their bases. Slice the old bases off at the very bottom of the base. Always be sure that you do not cut into the trunk. It is important to clean any tools with rubbing alcohol to prevent the spread of disease. We recommend hiring a professional tree trimmer.
Moon Valley Nurseries has a full-featured tree care, trimming, removal, and services department. Our tree care experts are happy to offer free consultations on any tree work you need to keep your palms looking worthy of world-class resorts!
We Do The Work!
Bring value and interest to any landscape in Las Vegas by planting beautiful palms! We can do all the work! We have experienced nursery pros that will be glad to help you design, handpick the perfect palms, deliver, and plant! We custom-grow the ideal palms that are ready to thrive in your yard!
At Moon Valley Nurseries, we offer beautiful Canary Island Date Palms that add elegance to any landscape. Line up our Resort Style Date Palms along a driveway and create a grand entrance that is sure to add value and even shade! Our Piru Queen Palms and Piru King Palms are lush and can create some much-needed shade, too. Plant a Mediterranean Fan Palm in both large and small landscapes and use nighttime landscape lighting to add drama. Create a tropical paradise at home and enjoy the view! Plus, the palms we grow and sell at Moon Valley Nurseries are guaranteed disease-free!