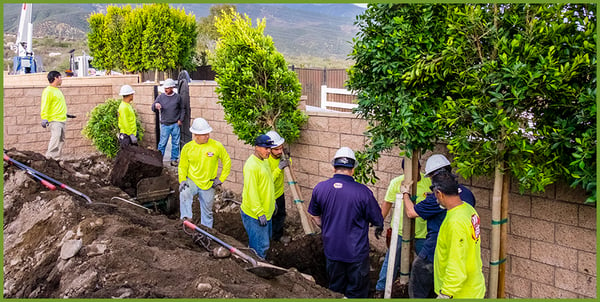 The 2019 spring season is now officially here, and the weather could not be more perfect! Most of you are probably enjoying spring training games, going camping, and having barbeques in the back yard this time of year. Since you have been spending more time outside, you may have been looking closely at your own yard and starting to think of ways to update the landscape.
First things first - make sure you are taking care of your existing landscape. Right now, we are offering a special deal on all our fertilizer products. Click below to get the coupon you need to get 4 fertilizer products, such as our SuperCharged Moon Juice and Super Palm Juice, for only $119!
What do you see when you look around your yard right now? You could add some trees that offer shade to certain parts of your yard or add bright shrubs or flowering tree to add some diversity to a bland area. You might notice you can see your neighbor's window more than you thought before and need a tree to block that view!
Keep reading to see which trees our Arizona nursery experts recommend for planting in the spring. Don't forget we have trees in all different sizes. If you want to start enjoying your tree sooner, ask us about all of our specimen-sized trees.
Which Trees are Best for Spring Planting?

The Purple Leaf Plum tree produces an abundance of showy light pink flowers in spring and features exceptional dark purple foliage. Because this tree stays small, it is great to use as a colorful accent tree in tight areas. It also looks great when used as a focal point in small yards or patio homes. These ornamental trees can make a bold, beautiful, and lively statement no matter how you choose to plant it!



This is the perfect park-style tree that offers large amounts of shade and is very easy to grow in almost any landscape style. The Shamel Ash has large leaves and is a fast-growing variety that will help cool your home and add more shade to your yard. No matter where you plant this attractive water wise tree, you can expect years and years of comfortable shade and beauty.






Its versatility and small size allow the Pygmy Date palm to be planted in tight spaces making them perfect around pools, patios, courtyards, and in containers. The Pygmy Date can be grown in shade and its roots are non-invasive. This allows it to be a fantastic option for planting under larger palms or trees, in between palms, or in a cluster. This stunning palm features multiple trunks of varying height or it can be grown with just a single trunk.





This evergreen tree performs well in any landscape and almost any environment. It creates a very dense canopy of thick, rounded dark green leaves all year that create a very dense shade. Trees like the Ficus Nitida, can keep your cooling costs down in the summer and give you proper overall shade on your property. This very clean tree handles the heat very well and can be pruned to any shape. We offer three different variations of Laurel: Single-trunk, multi-trunk, and column.
This vibrant evergreen is certain to give any landscape year-round attractiveness. The Brazilian Pepper tree is a beautiful tree that is known for its compound leaves and shiny red berries. The silky, dark green leaves create a wide-spread awning that creates an abundance of shade. This is a perfect choice for the Arizona desert environment due to its love of heat and its drought tolerance. Available in both single or multi-trunk varieties, Brazilian Pepper trees are water-wise and require little water once established.
Your trees are definitely starting to grow more every day, leaf by leaf. This is a great time of year to get your trees taken care of for the summer. Giving your trees a trim or fertilizer injections that go straight to the root will have them ready and healthy when the heat skyrockets in these next few months.
Click below to receive a special offer on all tree care services. Call us or fill out our Tree Care form and we will contact you.
Call our tree care team today and ask about which of your trees should be trimmed and fertilized now!
Benefits of Planting in Spring
· Add Shade and Privacy
Now that the sun is out longer, you might notice that your yard could use more shade or privacy so that you can hang out comfortably any time of the day.
· Ready for Summer
We recommend planting mature trees in spring so that you can enjoy the benefits from them immediately. Planting them now will also help the trees roots establish themselves in the soil. Root establishment will keep your tree strong during the summer.
· Many Trees to Choose from
Now is the time to go visit your nearest nursery! We have truckloads of trees being delivered daily daily from our farms to our Arizona locations, so we can guarantee that we have your future tree (if we don't, we will find it for you!).
Looking for New Pottery for the New Season?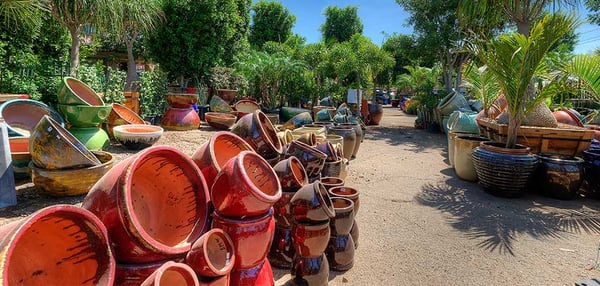 Click below to receive your special offer on all pottery found in our nurseries. You can update your yard with new pottery and containers perfect for planting new shrubs or small trees.
We have all types, colors and shapes so you will be sure to find a few things that you like. We even have dinosaurs hanging around some of the nurseries!
We are one of the only nurseries around that can take on every aspect of the design process for our clients from beginning to end. Our designers are available at every location with the knowledge and experience to take your dream yard and turn it into a special outdoor reality! Not only do we offer design services to set up your new yard, we have our own dedicated crew of professional planters to deliver and install all your new trees and plants.