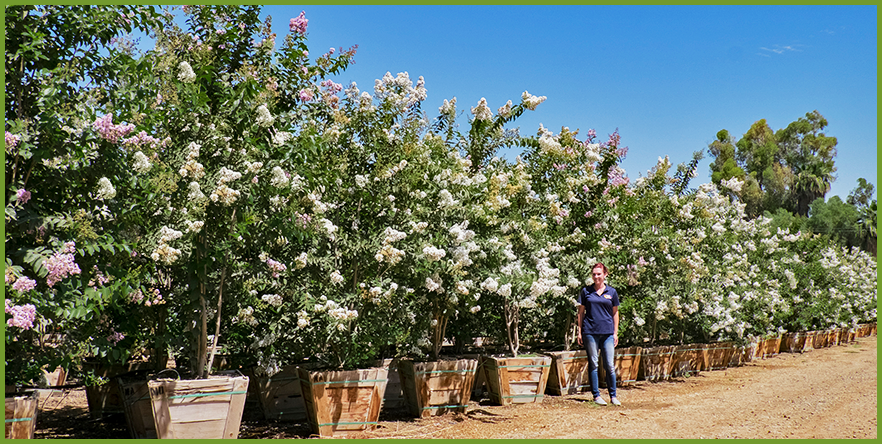 Beautiful blooms of vibrant eye-catching flowers aren't just limited to the spring and summer seasons. We fortunately live in an excellent region that allows us to grow a wide range of trees. Even ones that will bloom into the fall. If you're looking to add a splash of color, or are looking for a "wow" factor, or even concerned about a flowering tree that can produce great shade, our nursery experts have picked out five of our best flowering trees.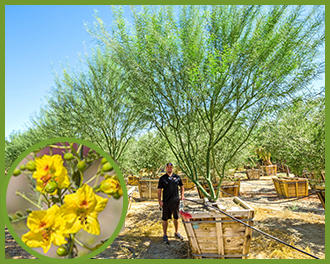 Museum Palo Verde
If you're looking for long lasting color, curb appeal, and great shade no look further than the Museum Palo Verde. Quickly becoming a popular choice for our region, the Museum Palo Verde is supported by a striking
blue-green, sculpture like trunk that provide a stark contrast to just about any landscape. Blooms of vibrant yellow flowers emerge in the spring and cover the entire tree. Throughout the year, the Museum Palo Verde will also bloom in the summer and fall. This tree produces a wide canopy of layered shade that makes the tree look light in your yard while providing very cooling shade for your home.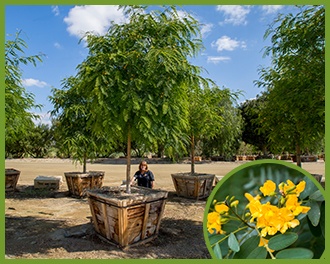 Tipu Tree
Favored for its almost ridiculous growth rate, the Tipu tree is a popular choice for many landscapes in our region. One of the best water wise trees, t
his semi-evergreen tree produces showy apricot yellow flowers during the summer that bloom into the fall. It produces a quick canopy of shade to cool your home, shade a patio or protect the other plants in your yard. It also requires little maintenance as it does extremely well in many soil and drought-like conditions.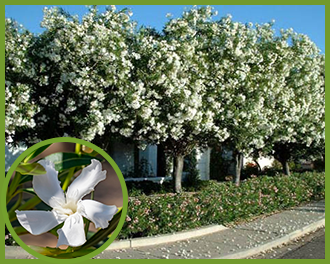 Oleander Tree
These trees love our region and thrive even in the hottest of summer months, which makes them an ideal flowering tree for your landscape. The Oleandner produces star shaped flowers in red, white and pink from spring to fall. The trees look fantastic when planted in groups or in rows. The Oleander is a great tree for our customers who are seeking privacy hedges, area screens, and property border because of the trees ability to keep a thick coat of dark green leaves throughout the year.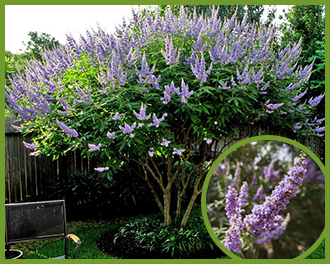 Vitex Tree
This multi-trunk tree is known for its breathtaking displays of purple blooms on long spikes that jet out at every growth tip during the late spring into early fall. The Vitex's twisting trunks under the bright flowering canopy gives this tree a unique, grand appearance. Its canopy is large and layered, which allows sunlight to penetrate the ground below. The Vitex requires minimal water and little maintenance while its blooms attract many pollinating insects and hummingbirds.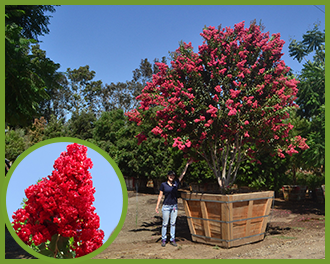 Crape Myrtle
Our customers are always looking for ways to add splashes of color to their landscape. With so many options and varieties, it can be a difficult choice. One of the best choices for beautiful bursts of color throughout your yard is the Crape Myrtle or Lagerstroemia.
These awesome trees bloom from late spring through the early fall and are the perfect addition to any front or back yard
. These small trees produce exquisite colors in purple, pink, red, and white and look aesthetically pleasing to the eyes when they are planted in clusters on side views or accent locations on your yard. Due to the hard and diligent work of plant breeders in our industry, there are now many cultivars being sold that are mildew and disease resistant. At Moon Valley Nurseries we only offer hybrids that are resistant to these diseases so our customers will not have to treat with harsh chemicals.
Planting right now with cooler days and nights will give your new flowering trees an excellent opportunity to hit the ground running with beautiful blooms. Plus, the upcoming fall season is always the ideal time to plant. If you have any questions regarding proper care of any of these beautiful trees, be sure to contact one of our nursery pros at any of our Moon Valley Nursery locations.