These Unique Shade Trees are Perfect for Late Summer Planting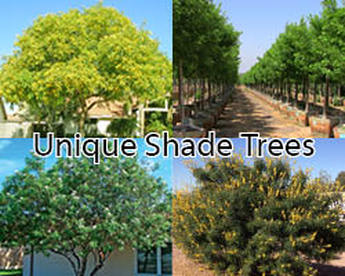 The late summer is a great time to add some additional shade that will continue to offer relief from the heat that usually continues well into October. We're sure you are familiar with many of the popular shade varieties that populate much of the landscape here in Phoenix, but we'd like to bring some cool, unusual options to the table when you're searching for that late summer shade addition. Here are some of the best shade trees that no one talks about.

Tipuana Tipu (Tipuana tipu)

One of the most unusual shade trees in the Valley is the Tipu Tree. This shade tree is one of the fastest growing shade trees on this list and is sought after by homeowners and landscapers throughout the valley because of its vast uses in many landscapes. In the Spring the Tipu blooms bright golden flowers that cover the entire tree. For the amount of shade they provide, combined with moderate water use, Tipus are always a sure bet when seeking large, wide shade.

Bay Laurel (Laurus nobilis)

An evergreen shade tree that really flourishes here in the Valley. The Bay Laurel can reach heights of 25' and above offering vasts amounts of shade to your home or business. One of the best parts of this huge shade variety is the fact that it is very clean and requires little to no maintenance.

Cascalote (Caesalpinia cacalaco)

This shade tree produces a vibrant cluster of yellow flowers that emerge in late winter which make it an ideal shade tree to add in the late summer. The Cascalote makes a great addition to desert landscapes because of its ability to withstand the harsh Arizona sun, is drought tolerant and requires little water. Cascalotes are semi-deciduous and can reach 25' tall with large canopies that provide large areas of shade coverage.

Chitalpa (Chitalpa X tashkentensis)

Often confused with the Desert Willow this shade variety is actually a cross between a Catalpa tree and a Desert Willow. The Chitalpa is a small to medium sized shade tree that makes for a perfect accent anywhere shade is needed. What makes this tree unique? The multi-trunk tree fans out and produces great shade while not getting too large and offers a long blooming period with light pink tubular flowers.

Berrinda Ash (Fraxinus velutina Berrinda)

Native to the Desert Southwest, this ash variety is one of the lesser known because of its limited availability. The Berrinda Ash is a medium to large, dense ash tree that keeps near perfect shape and offers large amounts of shade. The deep, rich green foliage briefly turns to a golden yellow during the Fall. This shade tree is perfect for the Arizona desert as it withstands the extreme weather conditions we experience in the summer and winter months.

These are just a few of many unique and interesting varieties that perform well in the Valley. If you're looking for something different for your yard, be sure to stop by any Moon Valley Nursery and have our expert staff help select the perfect varieties for your landscape!