Best Time to Plant Trees is Just a Few Weeks Away!
The fall season is the best time to plant trees, whether you live in Arizona, California or Nevada. Planting trees at the right time means that they are more likely to thrive. Thriving, beautiful big trees is what we all want so that you get the most value from your landscaping investment. After all, big trees will add a lot of value to your home no matter where you live. Of course, at Moon Valley Nurseries, we are the growers so that we can assure the quality of all our trees. Unlike some other nurseries, we nurture our trees and ensure that they stay healthy-looking and fresh, even during the hot summer months. Fall officially begins on the autumnal equinox, which this year lands on September 22. Planting in autumn lets your trees focus on getting roots established, which allows them to be ready for the next growing season. This way, the root systems can grow before the hot weather returns. Can you plant trees in the fall? The answer is a resounding heck yes you can!
Extra root growth
Cooler weather is perfect for tree planting – less chance for the trees to be stressed by extreme heat
Trees are better equipped to deal with heat and drought in the following season
Far less evaporation of soil moisture so that minimal amount of watering needed
You can pick your trees by the fall colors they produce
Good for landscapers – less heat to contend with!
Let's face it; the world needs more trees, after all, their beauty is inspiring to look at, they can remove pollution from the air, and even help lower stress levels. Fall is planting time, and out here in the Southwest, we have many deciduous trees that turn brilliant colors before dropping their leaves. Trees such as the beautiful Arizona Ash, Crape Myrtle, Raywood Ash, and Red Push Pistache add color to your yard with fall colors coming that are sure to add plenty of curb appeal! Colors such as deep red, orange red, purple, and rich red to burgundy appear, sometimes on the same tree, and always putting on a spectacular display that you must see to believe. These are some of the best trees to plant in fall so that you can enjoy the show!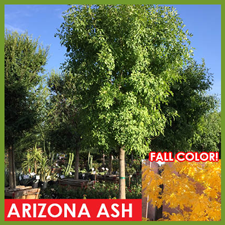 Arizona Ash (Fraxinus velutina) – plant this large tree now and enjoy the spectacular scene when the beautifully rounded canopy of gray-green foliage transforms to an attractive bright yellow in the fall. This deciduous tree creates an abundance of shade in the summer too, and once the leaves have dropped, lets the warmth of the sun in during the winter. This Ash tree loves to grow in full sun and is quite a drought tolerant specimen once established. These are excellent shade trees that are sure to add fall colors with plenty of curb appeal. An Arizona Ash is a magnificent tree that will bring many years of beauty to your yard.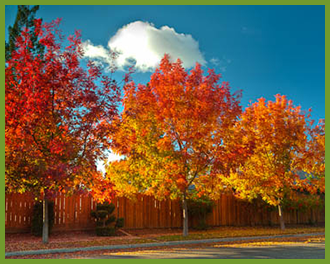 Red Push Pistache (Pistacia chinensis)- during the summer, this beauty produces a clean, dark green, umbrella-shaped canopy that, when placed correctly, can cool down the temperature inside your home and provide a shady spot to cool off while you're out in the yard. Plant them as a focal point and watch in awe as the leaves turn to an attractive, beautiful orange-red color in the fall! There are not many other trees that produce such a vibrant and broad range of fall color in our climate. Planting trees in fall, such as this Chinese Pistachio can improve any landscape.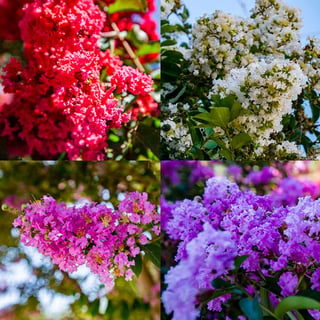 Crape Myrtle (Lagerstroemia) – frothy blooms in ice cream-like colors have made this small tree a landscaping favorite throughout the Southwest. This stylish tree is perfect for color lovers, even when not in bloom as the colors in fall that range from golden, orange, and red adorn any yard and landscape with beauty. And in the winter, you can use nighttime landscape lighting to highlight the handsome outline and bark that sheds to reveal a pinkish, inner bark. We grow the best varieties for our area including Dynamite, Natchez, Muskogee, Tuscarora, Tuskegee, and Catawba crape myrtles.
Raywood Ash (Fraxinus oxycarpa 'Raywood') – we love the fall colors this deciduous tree brings to the landscape. Producing the darkest green foliage of all Ash varieties, during the fall, it transforms into a large tree dominated by a rich burgundy color so that it is a stunning street tree or single specimen. A great source of color in fall, it is also an ideal big tree for the summer, thanks to its canopy that provides reliable shade. This beautiful tree thrives in full sun and is drought tolerant once established so that it is ideal for growing in any yard in the Southwest.
Big trees will make the greatest impact in any landscape. Why wait many years to have a big tree when you can buy specimen trees right now at Moon Valley Nurseries! Do you need additional guidance on where to install any of the aforementioned deciduous trees? Speak with any of our nursery pros at our nurseries or give us a call so that we can assist you! An instant landscape awaits and we make it even easier to have instant gratification with #freeplanting by our professional planting team that ensures the perfect trees are planted in the perfect spot in your yard! Planting trees the right way!
We are your one-stop shop, whether you are in search of a reliable wholesale nursery or have a need for more trees on your residential property. Visit us today and see the difference!