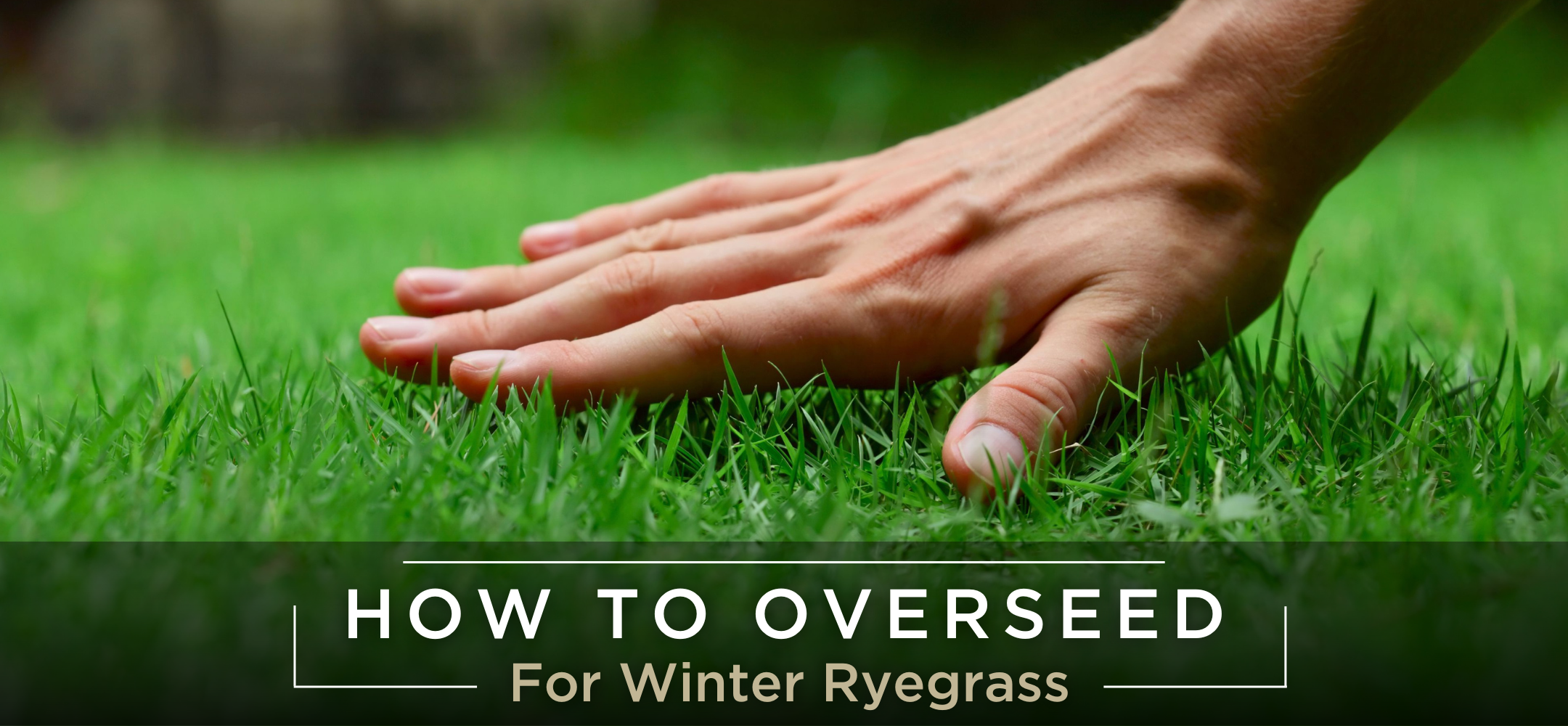 When you think of fall, many things come to mind. The kids are finally back to school, football is in full swing - and the time has come to show our lawns a little love after a long, hot desert summer. Keeping our lawns a vibrant green throughout the year can be a challenge. However, it is a challenge that many of us love to endure.
There's nothing better than mowing a bright green yard on a cool autumn weekend morning, then settling down to relax and watch a game or share a meal with family. To make sure you can enjoy the fall mornings instead of fighting yellow patches and dead grass, we're laying out a step-by-step guide to fall overseeding.
When is the Best Time to Overseed for a Winter Lawn?
There are a few reasons to begin preparing and overseeding your lawn now. For starters, the best lawn for overseeding is a dormant one. Secondly, the best time to overseed for a winter lawn is when our high for the day is in the 90's. Even though the temperatures are starting to drop, the soil stays warm. This combination of warm soil and cooler weather helps your grass seed germinate faster. Weeds don't grow or germinate during cool fall days, leaving your grass with very little growth competition.
What Type of Winter Grass Seed Should I Use?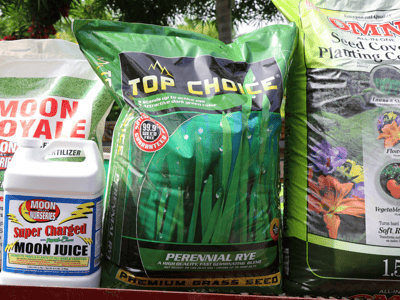 For a rich, healthy lawn throughout the winter, with very few weeds, we recommend only using high-quality Perennial Ryegrass. Perennial Rye is superior to Annual Rye because it grows with three or more blades per seedling versus only one blade per seedling with Annual rye. This translates to a fuller, more dense lawn while needing less seed.
Annual Rye also requires more water to grow and maintain and it stains clothes, tools, pavement, and any other surface it or its cuttings come into contact with. This makes Annual Rye more expensive and difficult to maintain than Perennial Ryegrass.
You'll want to choose a high-quality Perennial Rye that contains as few weed seeds as possible. This will ensure you are growing a beautiful lawn and not a yard full of weeds. At Moon Valley nurseries we only carry the highest-quality Perennial Ryegrass that is 99.9% weed-free.
Here's Everything You Need to Get Started Overseeding for Winter Rye
Seed: 1 lb per 100 sq/ft for normal density. For extra density apply 2 lbs seed per 100 sq/ft. (always lay a little extra)
Topper: 1 cu/ft per 100 sq/ft
Mulch: 2 cu/ft per 100 sq/ft
Starter Fertilizer: 1 lb per 200 sq/ft
Super Charged Moon Juice: 1 gal per 1000 sq/ft.
Moon Royale Turf Fertilizer: 1 lb per 200 sq/ft
We carry winter Perennial Ryegrass Overseed starter kits at all of our Moon Valley Nurseries locations. Feel free to stop in and speak with a nursery pro about your winter lawn needs. We would love to piece together a kit specifically for your yard!

10 Steps for A Beautiful Winter Ryegrass Lawn
Make sure your lawn has not been watered recently before overseeding. This makes your overseeding efforts much easier.


Mow your lawn to ½ inch or at the lowest possible setting. Remove all dead grass and debris to ensure good contact between the new seed and soil.


Loosen the soil using an appropriate and gentle method such as light raking. We do not recommend roto-tilling or aerating, as this can cause issues to Bermuda grass in the following season.


Prep your soil using a very thin layer of starter fertilizer, this can be purchased at all Moon Valley Nurseries. This will help the seeds germinate and provided additional nutrients for the seedlings to thrive.


Spread the Perennial Ryegrass seed evenly in a side to side, up and down, and diagonal pattern (1 lb. per 100 sq/ft for normal density. For extra density, apply 2 lbs. of seed per 100 sq/ft.). We recommend using a little more seed to make up for the seedlings that do not germinate, are washed away, or are eaten by birds.


After all the seed has been spread, apply a layer of topper at about ¼" thick over the freshly sown seed. Applying a topper also keeps the moisture in the soil and keeps the seed warm enough to germinate. Top-dressing also helps to prevent wash-off and prevents birds from eating the seeds before they have a chance to germinate.


Water your lawn completely and apply Super Charged Moon Juice immediately after overseeding. Continue watering your lawn 3-5 times daily for 3-5 minutes. Once you begin to notice sprouting, you can cut back to watering 2-3 times a day for 5 minutes.


Once the grass has grown to 3"+ in height you can mow your lawn for the first time. Reduce watering to 8-10 minutes daily. After your second mow, you can reduce watering to every other day for 10 minutes. The idea here is to keep the seedlings wet in the beginning and water less frequently and deeper as the root systems begin to grow.


After you have mowed your lawn twice, use Moon Royale Turf Fertilizer throughout the season and apply Super Charged Moon Juice weekly to ensure a lush, healthy lawn throughout the winter. Keep your lawn cut to a height of 2" for the rest of the season.


Pat yourself on the back as your envious neighbors begs for your superior lawn care and maintenance tips!
For any other questions about overseeding or winter lawn care, feel free to stop by any Moon Valley Nurseries location, give us a call, or leave a question below! We are always happy to answer questions and help you grow and care for the lawn of your dreams!
Updated by Luke Kalawsky on October 18th, 2022