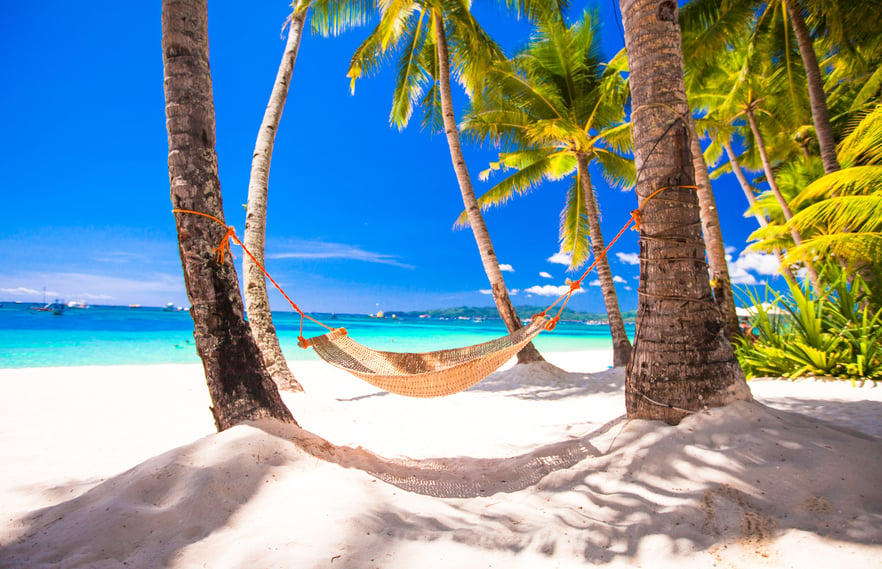 Palms, we love them. Just the sight of them can bring back memories of the time you got away from it all when you got to lay in a hammock, surrounded by their fronds gently swaying in the tropical breeze, refreshing beverage in hand without a care in the world. Yea, these type of trees can give you that feeling, which is why they are such a favorite with us here on the mainland too – we want to feel like we're on vacation even though we're enjoying ourselves by just hanging out in our yard!
Besides their calming influence, these trees can improve the look of any landscape too. And as we all know; a beautiful yard equates to greater curb appeal as well as an increase in property value! Best of all, you can plant them any time of the year and caring for them is a breeze!
One of the great things about these trees is their versatility. You can find some growing in the wild in the Colombian jungles as high as 200 feet, and there are those that never get above 12 feet in height. There are some with underground trunks or branches that are clustering low to the ground that gives them a full and bushy appearance and are an excellent choice for ground cover or to divide properties. You can grow one indoors, such as Rhapis, and use them to add a tropically vibe to a room or plant them in groupings and use them as one of the most magnificent tropical hedges you can find! Single trunk or multi-trunk, there are varieties for every taste!
Proper placement is an important thing to consider before planting your new tree. Some of these trees need more sun than shade, and you'll want to be sure that you don't plant a shade loving one in a location that gets too much afternoon sun. Don't worry though because the Moon Valley Nurseries experts have got you covered and know all about these trees and where to properly place them in your yard. And with free planting available on all box size trees, it cannot get any easier to improve your landscape!
Exposure: most young ones prefer growing in a shady location. As they grow, they can thrive in full sun or partial shade. We recommend moving an indoor one outdoors periodically in a spot with soft light.
Watering: irrigate newly planted trees often until established. Once established, they have little to moderate watering needs.
Feeding: these kind of trees have special nutrient requirements and our Moon Valley Nurseries Super Palm Juice is specially formulated with the essential nutrients required to optimize their performance!
Pruning: some varieties can shed the old leaf bases on their own. Others, such as Syagrus and Chamaedorea, may hold old bases and you can remove them by slicing them off at the very bottom of the base, just be careful not to cut into the trunk.
Palms That Can Grow in Your Area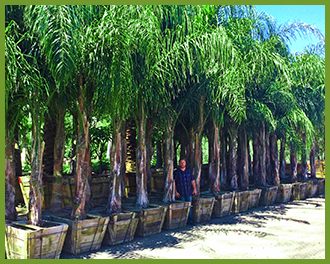 Queen Palm (Syagrus romanzoffiana 'Piru'): We grow these exclusively from Argentine seedlings, with better genetic traits so that they have thicker and harder trunks, as well as greener fronds than other Queen's do! We like to use them to complement all types of architectural homes and buildings, and their dark green fronds can provide a right amount of shade coverage too! Use them to create the most attractive tropical hedge you can find so that you can create your backyard paradise!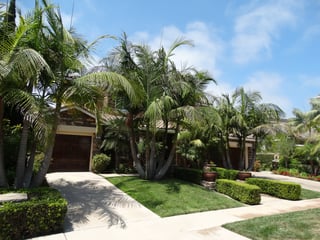 King Palm (Archontophoenix alexandrae, California only): Clean and stately, we like to use single trunk or multi-trunk specimens as the perfect focal point in any front yard! These majestic beauties are also incredible looking when planted around pools or used in water gardens. Sure to add a tropical feeling anywhere you plant one! Enjoy a California sunset while it creates an awesome silhouette without blocking your view!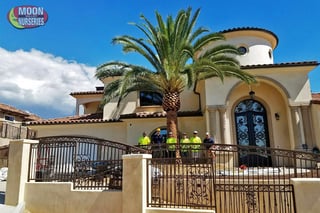 Canary Island or Pineapple Palm (Phoenix canariensis): Elegant, luxurious, impressive - one look at a Phoenix canariensis and it's easy to see why it's been called one of the most alluring trees in the world. We have stunning specimens available with trunks featuring the diamond-shaped pattern that signifies class and elegance. When planted in groups they can provide beautiful tropical shade! A low-maintenance plant too!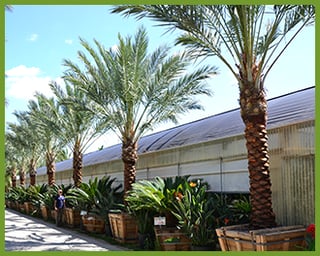 Date Palm (Phoenix dactylifera): If you are looking to add a formal, luxury-resort style look to your landscape, you cannot go wrong with a Phoenix dactylifera! The classic tree of the desert oasis is also the classic tree of the Southwest! These majestic plants offer a cool umbrella of shade when planted in groups and rows! You'll often find them adorning upscale resorts, high-class shopping areas, and grand estates!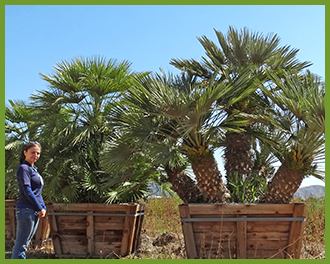 Mediterranean Fan Palm (Chamaerops humilis): This dwarf tree is ideal for adding a tropical appearance to a smaller space! Available as single-trunk or multi-trunk, these are a must-have in any backyard paradise or Mediterranean yard. They can tolerate both heat and cold and are also a perfect addition near swimming pools, walkways, patios or as a focal point!
Moon Valley Nurseries grows and nurtures all kinds of trees and other plants so that they are ready to thrive in your yard, whether you live in Arizona, Nevada, or California. And at our Palm Paradise location in Escondido, California, you can find the rarest, harder-to-find specimens grown and nurtured by our tree experts. So, if you love these trees as much as we do, a visit to our Palm Paradise nursery is a must!