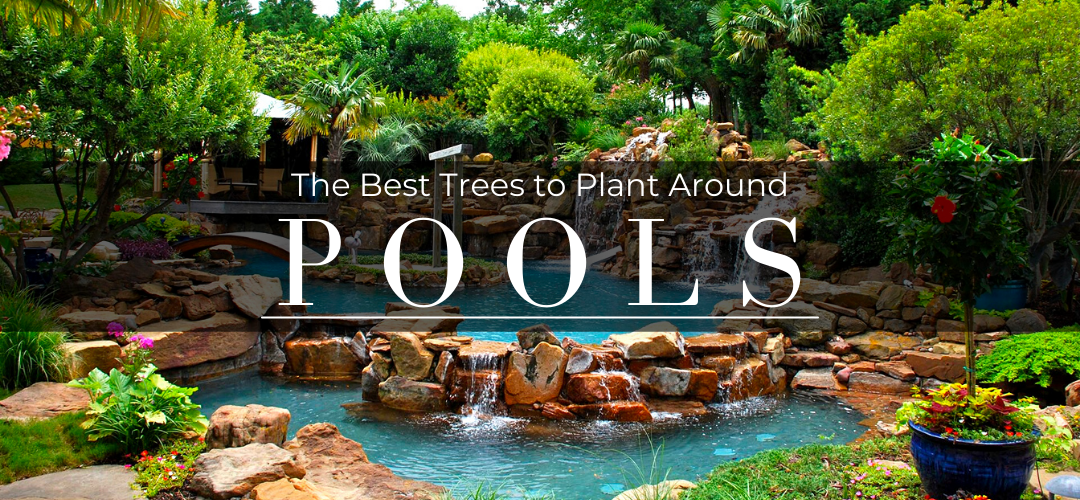 Everyone enjoys a nice refreshing dip in the pool during our hot Arizona summers. And we can help make that pool area even more enjoyable. By adding trees around a pool, you can create much needed shade, privacy, and a beautiful view. When looking to add trees to a pool area, it is important to look for trees that have little cleanup, non-invasive roots, and fit the style you want. Below are a few of our top trees to plant poolside.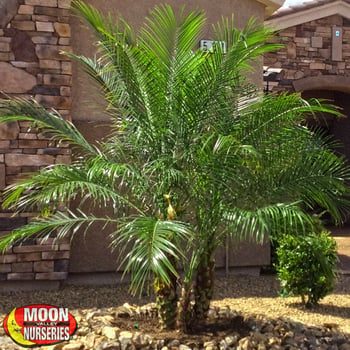 Pygmy Date Palm
Phoenix roebelenii
These dwarf palms grow in both single and multi-trunk varieties, giving you options on the look you want. Their fine-textured, soft, curving leaves form a dense crown. Pygmy Date Palms are ideal for tight spaces and can even be planted in pots. We love to use them to fill in under taller palms and trees. Phoenix roebelenii roots are non-invasive and they are one of the cleanest palms available, perfect for around pools.
Learn more about our Pygmy Date Palms for sale here!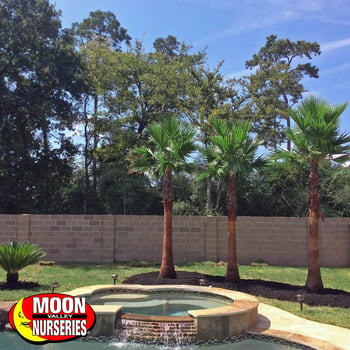 Hybrid Mexican Fan Palm
Washingtonia robusta Hybrid
This is the perfect palm for both tropical and resort-style landscape designs. Its slender, slightly curved trunk can be "cigar cut" for a more formal appearance. Our Hybrid Mexican Fan Palms have large, fan-shaped, bright green fronds with shorter leafstalks that feature a red streak on the underside. They thrive in full sun and require little water once established, making them perfect for the Arizona landscapes.
Learn more about our Hybrid Mexican Fan Palms for sale here!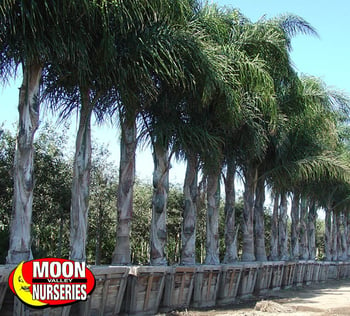 Piru Queen Palm:
Syagrus romanzoffiana 'Piru'
Queen Palms have the go-to tropical look that we all love! Our custom Piru Queen Palms have thicker crowns, greener fronds, and thicker trunks than older varieties of Queen Palms. This durable evergreen palm has classic feathery, glossy palm fronds that are bright green in color. We grow these palms to be extremely hardy to heat, making them perfect for our local temperatures.
Learn more about our Piru Queen Palms for sale here!
Indian Laurel Fig
Ficus microcarpa 'Nitida'
The dense evergreen canopies of Indian Laurels make them the best tree for shade around your pool. Their thick, green foliage helps create a perfect Hollywood-style™ privacy barrier when used as hedges. The Indian Laurel Fig can be grown as columns for privacy screens as well as both single and multi-trunk varieties. Our Ficus Nitida trees are grown to thrive in desert environments.
Learn more about our Indian Laurel trees for sale here!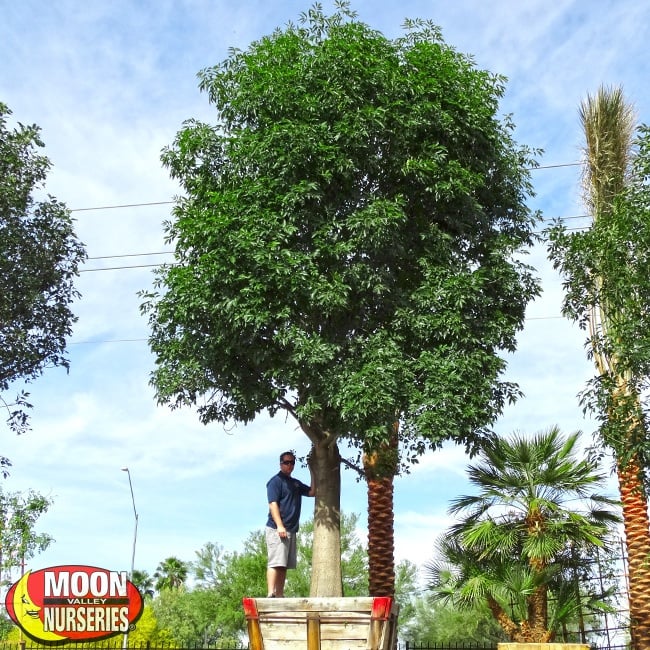 Majestic Beauty Evergreen Ash™
Fraxinus udhei 'Majestic'
Similar to the Shamel Ash, this large, fast-growing shade tree is easy to grow and maintain with minimal pruning. Our Majestic Beauty Ash™ trees have classic, large-leaved, green foliage that adds to the classic park-style look of this Evergreen Ash. It is a seedless variety that is extremely drought tolerant and thrives in full sun, making these a clean and low-maintenance shade tree option. These Ash trees also have thick trunks and a full canopy that can provide shade as you relax in your pool.
Learn more about our Majestic Beauty Ash trees™ for sale here!
Visit your nearest Moon Valley Nursery location to handpick the highest quality trees, custom grown to thrive in the Arizona environment at our local farms. Our knowledgeable nursery pros can help you find the perfect tree for the perfect spot. You can have your own pool paradise!