Back to main Blog
Luke Kalawsky
Luke Kalawsky has a passion for all things trees, plants, and landscape design. He has designed numerous landscapes as the head designer in the Surprise, Arizona region until he became a manager of our Central Phoenix Nursery. He now dedicates his knowledge, expertise, and creative capabilities to help the masses discover how to design, plant, and maintain their landscapes with his writings.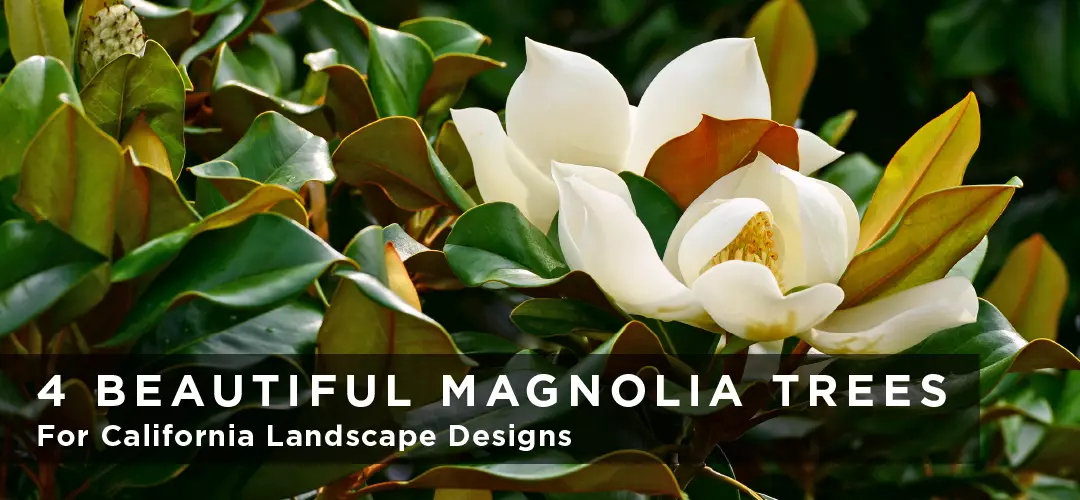 Magnolia trees are a fan favorite across the Southwestern and Coastal United States. They are often used as centerpieces in many gardens and landscape designs throughout these areas. The Magnolia's deep-green foliage is accented by a bronze-colored underside and complimented by enormous, pure white, fragrant flowers!
The dramatic canopy, glossy leaves, and creamy white flowers make up the Magnolia's year-round beauty that has stolen the heart of so many homeowners and made them iconic trees in the Southern and Western United States.
ENJOY A MAJESTIC MAGNOLIA TREE
IN YOUR LANDSCAPE
The Magnolia is native to the sub-tropical and tropical parts of eastern North America, parts of South America, Southeast Asia, the Caribbean, and Central America. These beauties thrive in a wide variety of climates, weather, and soil conditions. This adaptable nature makes them an excellent choice for an evergreen, white-flowering tree for our region.
Because of their ability to steal the show in your landscape, we usually recommend using Magnolia trees as centerpiece trees in your yard or garden design. Depending on the variety, they work very well as shade trees, flowering focal points, as well as privacy hedges, windbreaks, and street trees.
Magnolias complement a wide array of other plant life and landscape styles. They are often featured in modern, tropical, classic, Mediterranean, Spanish, and other inspiring design styles. No matter what inspiration your yard draws from, Magnolia trees will be a welcome addition!
The large, sweet-smelling blooms are one of the Magnolia's most defining features. They have become famous for the rich, classic aroma that fills the air from late spring through the summer. These trees are prolific and reliable bloomers as their flowers remain on the tree for long periods.
EVERGREEN MAGNOLIAS PERFECT FOR YOUR YARD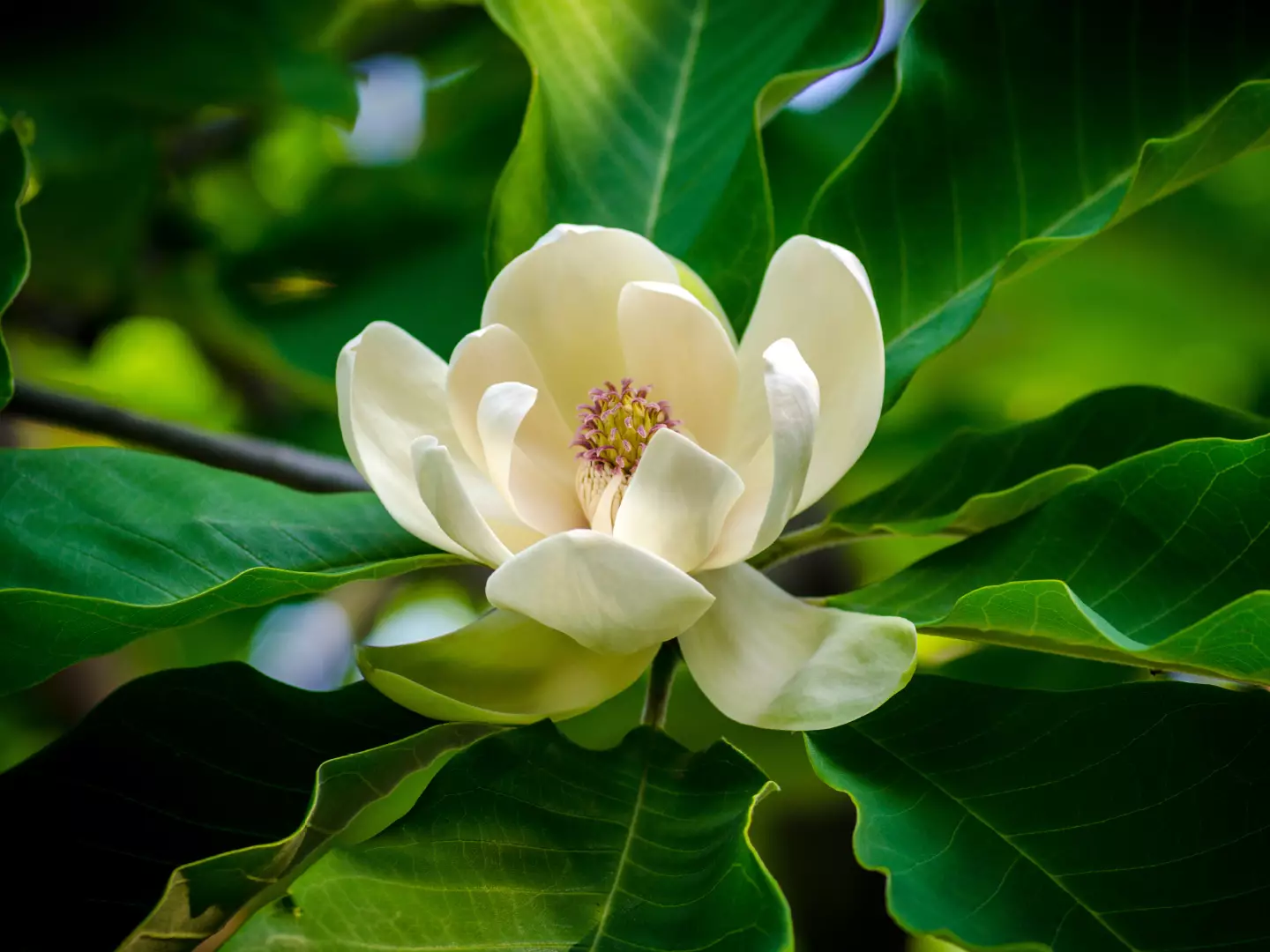 There are over 200 Magnolia varieties and cultivars. Many of the more desirable Magnolia trees are the various evergreen cultivars. The Southern Magnolia, with its large, waxy, fragrant white flowers and large, dark green leaves, is most associated with the Deep South. This Magnolia tree is by far one of the most popular, and one of the larger and faster-growing trees in the Magnolia family.
The 'Little Gem' Magnolia is essentially a dwarf version of the larger Southern Magnolia. If you love Magnolia trees but have a smaller area to work within your yard or garden, you can still have all the excellent characteristics of the classic Magnolia grandiflora to use as an accent or even as a hedge!
Another evergreen favorite is the 'D.D. Blanchard'. This cultivar is prized for its pyramidal shape and lustrous dark green leaves that add curb appeal and beauty to all kinds of landscapes. We wanted to take the D.D. Blanchard a step further, so we created the D. D. Moon Glow Magnolia™. Our custom-grown Magnolia hybrid possesses clean, evergreen foliage, a long blooming period from spring to early fall, and an incredibly low-maintenance, hardy nature.
Magnolia grandiflora
This true Southern beauty is a flowering tree prized for its coat of white flowers that start in late spring, with many blossoms lasting throughout the summer months. The white flowers are renowned for their large size and rich fragrance. Besides the stunning display of white flowers, these evergreen trees feature lustrous and leathery dark-green leaves with a soft, rust-colored underside that adds instant appeal.
Magnolia grandiflora trees can grow to be large shade trees with spreading canopies capable of blocking lots of sun with their dense foliage. These trees are also very hardy, capable of handling full sun and cold winters, as well as wind, drought, and various soil conditions.
Magnolia grandiflora 'Little Gem'
Is there an area of your landscape where you want the look, aroma, and easy care of the larger Southern Magnolia, but don't have the room for a large tree? The Little Gem Magnolia is the solution!
These trees still produce the large, creamy white flowers with the wonderful fragrance that people love. Enjoy the sights and smells of the blooms from early summer and into the fall. Its dense growth habit and compact, narrow canopy make it an excellent choice for use as an evergreen privacy hedge. You can also use this more compact Southern Magnolia as a small specimen or accent in your garden.
Magnolia grandiflora hybrid 'D.D. Moon Glow™'
Our hybrid Magnolia takes the best qualities of the two most popular varieties, the Southern Magnolia and the D.D. Blanchard, and expounds on them. With the D. D. Moon Glow Magnolia™, you get to enjoy the classic cream-white flowers from late spring to early fall. You also receive the dense, evergreen foliage and wide shady canopy to help provide privacy and cooling to your yard and home.
The best part is our hybrid Magnolias are grown in our local environment, giving them robust adaptability to our region. They can handle full sun and heat, very cold winters, and become drought-tolerant once established, making our D. D. Moon Glow Magnolias one of the lowest-maintenance cultivars in the Magnolia family!
Magnolia grandiflora 'D.D. Blanchard'
This big and beautiful tree features large, glossy, dark-green leaves and produces huge, cup-shaped white flowers. The pure-white flowers bloom throughout the summer and attract hummingbirds and butterflies, making them a great choice to add some more life to your yard.
The pyramidal shape and wide canopy offer shade in droves! Give your D.D. Blanchard Magnolias some room to grow and they will reward your landscape with dense, cooling shade. We like to plant these evergreens on the property of larger estates and park-style yards. Install this beautiful, stately tree in your landscape and enjoy the view!
PLANT ONLY THE
BEST MAGNOLIAS
Planting Magnolia trees in any yard is an excellent way to add curb appeal and increase your home value. Flowering trees such as these can add color, shade, and bring a peaceful, homey feeling to your landscape.
Moon Valley Nurseries has got you covered with the best quality and selection of Magnolia trees for sale. See these beauties for yourself and allow our nursery pros to help you find the perfect trees for your home! Our landscape designers are happy to help you create your dream yard and incorporate Magnolia trees and any other trees and plants into your yard or garden design. We offer both in-store and at-home design consultations, you can even call our designers directly, and we can tackle everything right over the phone! We make it easy to create a beautiful new landscape!
To learn more incredible yard care advice, design tips, and tree knowledge, check out our library of articles! We have a massive catalog of entertaining and informative articles written by our experienced nursery professionals to help you succeed with all of your landscaping goals.