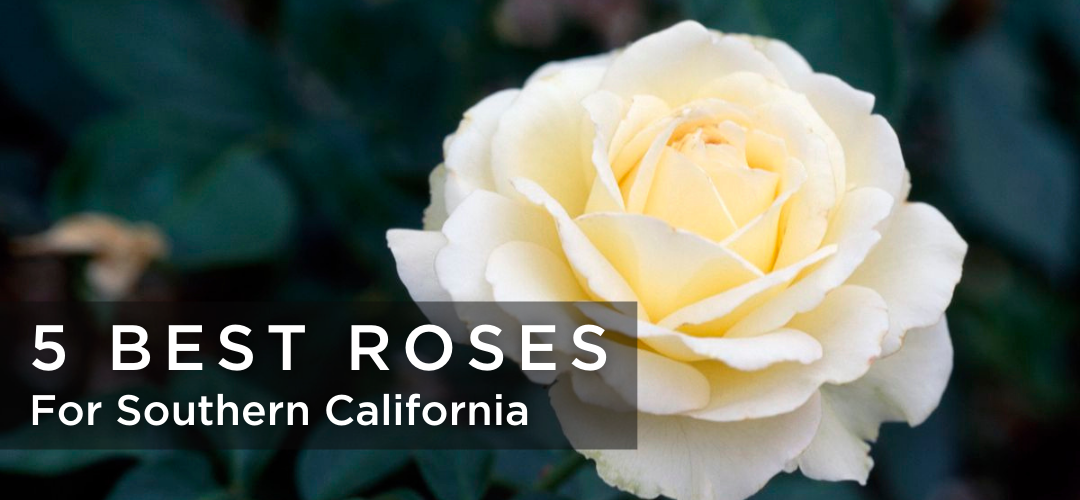 Roses are drop-dead gorgeous and the highlight of many summer gardens in Southern California. When we walk past a beautiful rose garden we can't help but take notice; we're drawn to them like bees to honey.
In this article, our nursery pros detail some of the best rose varieties for yards and gardens across Southern California. You can also call one of our nursery pros at any of your neighborhood Moon Valley Nurseries locations, and we'll help answer any questions about your landscape!

Roses for Southern California Landscapes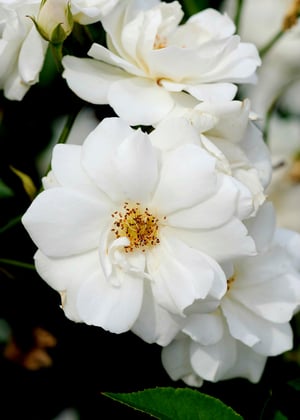 Landscape Shrub Roses: Roses can play an essential role in creating a privacy hedge. When it comes to flower beds, rose bushes are the natural choice for adding lots of color and beauty to a landscape. Landscape shrub roses have many diverse flower forms. Of course, the variety of colors can transform any summertime view. The fragrance is another trait, and when combined with its shape and color, it is easy to see why so many people love this hardy rose species.
One type of shrub rose that people love are the modern, repeat bloomer, 'Carefree Wonder.' This beauty is easy to grow, hardy, resistant to disease and prized for their recurring pink blooms. Iceberg Roses are another shrub rose favorite. Homeowners revere icebergs for the profusion of bright white, free-flowering blooms that can last all summer long. Mass planting them creates a magically colorful landscape scene. Of course, the 'Knockout' rose is another favorite that packs a punch of vibrant colors that range from pink, yellow, and bi-color blends.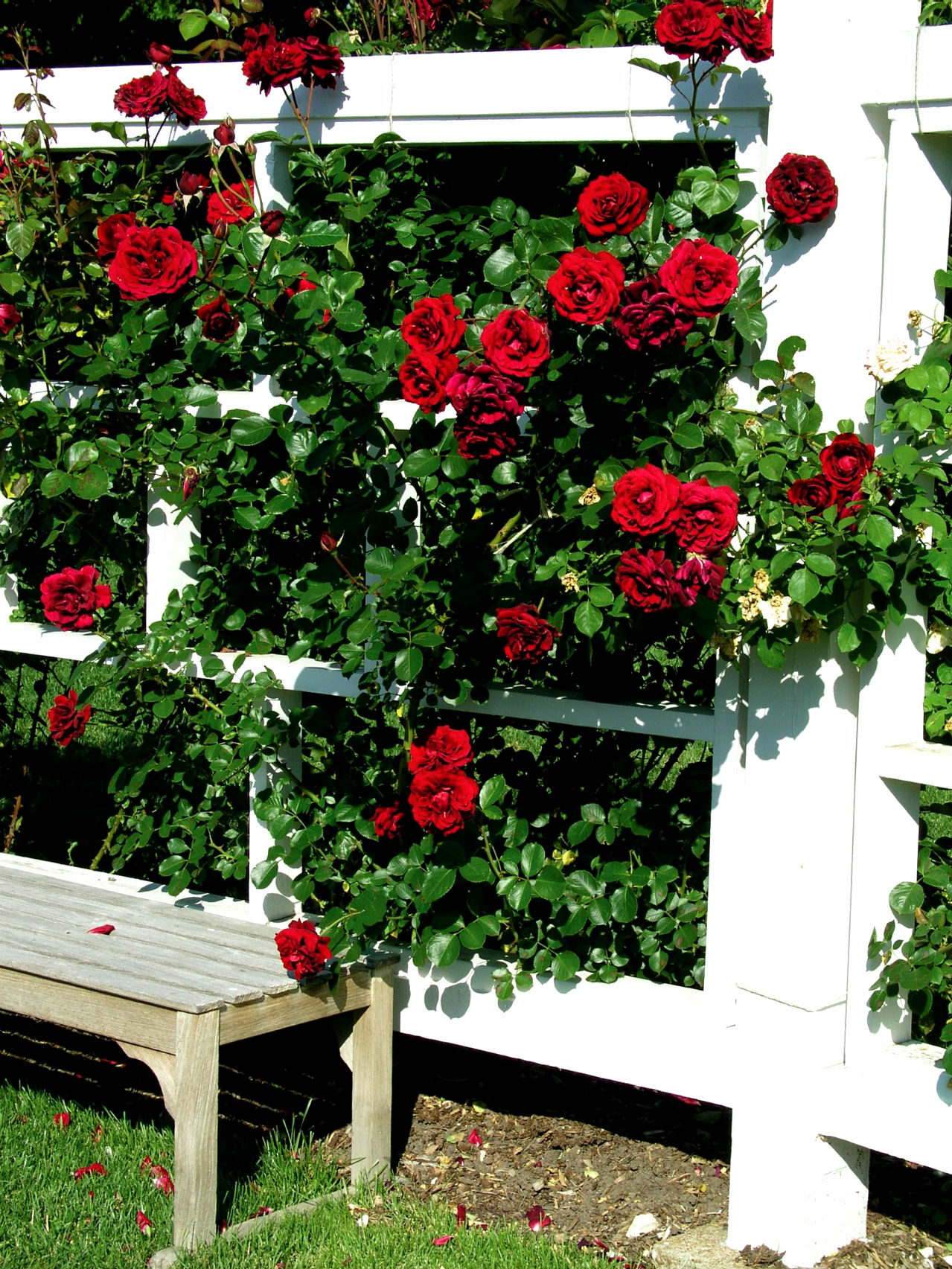 Climbing/Trailing Roses: Train these roses to climb on pillars, fences, arbors, and gazebos, and they create a charming scene that is sure to make you feel at ease this summer. They cannot support themselves, but, the strongest ones can cover the roof of a house, and we have seen some grow to the top of a large tree.
The flowers can range from single-stemmed to clustered, large to small, and single or double-petaled blooms. Spring and summertime blooms are colorful. The colors range from blue to orange, pink, red, white, and yellow. If you love the color pink, look for 'New Dawn' and 'Ballerina,' two beauties with small foliage and blossoms that make them a top choice for hedging. Can a rose be patriotic? We think so! The 'Fourth of July' rose is a climber with large flowers featuring a red blend and stripes. This rose will bloom throughout the season, helping to keep the festive mood going all summer long! Give these climbing roses a little bit of care and attention and watch as these roses become a gorgeous centerpiece in your landscape.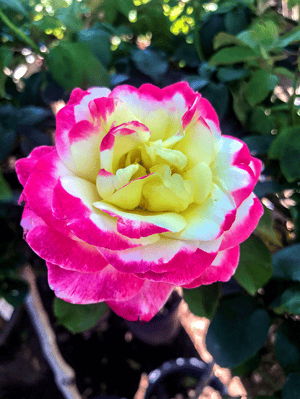 Hybrid Tea Roses: People all over the world love these roses! These are the classic looking roses, with long, stylish, pointed buds that spiral open, revealing large blossoms with a high center. This hybrid was created by cross-breeding two types of roses. We're glad someone created these beauties because they produce a show-stopping bloom that you must see to believe!
One of the local favorites it the 'Neil Diamond.' You'll be humming "Sweet Caroline" when the summer blooms appear. The bloom of bright white flowers features a unique red splatter that is hard to take your eyes off! When it comes to romance, 'Lasting Love' is one rose you'll want to have in the garden. These beautiful roses are dark red with a strong fruity aroma that makes hearts flutter. One rose that takes top prize year after year is the aptly named 'First Prize.' These roses produce a beautiful display of large, deep pink buds that open up to layers of pink, rose, and ivory!
Groundcover Roses: The low spreading habit of groundcover roses makes them a favorite for covering slopes or rocky areas in the landscape. People love them because of their low maintenance features. Of course, if you are looking for roses that can add a carpet of color to your landscape, groundcover roses are it! Summertime blooms need little attention, and they are an excellent option for spilling over mixed containers or raised beds.
The 'Flower Carpet Amber' series is a favorite easy-to-care-for groundcover rose. Amber groundcover roses feature peach-amber colored blooms that fade to a beautiful seashell pink as they age. They are heat tolerant and mass planting them creates a magical landscape scene. This repeat bloomer is an excellent choice for bringing lots of beauty to any garden type.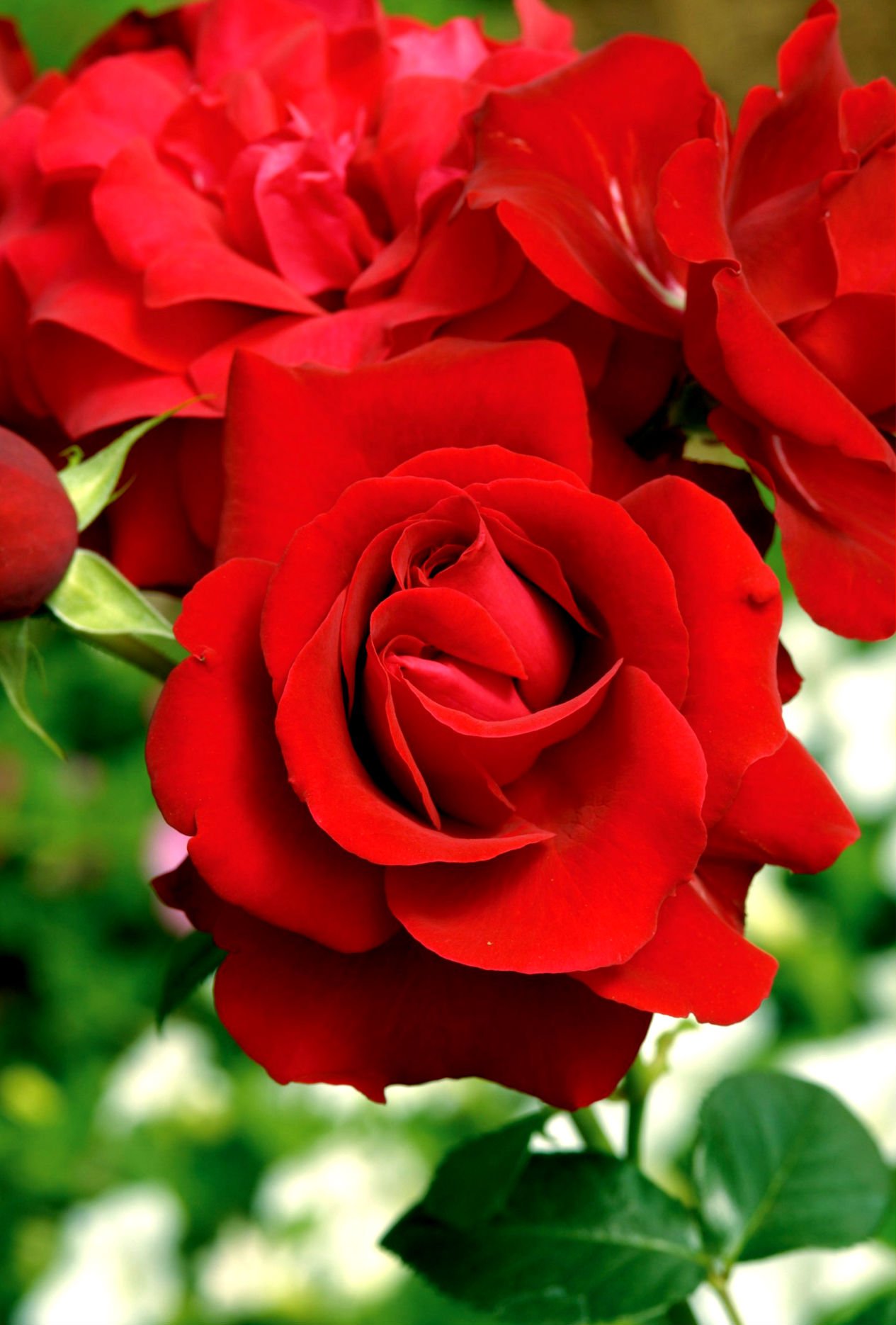 Floribunda Roses: These roses are famous for their abundant blooms! One of the most fabulous is the aptly named 'Fabulous' for their huge sprays of long-lasting white flowers. Floribunda roses are also noted for producing a pleasant fragrance that fills the air with its sweet perfume scent. If you love lemony scents, be sure to look for 'Sunsprite' roses, which feature dark yellow flowers with a strong lemon scent. 'Shocking Blue' is another scented favorite with beautiful blue flowers.
'Playboy' and 'Playgirl' are very decorative single-petalled roses with a fast repeat cycle that makes it seem like they are continuously blooming. People often cut the flowers for bouquets and place them on tables.
To learn more incredible yard care advice, design tips, and tree knowledge, check out our library of articles! We have a massive catalog of entertaining and informative articles written by our experienced nursery professionals to help you succeed with all your landscaping goals.
Updated by Luke Kalawsky on March, 29th 2022