Back to main Blog
Felipe Benavides
Felipe has been working in the Nursery and Garden center for many years and bring extensive knowledge to trees, plants, and landscape design.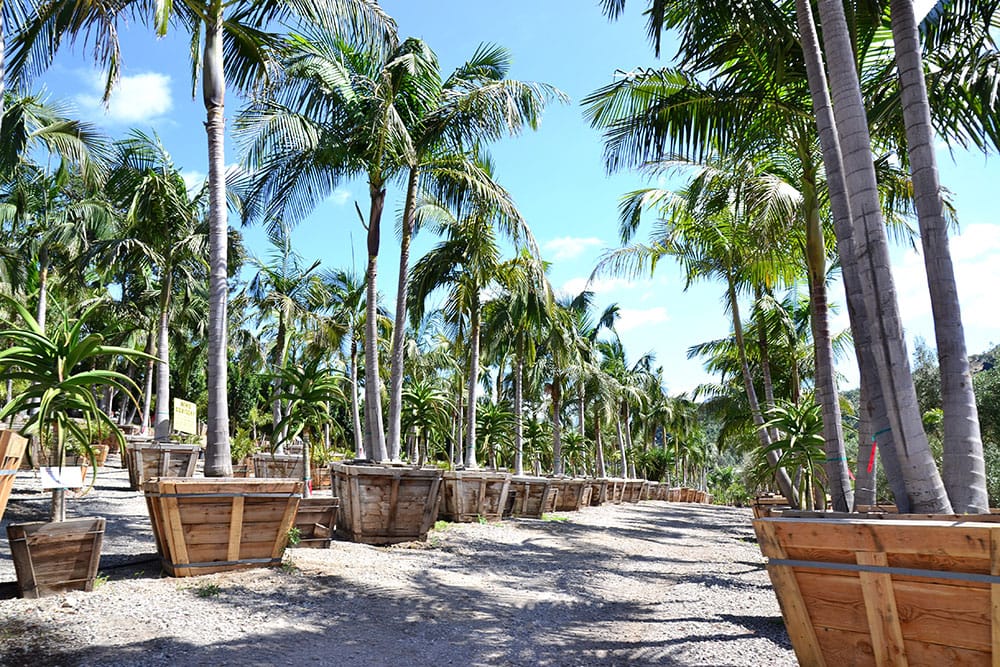 Bring a slice of paradise to your yard – plant palm trees! These trees are landscaping favorites throughout Southern California. They are resistant to storm winds, offer excellent shade coverage, and have a calming nature that is hard to resist. And, once established, they are low-maintenance, fuss-free plants.
Palms vary in size which can determine where you may want to have them planted. Your best bet is to buy a specimen so that you can enjoy the look of an instant landscape. At Moon Valley Nurseries, we do the work so that you can come home to a beautiful new yard. When you buy a value-engineered palm from us you are not only saving money on a bigger tree, you can allow our professional crew to do all the digging and planting!
Exposure: Most young palms prefer shade. As they grow, they can be moved to a location with full sun or partial shade (depends on the species.)
Meet the Palms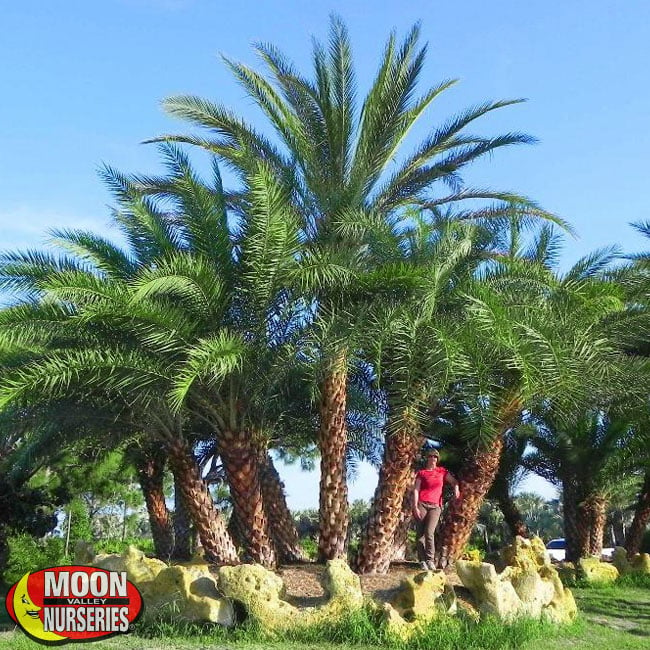 Salt-Tolerant Palms:
Salt-tolerant palm trees can spruce up our seaside towns. Take a cruise down Highway 101, and you will find iconic palms lining boulevards and adorning yards. It is easy to see why the image of palms and a California sunset background is a typical postcard. Well-suited palms for the coast include Guadalupe Palms, Canary Island Palms, Date Palms, Sabal Palms, Senegal Date Palms, Pindo Palms, Mexican Fan Palms, and Mediterranean Fan Palms.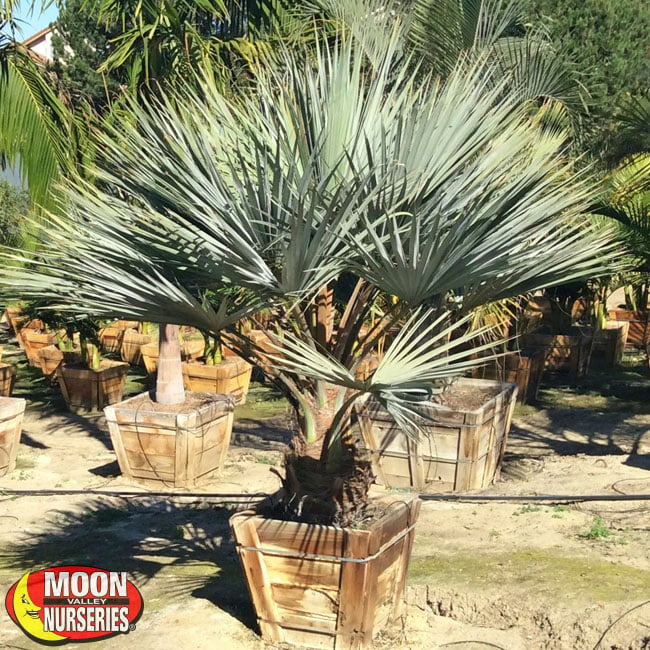 Hot-Climate Palms:
Palms can thrive in our hot and dry inland areas, too. Palms such as the Mexican Blue Palm add exciting color to yards. Other excellent palms are the iconic Date Palms and Canary Island Date Palms, two larger palms that are sure to get all the right attention. The Chinese Fan Palm is another excellent choice for bringing the look of the tropics to our inland communities.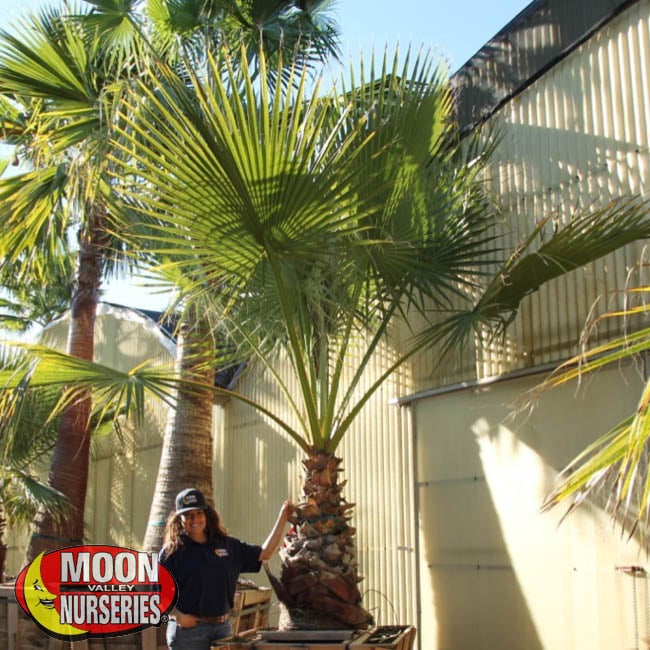 Understory Palms:
Slow-growing, young palms such as the Chinese Fan Palm and Mediterranean Fan Palms stay low for five to ten years so that they can be used effectively under tall trees. The Needle Palm is a shrubby palm that remains small and is another excellent selection as an understory palm.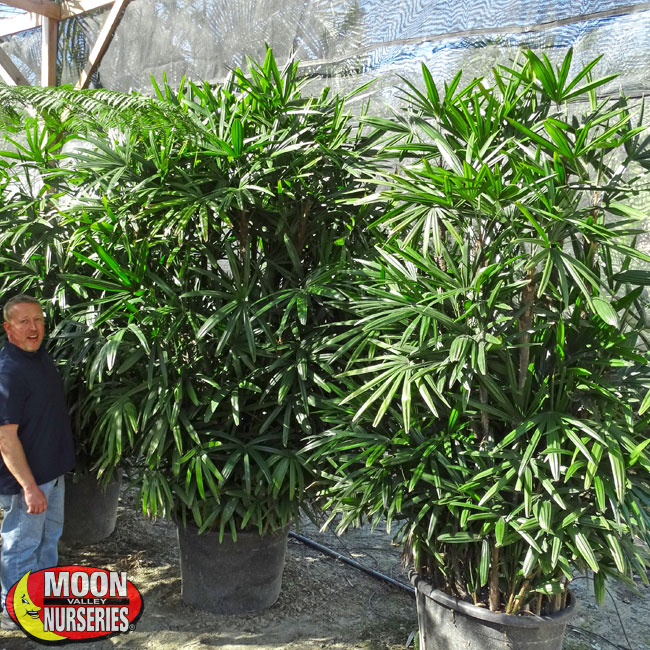 Palms for Pots:
You can slow the growth of fast-growing palms by keeping them in pots. Young palms such as Lady Palms and Kentia Palms can spend decades in pots indoors, bringing the calming nature and look of the tropics into your home.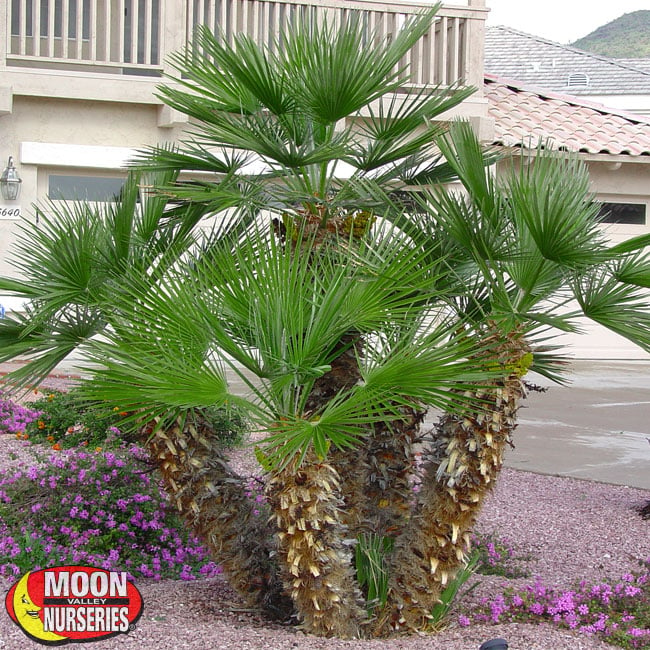 Palms for Lighting:
All palms are excellent subjects for creating nighttime drama. We recommend lighting them from behind or below. We can use direct floodlights to silhouette them against light-colored walls. One of the most popular palms for lighting are Mediterranean Fan Palms.
Plant these Beautiful Palms to Create a Tropical Oasis
Moon Valley Nurseries can help you create a relaxed, tropical resort-style atmosphere in your yard. We custom-grow the world's most magnificent palms in our local climate so that they will thrive in your landscape. We value engineer our products to save you money. Plus, all the palms we sell are certified disease-free!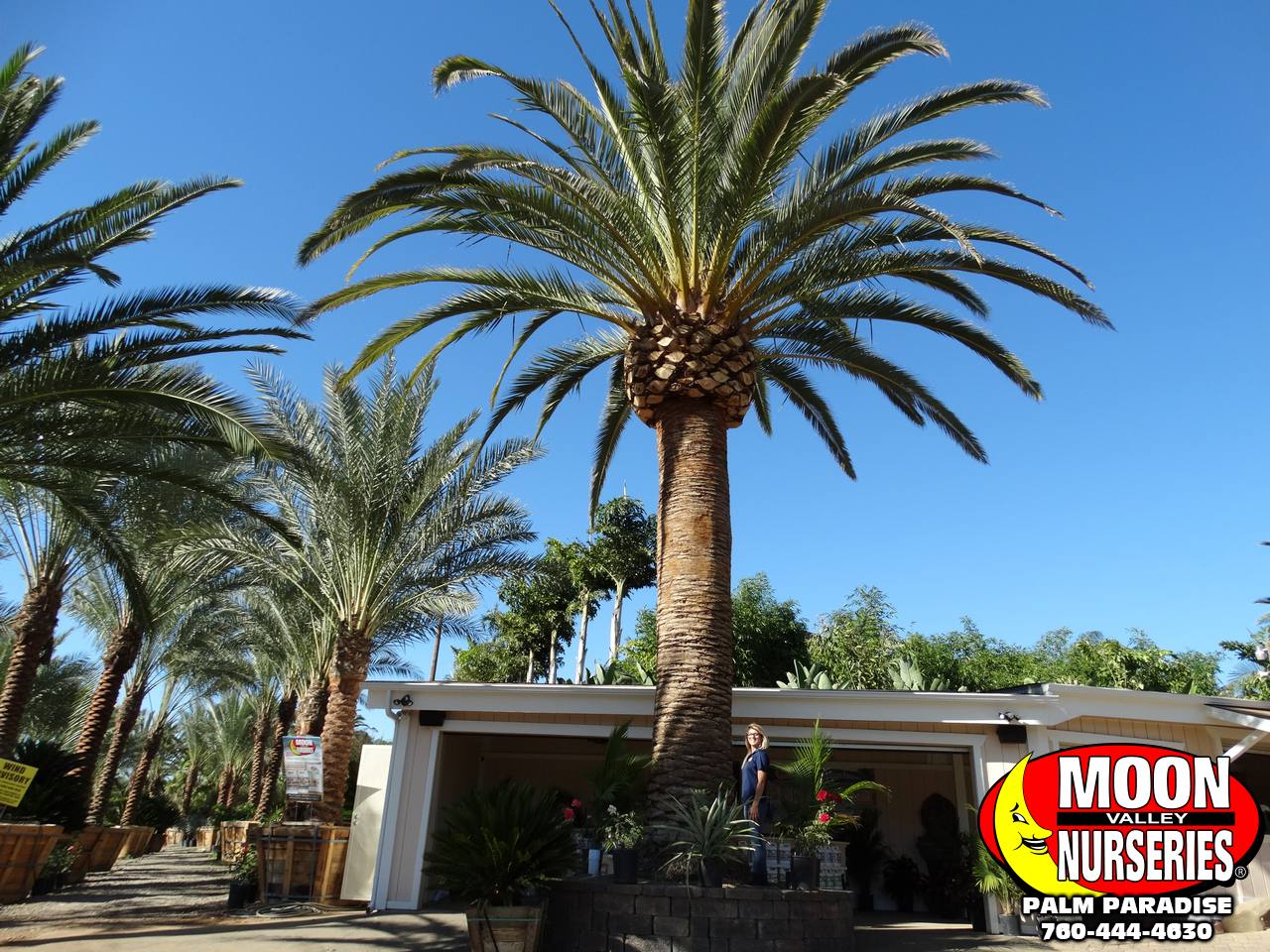 Canary Island Palm (Phoenix canariensis): This large palm is also called the Pineapple Palm because of its unique pineapple-like crown that is sure to get all the right attention. This stunning specimen is prized by homeowners and commercial property owners, both for its elegant trunk with diamond-shaped patterns and a dense canopy of green to dark green fronds. These majestic palms add a touch of class wherever they are planted. They love warm weather and full sun exposure.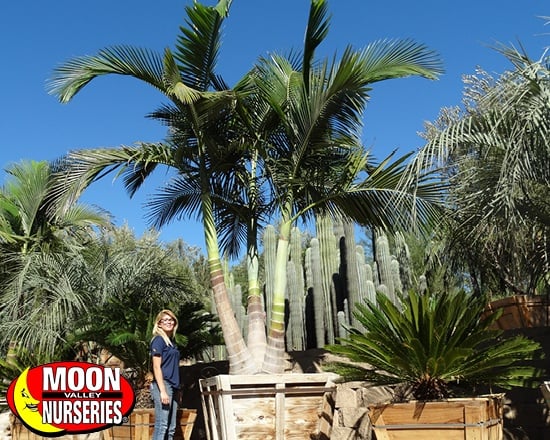 King Palm (Archontophoenix alexandrae): We offer up to seven different varieties of King Palms, all beautiful specimens that can bring the look of the tropics to your yard. These are clean palms with dark green fronds, and they look fantastic decorating front yards or planted around swimming pools. Plant them around water structures or in any place where you want to add a tropical feeling. King Palms are incredibly durable specimens that thrive in the heat and are cold hardy.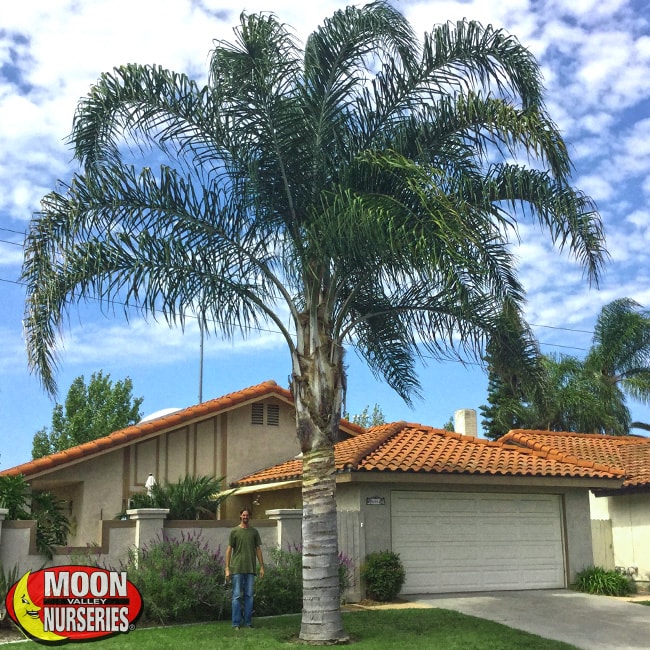 Piru Queen Palm (Syagrus romanzoffiana): People love to plant our Piru Queen Palms in the front yard as a centerpiece. This superior Queen Palm strain features darker green fronds and fuller crowns that can create lots of shade when planted in groups. They are cold and heat tolerant, so they are perfect for planting in any yard in Southern California. Their look complements all types of architectural homes and buildings. If you are looking to bring a calming, tropical vibe to your landscape, you cannot go wrong planting a Piru Queen Palm.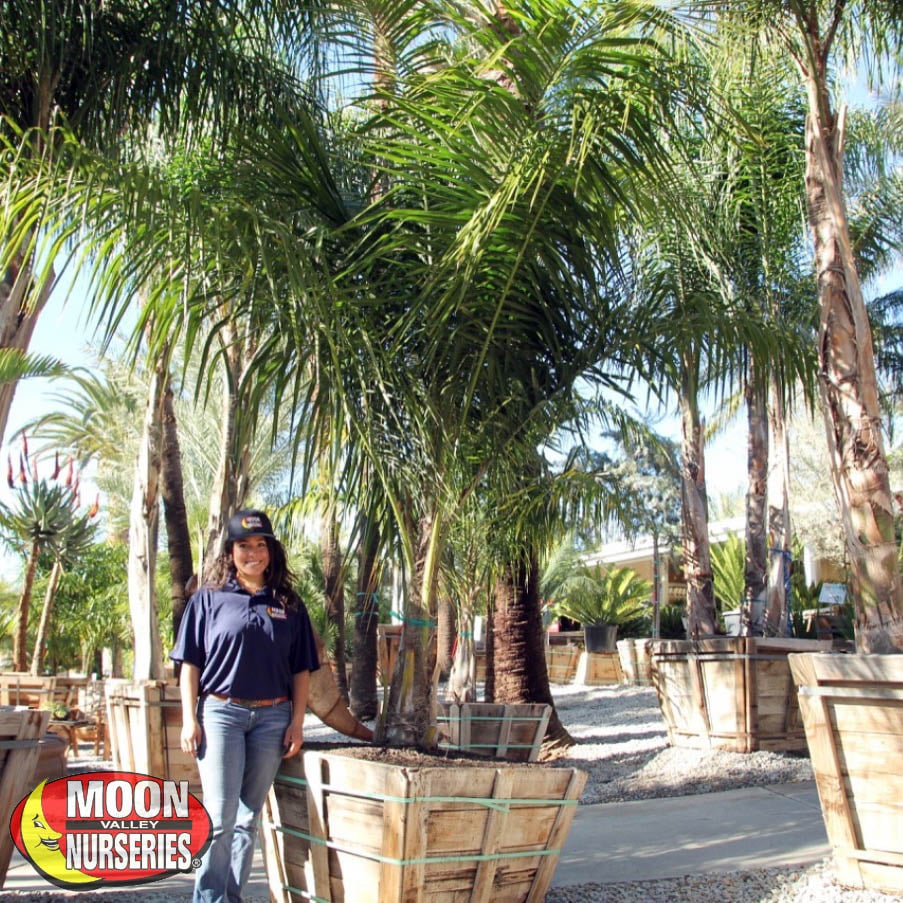 Coconut Queen Palm (Syagrus romanzoffiana X schoffel): This hybrid is the result of combining the beautiful Kentia Palm with the vigor of a Queen Palm - the result is a genuinely show-stopping palm that can enhance any landscape. We like to plant them in staggered heights, where they can become a tropical hedge that can create a private backyard paradise. They have a slow growth rate and are very cold hardy, too. Their lush and full look has made them one of the most sought-after palms in Southern California.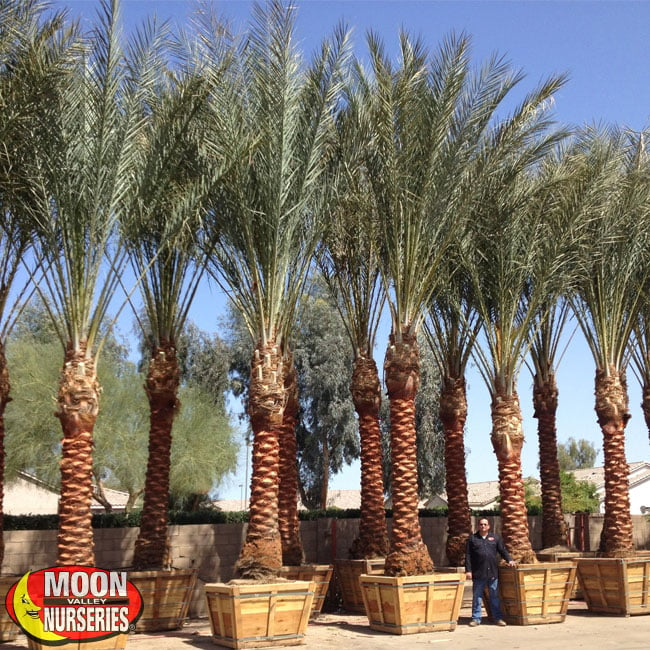 Date Palm (Phoenix dactylifera): Line these palms along a driveway and create a grand entrance. These stately and majestic palms are the classic, exotic palm trees of the desert oasis that add a formal, resort-style look to yards. We can plant them in groups or rows where they can offer a cool umbrella of shade. These are an excellent palm for planting around swimming pools, where they can make you feel as if you are vacationing in a resort, in the comfort of your backyard!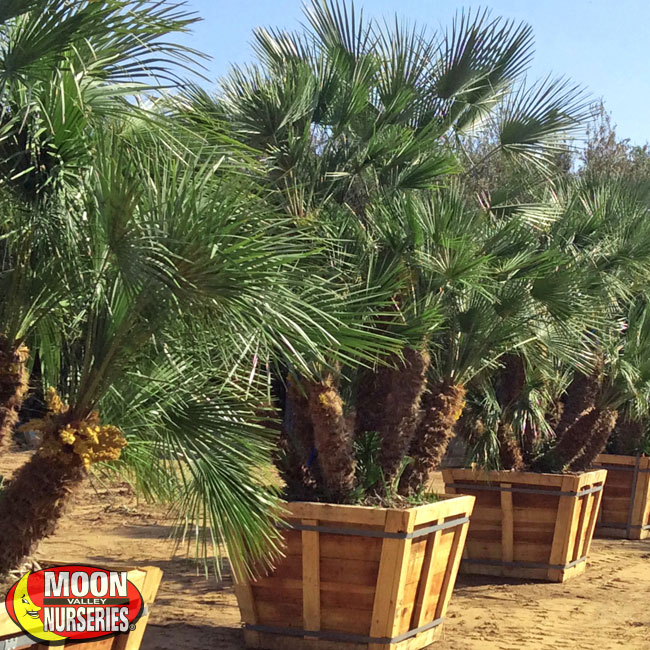 Mediterranean Fan Palm (Chamaerops humilis): Most of us living in Southern California have seen these small to medium-sized palms adorning front yards in many of the best neighborhoods. They are a favorite of Southern California landscapes and will rarely outgrow their space. We like to plant them to fill in empty spots between larger trees, and when lit up with nighttime lighting, they can create dramatic flair that is sure to get your yard noticed for all the right reasons!