Back to main Blog
Luke Kalawsky
Luke Kalawsky has a passion for all things trees, plants, and landscape design. He has designed numerous landscapes as the head designer in the Surprise, Arizona region until he became a manager of our Central Phoenix Nursery. He now dedicates his knowledge, expertise, and creative capabilities to help the masses discover how to design, plant, and maintain their landscapes with his writings.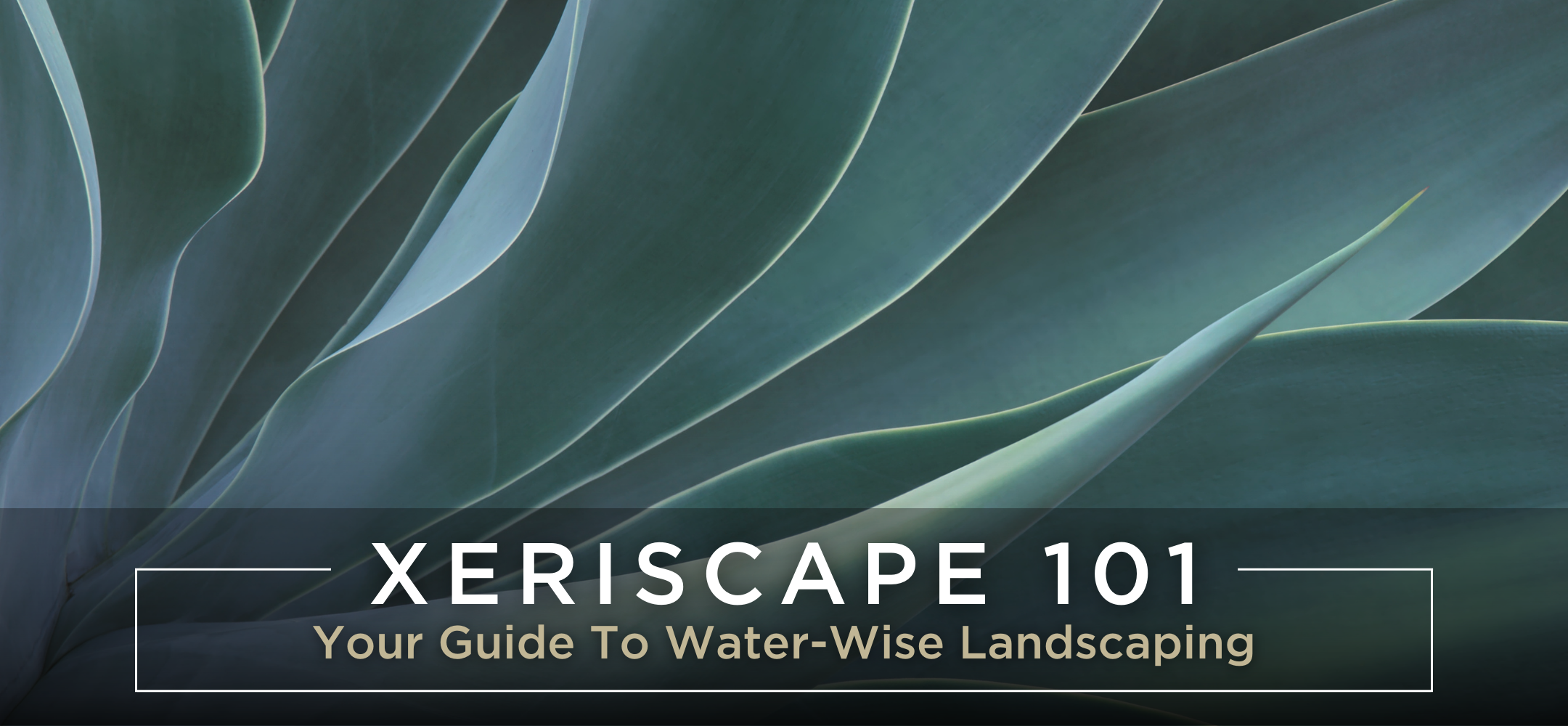 Due to recent heatwaves and wide-spread drought conditions across the U.S., many states are implementing water restrictions across their communities. This is causing many homeowners to look for alternatives to traditional landscaping and begin incorporating Xeriscape styles and practices into their yards.
While these restrictions can feel, well… restrictive to many greenery-loving residents in areas experiencing these droughts, this is an opportunity to learn more about the benefits Xeriscape landscaping has on your yard, your wallet, and your future.
What is Xeriscaping?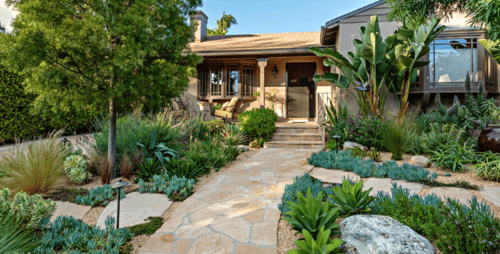 When the term, "Xeriscape" comes to mind, most people think of dry, uninspiring yards filled with unmanicured desert native plants. While this is certainly an option for a drought-tolerant landscape, it is not the only option! In fact, most Xeriscape designs are stunning, lush vistas of unique and useful trees and plants.
Xeriscaping is the process of creating an attractive low-maintenance landscape while using plant material that only requires minimal water. The term was trademarked in 1981 by Denver Water and comes from the Greek word, "xeros" meaning "dry". The landscaping trend gained popularity quickly in many arid regions and areas where water usage is a premium.
While cacti, succulents, agaves, aloes, and other xerophytes are commonplace in most xeriscape designs, the design ethos is not exclusive to these plants. You can create a beautiful, water-wise yard or garden with a variety of drought-tolerant plants, trees, ground covers, and succulents, all while prioritizing water conservation.
How to Get Started with Xeriscaping Your Yard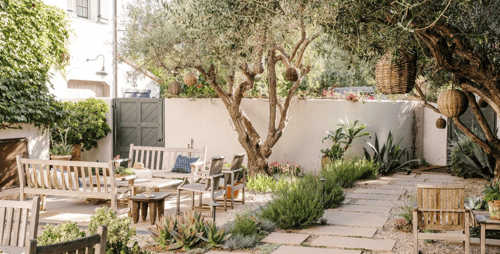 Transitioning from your current landscaping to Xeriscape might seem like a daunting task, but it is fairly simple as long as you have a bit of knowledge and a good eye for design.
The key to implementing Xeriscape practices into your yard is understanding water efficiency within your landscape. Water is an incredibly valuable resource and Xeriscape landscaping allows you to conserve that resource while enjoying a beautiful yard.
By grouping plant material with similar water needs together, limiting the amount of grass on your property, and utilizing water retention methods such as mulch wells and irrigation systems, you can enjoy a wide variety of trees and plants within a low-water landscape design.
The Beginner's Guide to Xeriscaping
1. Choose Your Palette:

Select from a variety of trees and plants that grow with minimal effort in your region while elevating the aesthetic of your yard. You'll want to assess the goals you'd like to achieve in your landscape before you start purchasing plants.
For example, if you want to create a privacy barrier in your backyard, choose a low-maintenance, drought-tolerant hedging tree or plant. Determine a few plant options for every need you have in your yard. Create your palette using water-wise flowering plants, drought-resistant shade trees, desert-acclimated palms, and low-water ground covers. Keep things interesting by adopting plants with a range of heights, colors, and textures.
2. Plan it All Out
Design a water-wise masterpiece with your landscape by drawing attention to each area of your yard through design techniques such as layering, color coordinating, and texture pairing.
You'll want to pay attention to the specific water and sunlight needs of each plant you want in your design and place them with other trees and plants that share those requirements. By adhering to the sun, water, and care needs of each plant while establishing your landscape plan, you'll ensure the complete design is beautiful and sustainable.
3. Amend The Soil

Tailoring your soil to a more ideal environment for planting will allow your trees and plants to absorb more nutrients, root out more securely, and utilize water more efficiently. In many drought-ridden regions, the soil can become very hard and alkaline. Amending the soil creates a more plant-friendly acidic environment and promotes better, more sustainable growth. You can use our Landscape Soil Conditioner found at any Moon Valley Nurseries location to remedy the soil quickly and easily in your yard.
4. Smart Watering
Installing a programable irrigation system allows you to apply the exact amount of water each tree and plant needs without over application. This prevents water waste while ensuring your landscape get watered properly. Do your research to make sure you install the system that's right for your property and application.
5. Cool & Collected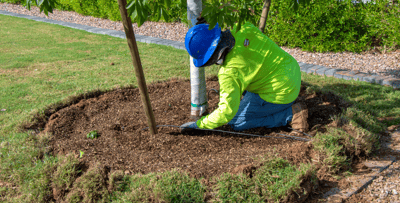 Creating raised wells around your trees and plants, then layering the wells with an organic mulch helps retain water, supports deep watering practices, and keeps the root area cool.
The one-two punch of lower root temperatures and deep-root water penetration is a fantastic combination to supporting your plants' growth and health.
6. Stay Consistent
Keep up on trimming, pruning, and fertilizing. By making the health of your landscape a priority, you can keep the water needs of your plants down. Using a nutrient-rich fertilizer will promote strong, vigorous growth. Our Moon Dust is an all-purpose fertilizer that you can use on trees, palms, shrubs, cacti, succulents, and fruit and citrus trees.
Healthy, well-fed trees and plants require less water and become established to your yard much quicker. Many trees and plants become drought-tolerant once established in a location. Following the care tips described in this article will help your landscape establish quickly, use less water, and stay beautiful!
Xeriscape Ideas & Design Inspiration
Xeriscape landscape designs can be lush, vibrant, and interesting, but it can be hard to visualize how to tie together all the unique plant life to create a cohesive end result. Sometimes, you just need a little spark of inspiration. To help you hit the ground running, we compiled our top 10 favorite Xeriscape landscape design ideas for California.
1. Faux Tropical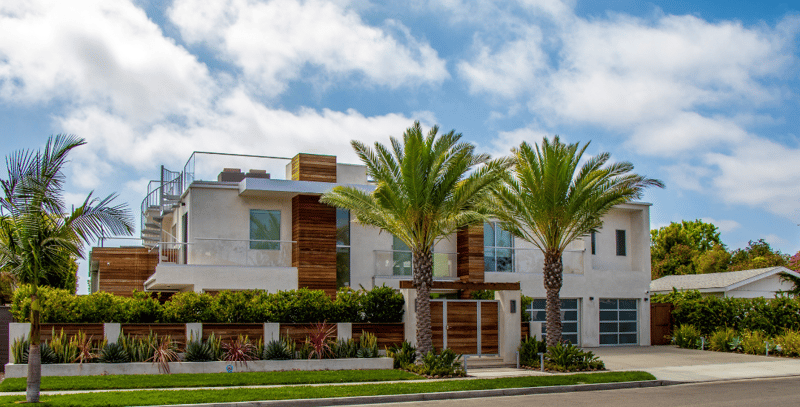 2. Tuscan Villa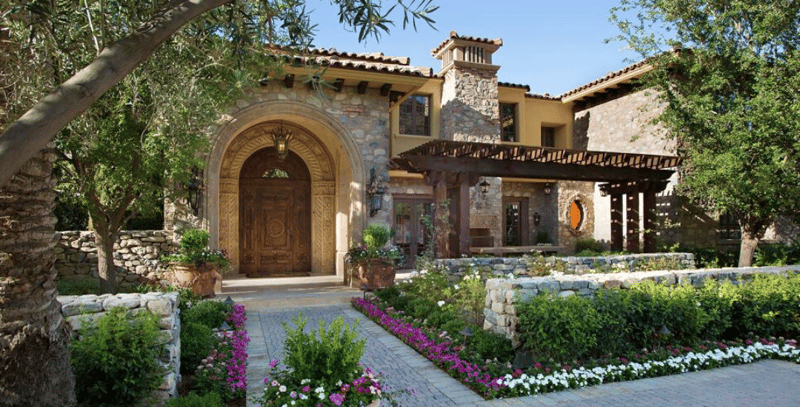 Mature Olive trees and structured planting beds full of colorful annuals help define this home's drought-resistant, classically-inspired Tuscan landscape.
3. Chilean Grove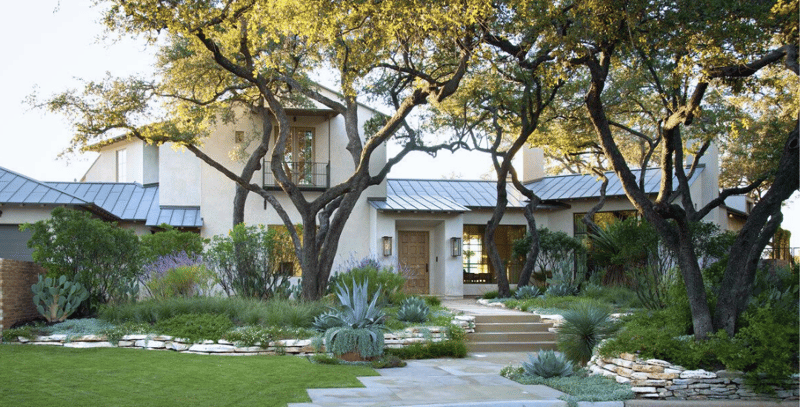 This cozy front yard is given its impressive shade from three mature Chilean Mesquite trees. The low-water ground covers give an impression of lush grass, without the extra care.
4. Contemporary Conservatory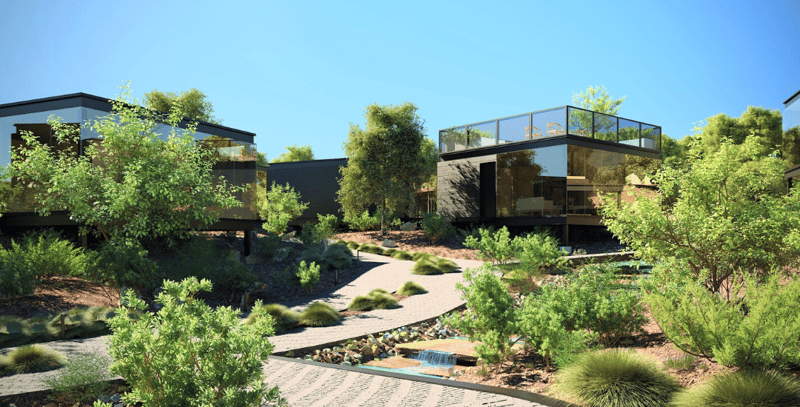 The smattering of water-wise and native trees and plants bring a green, forward-thinking curb appeal to the design of this modern estate.
5. Succulent Sanctuary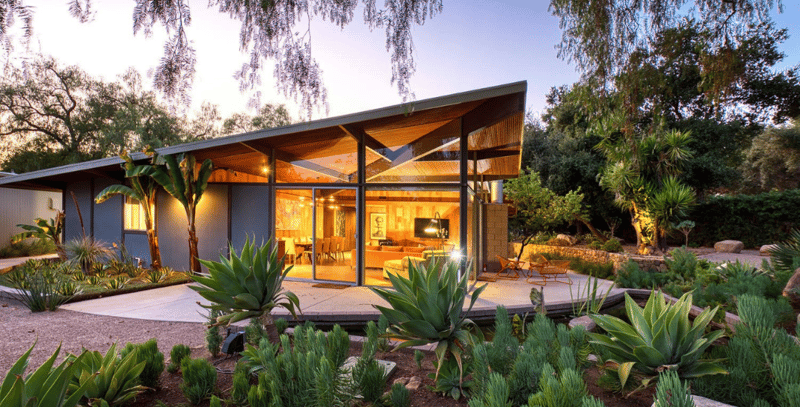 The extensive use of agave, yucca, and succulents gives this contemporary home a rich sense of interest, texture, and curb appeal, while keeping water usage to a minimum.
6. Olive, But Not Drab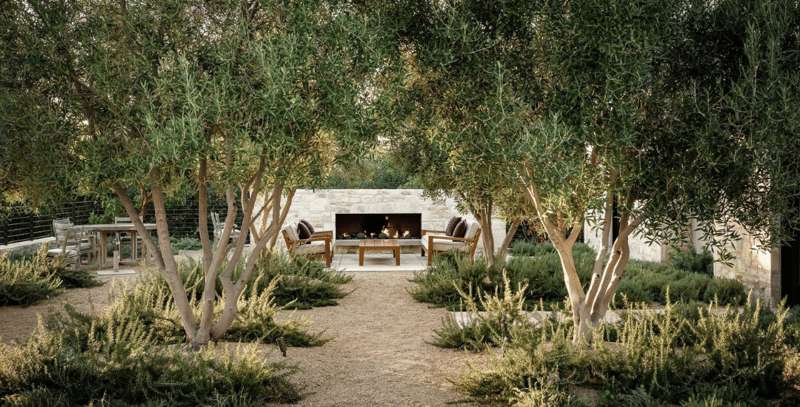 This elegant courtyard seating area is given classic charm from a quartet of drought-resistant
Olive trees
, each surrounded by water-wise shrubbery.
7. Byzantine Beauty
The front entry of this home is surrounded by a collection of drought-resistant plants,
trees, and palms
, all coming together to create a Mediterranean paradise.
8. Secret Terrace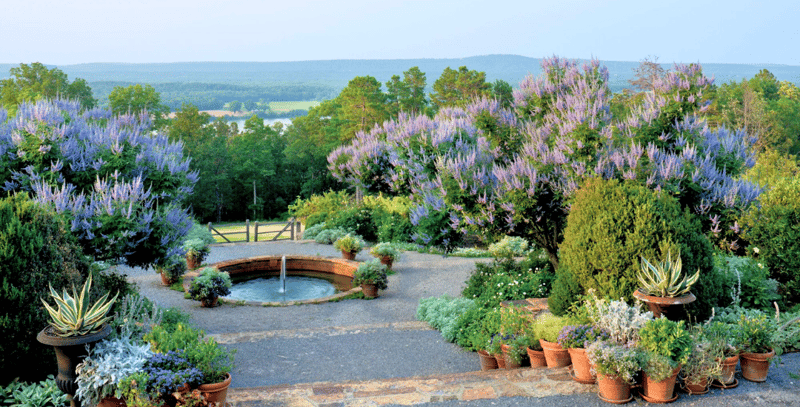 This hilltop courtyard features a wide variety of drought-tolerant plant life. The potted plants give the feeling of a carefully curated collection, while
Vitex trees
shower the area in a cloud of purple flowers.
9. Sonoran Escape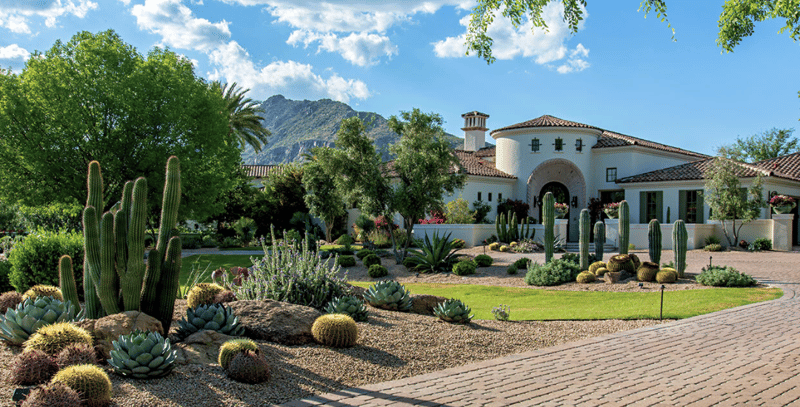 Even though this design is comprised of water-wise trees,
cacti, and plants
, this yard is lush, full of character, and a testament to the beauty of low-water landscaping.
10. Spanish Sanctuary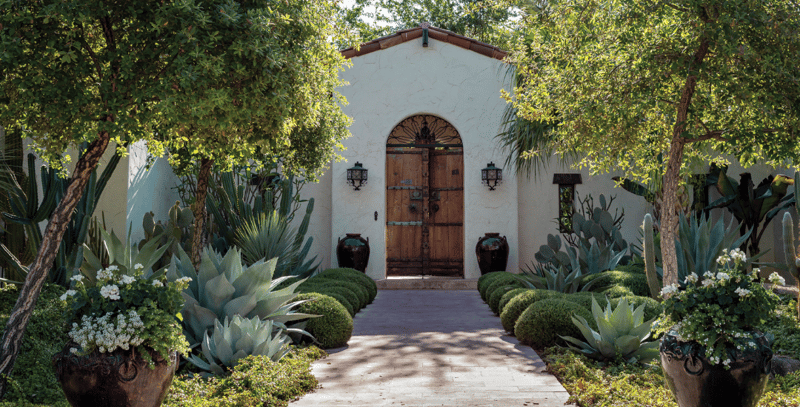 From the hardy
Southern Live Oaks
, to the impressive array of texture and interest brought by the variety of shrubs and agaves, this Spanish-influenced entry invites us into a more conscientious way of life.
Branching Out: Hire a Professional Landscape Designer
This guide serves to give you the know-how to start your own Xeriscape garden or landscape, but pulling all the pieces together might seem a bit daunting. Here at Moon Valley Nurseries, our professional landscape designers are well-versed in many styles of Xeriscape design and are happy to help you craft a beautiful yard that meets your needs and conserves our most valuable resource, our water. Our designers offer free consultations at our nursery locations as well as at your home. Give us a call today to start transforming your landscape!
To learn more incredible yard care advice, design tips, and tree knowledge, check out our library of articles! We have a massive catalog of entertaining and informative articles written by our experienced nursery professionals to help you succeed with all of your landscaping goals.