Climbing vines are an essential part of any beautiful landscape. We like to use them to hide unsightly features on fences, and they can add a touch of romance and beauty to bare walls. Choose the right vines, and they can attract all the right attention!
Vines mainly fall into a couple of categories. There are those that are self-clinging, and those that require a trellis. Both types are stunning additions to any yard. Add a splash of green and color to your yard with these favorite vines. One thing that all vines have in common is a fast growth rate, so if you are looking for something to cover up a structure quickly, choose a vine!
How to Train a Vine
Train a vine properly, and they can reward your yard with beauty. Keep in mind that some vines require very little training.
Give the roots a place to expand by planting all vines at least four to six inches away from its support system.
If you want to get the vines going in the proper vertical direction, you will want to attach them loosely to the structure you want them to climb.
It is a good idea to keep tying up vines as they keep growing higher and higher on a structure.
Twining or Scrambling Vines
These types of climbing vines can scramble along, winding themselves through and around their support system. These are typically vigorous vines that can do all this without much outside help!

Wisteria (Wisteria floribunda): In spring, beautiful blooms of fragrant white, blue, or violet flowers appear; attracting hummingbirds and butterflies along the way. Wisteria adds a luxurious look and feel, especially when draped over a fence.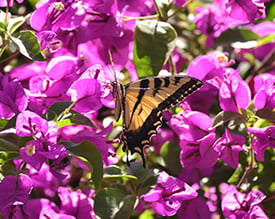 Bougainvillea (Bougainvillea spp.): These colorful beauties have a strong vine-like habit so they can provide quick cover. They can also put on a beautiful show of deep magenta-red flower-like bracts in spectacular clusters, and do this almost all-year long.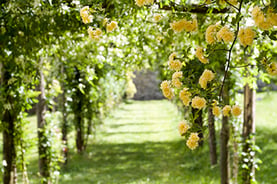 Lady Banks (Rose banksiae): These heat and drought tolerant vines can produce clusters of yellow and white blooms adding plenty of appeal wherever it is growing. We like to use them to bring a romantic look to a garden. They can quickly cover a fence or trellis.
Copyright: laperladilabuan / 123RF Stock Photo
Vines that Cling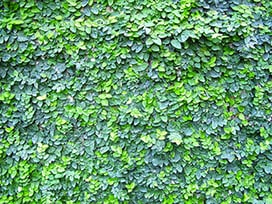 Creeping Fig (Ficus pumila): An excellent choice to cover up unsightly walls, fences, and trellises. This durable plant can attach itself to a wide range of surfaces, including wood, metal, and masonry. Its rapid growth rate means that you will not have to wait too long to enjoy its beautiful green foliage cover.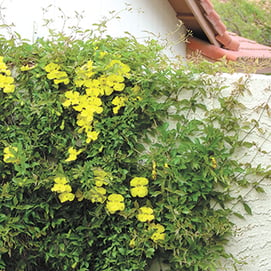 Cat's Claw (Macfadyena unguis-cati): Cat's Claw is also called the Yellow Trumpet Vine, and this fast grower produces fragrant yellow blooms that add a splash of color wherever it is growing. We like to use this vigorous vine to cover stucco walls or brick walls. These are very durable, heat tolerant plants that can also be sued as a screen, barrier, or desert accent.
Expand Your Garden Vertically!
Vines are easy-to-grow and can add a new dimension, plenty of colors, and pleasant fragrance to your landscape. Moon Valley Nurseries makes easy to expand your garden vertically with our premium, custom-grown vines and climbing plants!