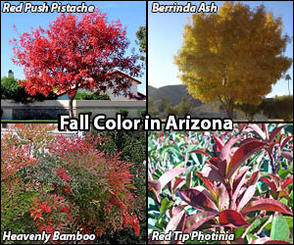 The Arizona desert has many beautiful trees that offer up gorgeous fall color this time of year. Most of us assume that to see this beauty on display you'd have to take a trip to Flagstaff or the White Mountains in order to enjoy one of Arizona's most spectacular seasons. But, down here in the Valley there are actually quite a few options to help you add fall color to your yard with the right trees and plants.


There are a number of different trees that will give you fall color in the Arizona desert. The Chinese Pistache, Pistacia Chinensis, is one of the more popular varieties because its leaves turn a stunning burgundy color in middle to late fall. The Red Push also provides great shade the rest of the year and is extremely easy to grow. The Fraxinus species, like the Arizona Ash, Raywood Ash, Berrinda Ash and Fan-Tex Ash, are also fantastic trees for adding fall color to your yard. They show rich, golden and deep red leaves which add some of the more brilliant fall colors to the desert around this time of year.

You can also get fall color by adding the right types of shrubbery to your landscape as well. Ornamental grasses such as the Muhlenbergia species add a great tone of pinks and reds. Dwarf Nandina 'Moon Bay', Heavenly Bamboo, Purple Hopseed, Red Tip Photinia, and Pyracantha all add fall colors like red, burgundy, gold and even purple to their leaf color which matches the color of the fruit the plant will bare.

These trees and bushes can be added to nearly any landscape where fall color is desired and will give you that season changing feeling right here in the desert that we normally do not get to enjoy. Planting these along with early blooming shrubs and trees will make a transition from Fall to Spring that will make your yard much more colorful and enjoyable.

Stop in to any of our 7 Valley locations and speak with a nursery professional about the trees and plants listed above and add some fall color to your yard today!