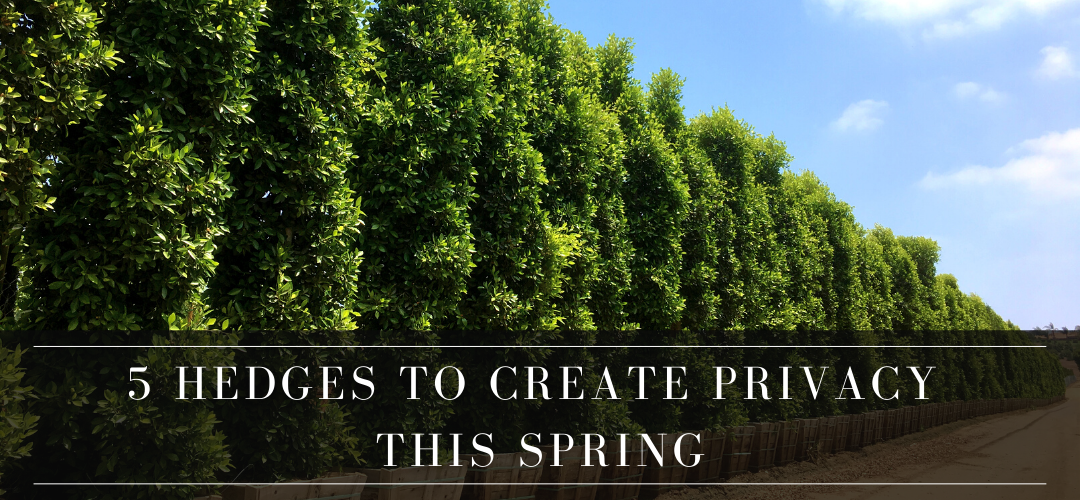 If privatizing your yard is a top priority, these five hedges of spring can help! Springtime has arrived, and the weather is perfect for enjoying our front and backyards. We can create privacy and make our home a sanctuary to keep spying neighbors at bay. Best of all, we can create a private area without sacrificing beauty. Sounds good, right?
Privacy Hedges for Yards in Arizona this Spring
Privacy hedges are always going to be a welcome addition to yards in Arizona. We can plant hedges to block unwanted views, and many are ideal sound barriers. As a bonus, these hedges of spring can bring lots of color and shade to our arid environment. Adding a fence is always an option. However, a natural solution for privacy can also increase property value and is good for the environment.
Our Top Hedges for Spring Planting

These fast-growing privacy hedges are evergreen so they can keep their lush greenery and keep your yard private all year long. These columns are ideal for our Arizona climate – they are water-wise and thrive in desert environments!
We can add plenty of greenery to the Phoenix urban desert, too. You know what else is great about these spring hedges? When strategically placed in the yard, they can create shade. Let's face it, in Phoenix, we can always use a shady spot outdoors. Add a green splash to your landscape and plant these columns to create an evergreen living wall for privacy!
Keep enjoying your yard in comfort this spring, no matter how close your property is to your neighbors. We like to use this ornamental tree as a sensational privacy hedge to help keep prying eyes away!
This hedge of spring gets bonus points for its outstanding ability to tolerate heat, drought, and wind. With their bright-green foliage and fragrant creamy-white flowers, it is easy to see why this is a favorite privacy hedge throughout the Phoenix area. Bonus points for their near-perfect shape and little maintenance requirements.
It is easy to see why these hedges are a common sight throughout the Valley. They can bloom showy bottlebrush-like flower spikes that can paint a landscape with blood red and blue-green colors. Yes, bottlebrush plants can certainly add a splash of color to our arid environment, and attract hummingbirds, too.
You know what else they can do? These evergreen shrubs can also create a colorful privacy screen when several are lined up along a property line. Plus, their compact size makes them an ideal hedge for smaller gardens.
This hedge is super drought-tolerant, so it is ideal for any Arizona landscape. These can be used as colorful fast-growing privacy hedges with blooms that can add hues of white, red, and pink colors to our yards from spring through fall.
Hummingbirds love them when in bloom and we like to use them to create privacy all year long! Create a living fence and enjoy the beautiful flowers and dark-green leathery leaves that help to make this one of the best spring hedges for our area.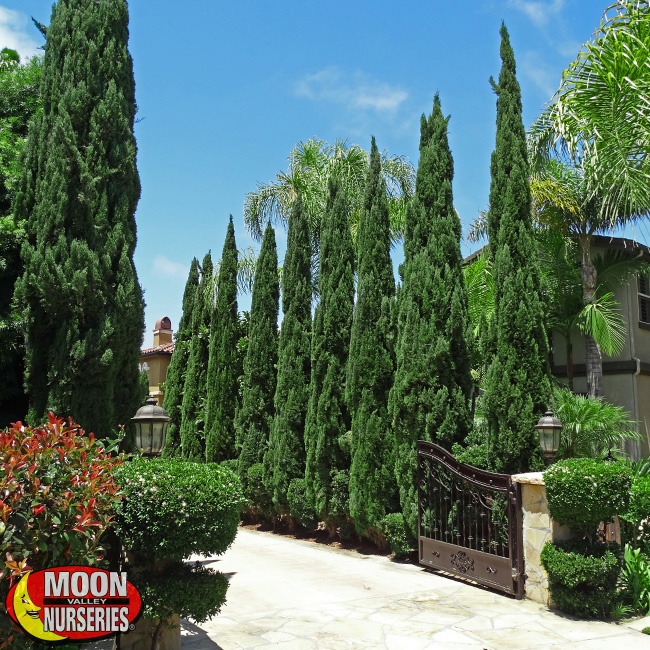 Plant these columnar evergreens in a row and create an attractive natural property divider. We can plant these narrow fast-growing privacy hedges in our yards to bring the look of the Mediterranean to landscapes throughout the Phoenix area.
Is space tight between your fence and your neighbor's home? Thanks to their tall and narrow growth habit, they can be used in almost any location. We can also use them as a useful windbreak to block high winds. Line them up along a driveway and create a grand entrance! Their elegant and classy appearance makes them a landscaping favorite!
Our professional designers love to create landscape designs with privacy hedges, and we have thousands of hedges for sale at all our nursery locations. If you would like to have some expert help in creating the home paradise of your dreams, feel free to reach out to incredible designers. They will create a private retreat in your yard while making the process easy so you will be able to simply enjoy your new landscape in solitude!
To learn more incredible yard care advice, design tips, and tree knowledge, check out our library of articles! We have a massive catalog of entertaining and informative articles written by our experienced nursery professionals to help you succeed with all of your landscaping goals.