Hedges are always a great addition to your home and landscape for many reasons!
They help reduce noise from roads, nearby parks or schools, and loud neighbors.
They block the view of two-story homes around you.
They also make incredible wind barriers.
Some of the larger hedge options we have at Moon Valley can even offer several feet of thick shade for your yard. Outside of their amazing practical uses, hedges that are well taken care of and properly designed are a sight to behold, especially in Arizona where most landscape designs are desert-style/xeriscape landscapes. A thick, wall of green foliage will stand out from the rest of the area.
As a bonus, some hedges can even bring colorful flowers throughout the year and shade to your home. Adding a fence is always an option. However, a natural solution for privacy will give you a higher increase in property value.
To take full advantage of owning your own hedges, we recommend buying them as big as you can. At Moon Valley Nurseries, we are your privacy headquarters!
Why Your Yard Would Benefit from Hedges
The most obvious reason you should consider including hedges to your landscape is how quickly they can transform your home and add a classic, clean aesthetic. Installing a hedge for your yard will give you extra privacy and security. It also creates a personal oasis for you and your family.
Hedges Love Full Sun
Overall, most hedge materials thrive in full sun exposure. They can tolerate shady spots, but they prefer to bathe in the sun. Be sure to let our designers know about any shady areas of your yard so we can find you the best hedge option!
Why You Should Choose a Hedge Instead of a Fence
Hedges are a much better option than a boring fence and for multiple reasons! A hedge will bring life and texture to your yard and an increase in property value. You will fall in love with your yard once you're in a private oasis surrounded by a living evergreen wall.
Fences can be unsightly and do not usually increase property value the way any landscape additions would. They also start to wear and will eventually need to be replaced. You might be paying for multiple fences and repairs, or you could invest in a hedge and add privacy, security, shade, and cooler air directly to your home.
Moon Valley Hedges for Your New Yard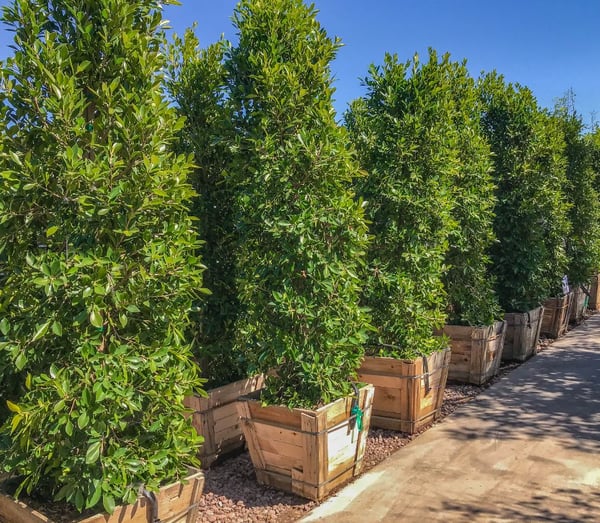 Indian Laurel Columns, often called 'Ficus nitida' are one of the most popular choices for our customers that are seeking to design a hedge for their yard. These massive evergreens provide ample shade and perform great when planted along property lines to block the sun, noise, wind, and unwanted views.
The Ficus Nitida Columns have lush, dense foliage and strong softwood branches. They can be pruned into almost any shape and handle the warmer summer months very well.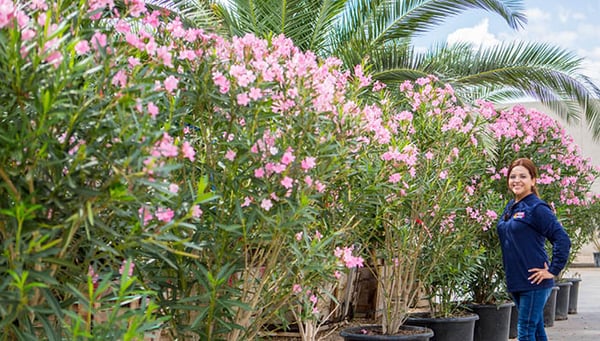 Oleanders are super drought-tolerant, so they are ideal for any Arizona landscape. These can be used, and look great, as colorful fast-growing privacy hedges with blooms that can add hues of white, red and pink colors to our yards from spring through fall.
Create a living fence and enjoy the beautiful flowers and dark-green leathery leaves that help to make this one of the best spring hedges for our area. Hummingbirds love them when in bloom and we love them all year-round!
Hopseed Varieties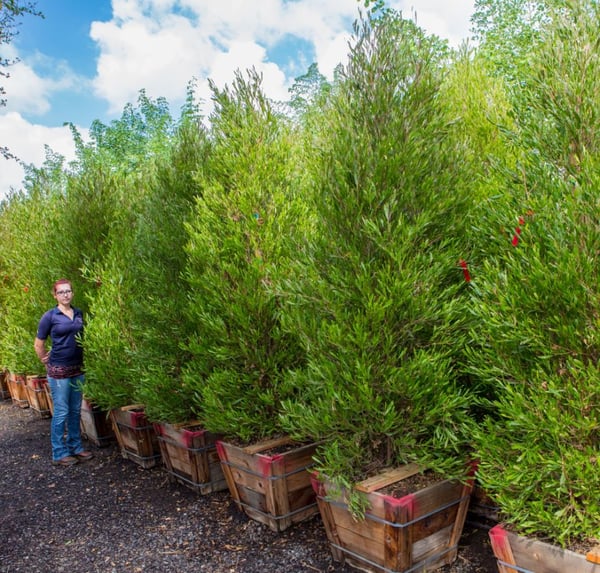 Green (pictured) and Purple Hopseed are most often used as a filler plant to add texture and foliage to lackluster designs. They are also commonly used as screens and planted in rows to create a hedge.
Hopseed grows in an upright form and can reach as high as ten feet but can be trimmed to any size that fits your home. They are drought-tolerant and cold-hardy, once established.
Get Your Hedge Design Started Now
The first step to creating the perfect hedge for your yard is to come into Moon Valley Nurseries and check out the best hedge material grown locally to create your ideal privacy barrier.
Our nursery professionals know how to help you choose the perfect hedge for any location.
At Moon Valley Nursery, with over 25 years of growing experience, we have cloned the perfect Hollywood style hedges, which have been used all over the world!
Moon Valley Nursery now has free planting that includes our expert design, our world-famous Moon Juice, and of course the best family-run company in the world. We will always get the job done right!
With photos of your yard or a visit to your home, our designers will have everything they need to complete your vision. Click here for more information on landscape consultations.
Tree Care Services
Don't forget about our Tree Care services in Arizona! We have a team dedicated to all your arbor needs such as removal, trimming, fertilizing, stump grinding, and anything else your trees might need this time of year. Get your trees ready for our summer monsoon season!