Back to main Blog
Luke Kalawsky
Luke Kalawsky has a passion for all things trees, plants, and landscape design. He has designed numerous landscapes as the head designer in the Surprise, Arizona region until he became a manager of our Central Phoenix Nursery. He now dedicates his knowledge, expertise, and creative capabilities to help the masses discover how to design, plant, and maintain their landscapes with his writings.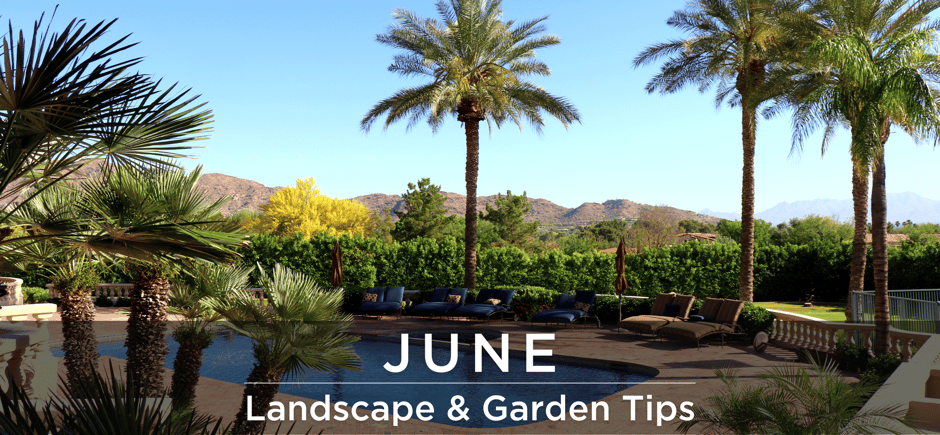 As spring begins to transition to summer, your trees and plants shift from one growing season to the next. Summer is an opportunity to allow your landscape to form hearty new foliage, stronger roots, and even a coat of wonderful blooms on some varieties.
Our nursery pros have compiled a list of the best yard care advice to prepare your landscape for the summer growing season. Take a read through this month's landscape and garden tips to set your yard up to not just survive, but to thrive this summer! Don't forget to reach out to our nursery pros if you have any other questions about caring for yard or what to plant this season!


UPDATE YOUR
WATERING SCHEDULE
Proper watering is the key to keeping the material in your landscape thriving all summer long. For starters, you will want to water early in the morning between 4 a.m. and 8 a.m. as this reduces the evaporation loss.
Make sure you always use a deep watering technique, which is a slow application of water over a longer period of time, this allows the entire root zone to become saturated.
The amount of water you need to apply depends on the variety of trees or shrubs you are watering. With trees, you will want to wet the soil at least 3 feet deep and at least 1 foot deep for shrubs. You can also use a soil probe to determine the depth of watering more accurately. For a more in-depth overview of summer watering for your specific tree and plant species, take a look at our care guides here!

FERTILIZE FOR EXTRA STRENGTH AND NUTRIENTS
Fertilization is paramount in order to take advantage of the warmer growing season. A strong, well-nourished tree or plant will be able to utilize the longer days and warmer temperatures, as well as have an easier time fighting off any weather-induced stress.
Our experts developed highly specialized blends of fertilizer designed to trigger growth responses and supplement the essential micro and macronutrients that trees and plants need to thrive in our region. You can learn more about our specially tailored fertilizers and supplements here!

PROTECT THE
TRUNKS
OF TREES
Certain species of trees, such as citrus or stone fruits, can be susceptible to sunburn. This is typically only an issue on younger trees when their canopy is not wide enough to shade the trunk, or on trees that have less-dense foliage allowing plenty of sunlight to meet the trunk.
Luckily, there is a very easy solution to prevent sunburn on trees. A breathable tree wrap or tree paint can help to protect the trunks of your trees and can be found at your local Moon Valley Nurseries location. For more information on which varieties of trees are susceptible to sunburn, feel free to stop by or call one of our nurseries and our nursery pros will help you out!

MULCH AROUND TREES
Applying mulch is an easy and effective way of keeping the soil moist all summer long, as well as regulating the soil temperature around your trees.
For best results, apply a 3 to 4-inch layer of mulch around the base of your trees. Doing this can help keep the soil cool during the hot summer months and keep the soil warm during cooler days. Mulch has the additional benefit of slowing the application of water to the trees' root system, aiding in proper deep watering practices.
SUMMER PLANTING LINEUP
Many trees and plants are exploding with colorful blooms this time of year. All of the trees and plants at Moon Valley Nurseries are grown right here, in our local area. This means they will bloom fuller and longer than trees not acclimated to our region. Because our trees are grown here, they can be planted at any time during the year, as they will be ready to start growing and establishing in your yard right away!
Here are some of our favorite trees for summer planting ready to add color and interest to your landscape!
Few varieties of trees put forth the vibrant displays that Crape Myrtles do, and these awesome trees have color throughout the year! They can bloom white, pink, red, lavender, purple, peach, and magenta-colored flowers, dependent on the variety. While Crape Myrtles typically bloom huge clusters of these flowers in the early summer, the blossoms can last into the fall. The color show continues from there as Crape Myrtle trees develop a myriad of fall colors from reds and oranges to yellows and golds.
Vitex trees are also commonly referred to as Desert Lilac trees or Texas Lilac trees, and for good reason. The entire trees' canopy becomes arrayed with spires of lilac-like purple flowers in the late spring. These blooms last through the summer and can remain into the late fall. These purple flowering trees can be grown as a single trunk, or as a multi-trunk tree with twisting attractive growth patterns. They are also incredibly hardy, drought-tolerant, and very easy to care for.
A Moon Valley Nurseries exclusive, the King Piru Palm™ possesses the best attributes of two of the most beloved types of palms. We combined the raw durability and unique frond structure of Pindo Palms with the deep full crowns and thick trunks of our Piru Queen Palms™. The result is an amazingly durable, attractively palm variety that remains low maintenance, drought-tolerant, and weather resistant. Enjoy the gentle sway of the dense fronds and textured trunk, while resting assured your King Piru Palms™ thrive in the hottest desert sun and are cold hardy down to 12 degrees Fahrenheit!
To learn more incredible yard care advice, design tips, and tree knowledge, check out our library of articles! We have a massive catalog of entertaining and informative articles written by our experienced nursery professionals to help you succeed with all of your landscaping goals. 
Updated by Luke Kalawsky on May 24th, 2022