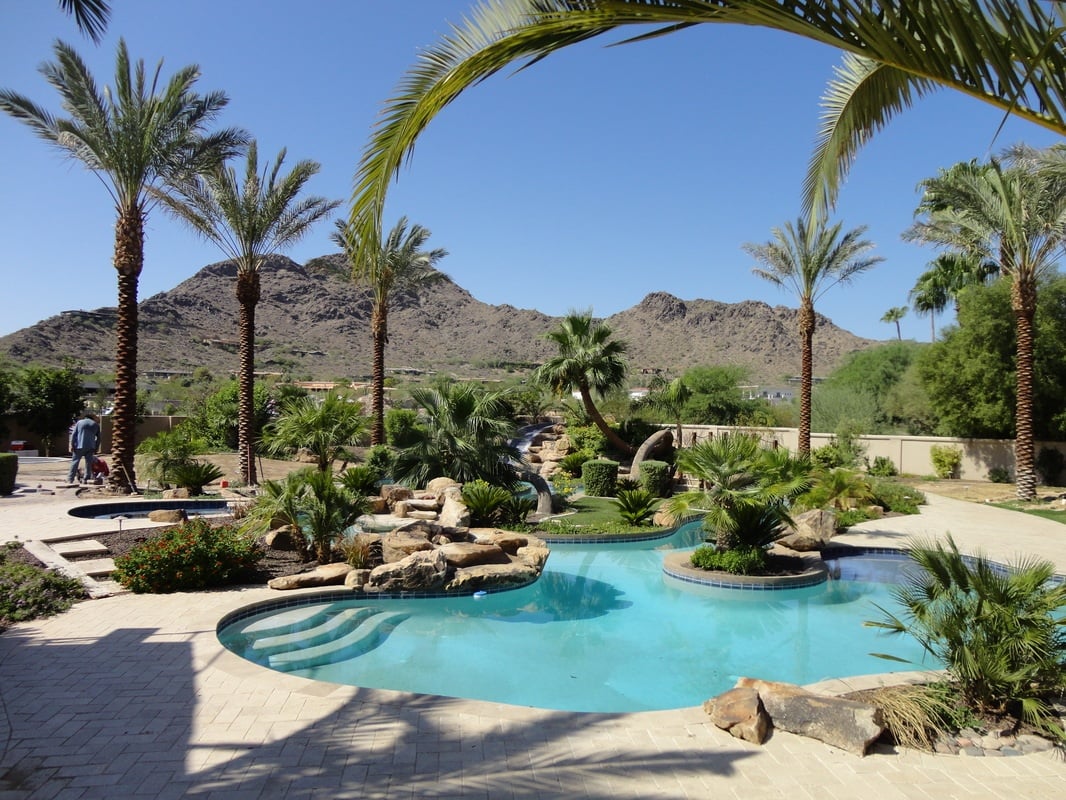 After taking a look at some of the smaller palm options for your pool in part 1 of our series on "Palms For Your Pool", our experts at Moon Valley Nurseries have now identified seven perfect medium sized palms for your pool.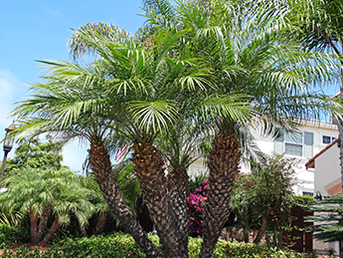 Pygmy Date Palm


This statuesque palm features many trunks of varying height or it can be grown with just a single trunk. Great for small spaces and accent locations near your pool, the Pygmy Date Palm is a slower grower and adapts well to sun and shade. Moon Valley Nurseries Pygmy Date Palms have been custom grown at our farms to ensure that the palm generates thicker trunks, fuller crowns, and more robust roots.

Click to read more about the Pygmy Date Palm
---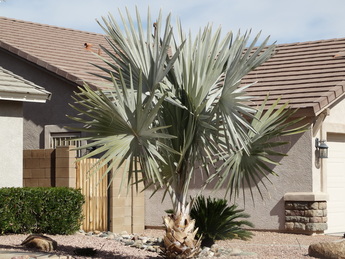 Bismarck Palm


A very large palm, the Bismarck Palm unique look makes it stand out as a wonderful accent in tropical landscapes around pools due to its blue-green colored fronds. Fast growing, the Bismarck Palm produces a striking canopy that reaches several feet wide and is great for blocking unsightly views around pools. It loves the full sun exposure and is low maintenance.

Click to read more about the Bismarck Palm
---
Mexican Blue Palm


Highly desired for its unique appearance, the Mexican Blue Palm is a slow growing large palm that is cold hardy and loves the full sun. Native to the Baja Peninsula of Mexico, the Mexican Blue palm make excellent focal points around your pool and are stunning at night when spotlights illuminate the trunks and fronds from the ground. Plant Mexican Blue Palms with other palm varieties or near larger shade trees to get an interesting contrast of colors.

Click to read more about the Mexican Blue Palm
---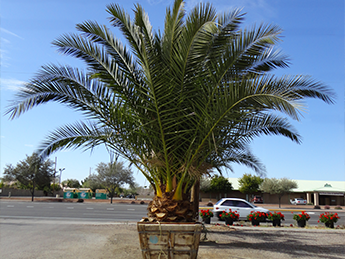 Pineapple Palm


Named for its resemblance to a pineapple when the palm is younger, the Pineapple Palm produces wide fronds and requires space when planted around a pool. It grows slowly, eventually forming a wide trunk and its fronds begin to rise from the ground, creating a classic palm tree shape. The Pineapple Palm can handle the cold and loves the sun. It's a popular choice for tropical landscape and is commonly seen around resorts.

Click to read more about the Pineapple Palm
---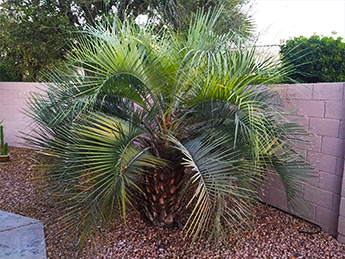 Pindo Palm


One of the unique palms on this list, the Pindo Palm features a unique silver - blue color and its fronds curve back toward the trunk. The Pindo Palm is both bold hardy and drought tolerant. It requires minimal pruning and its unique color makes them a great addition for any tropical landscape around a pool. Landscape lighting with upward spotlights creates a fantastic night time effect as well.

Click to read more about the Pindo Palm
---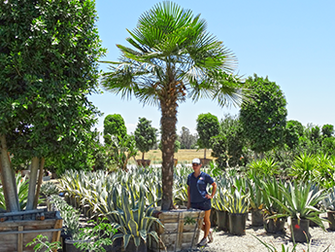 Windmill Palm


A narrow and vertical palm, the Windmill Palm is one of the most durable palms known. It thrives in intensely hot locations, requires minimal water and can handle periods of freezing weather with little or no damage. Commonly used as a stand alone or focal point, the Windmill Palm makes excellent accents to larger palms.

Click to read more about the Windmill Palm
---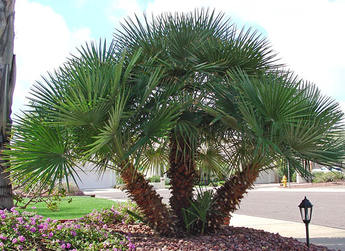 Mediterranean Fan Palm


Compact size and ability to thrive in the hot summer months and survive the cool winters has made the Mediterranean Fan Palm a popular choice for tropical landscapes. Commonly used as a stand-alone focal point around pools, the Mediterranean Fan Palm sprouts multiple trunks and is slow growing. The require minimal pruning and can be drought tolerant. As a bonus, they look great in containers.

Click to read more about the Mediterranean Fan Palm
---
When you visit any of our 8 Moon Valley Nursery locations in Phoenix, be sure to know the size of the area around your pool that is available. For further assistance, bring in any photos of your current landscape. Our experts are on hand to help you with any needs you may have.