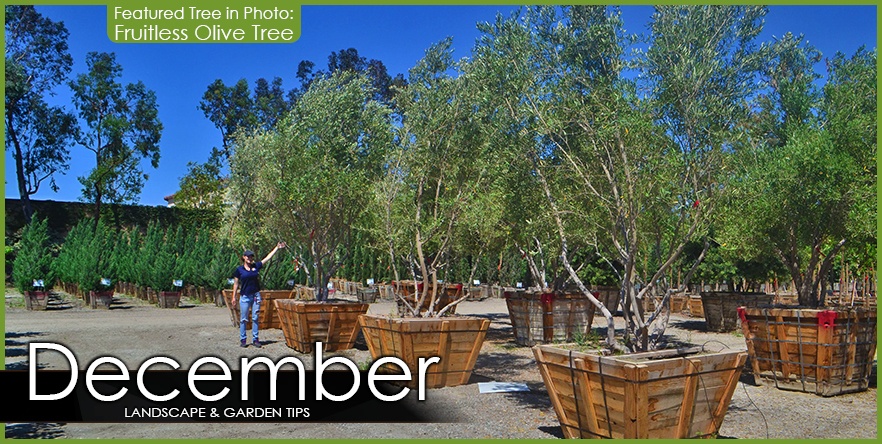 The winter season has finally arrived and that means changes to how we care for our trees and shrubs on our landscapes. To help homeowners prepare for the colder temperatures, our nursery professionals have compiled a to-do list as well as their recommendations for planting this month.
To Do List:
Christmas Trees: Moon Valley Nurseries' has a fantastic selection of the World's Best Christmas Trees. We carry Noble Firs, Douglas Firs, and Grand Firs in sizes for every home and every budget. All of our Christmas Tree have been expressed shipped within 48 hours of cutting to ensure the highest and freshest quality Christmas Tree. Our Christmas Trees have been a family tradition for more than 20 years. Click here to map us to start or continue your family tradition with Moon Valley Nurseries.
Winter Watering: With the thermometer dropping to winter temperatures, it is now time to adjust the watering schedule. In the winter months, you will want to cut back on the frequency of watering. However, make sure you are always deep watering and allowing time for the soil to dry-out between waterings. You can download our to help you get a better idea on how to just take care of your landscape.
Fertilization: While the trees and shrubs essentially stop all top growth in the winter months they are actually all still growing. That is in the ground where the soil keeps its warmth and our trees and shrubs are working on their root development. Fertilizing everything from your palms, shade trees, citrus, fruit, flowering trees, and even your dormant trees gives them all a boost to push through the winter and turn that into explosive growth in the spring. We recommend using our custom blended fertilizers for your landscape needs as they are specifically formatted for our soil and weather conditions. These can be purchased at all Moon Valley Nursery locations or online.
Below are a few trees our experts recommend planting for this month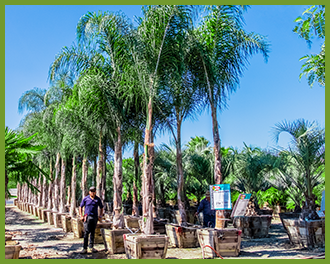 Piru Queen Palm
Exclusively offered only at Moon Valley Nurseries', our Piru Queen Palms have been grown purely from superior Argentine seedlings with better genetic traits. Our Piru Queen Palms feature thicker and harder trunks, greener palm fronds, and fuller crown than other Queen Palms. Our Piru Queen Palms can handle the hot and cold and thrive in the full sun. They are a fantastic option for homeowners looking to create a tropical paradise around their pool. Because we also grow our Piru Queen Palms at our farms in the local climate, they are already acclimated and have very low water requirements.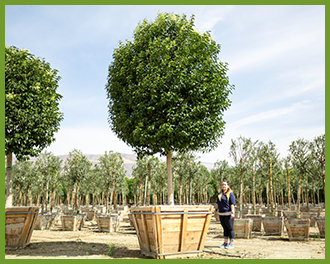 Japanese Privet
If you're looking for a tree with minimal maintenance requirements...and we mean MINIMAL, the Japanese Privet is one of the best options for you. At Moon Valley Nurseries, we offer Japanese Privets as hedge material and as trees. As a hedge, it can be trimmed into many different shapes and sizes and it is a fantastic option for privacy or to line a border. As a tree, the Japanese Privet is so clean that it can be planted near a pool. It produces beautiful white flowers in late spring and it's foliage is thick with thick-waxy like leaves.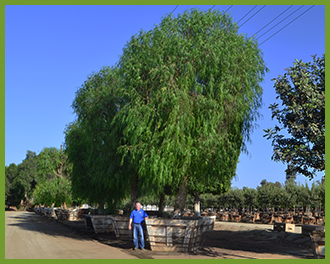 California Pepper
The California Pepper is a fantastic accent tree that is a favorite for the massive shade it produces, weeping graceful appearance, and exfoliating trunk. The California Pepper is an evergreen with an open spreading canopy that can handle the hot and cold months. One of the best aspects of this tree is that once it has becomes established it has very minimal water requirements. The trunk is gray when the tree is younger but as it gets older the trunk will peel exposing the red-inner wood.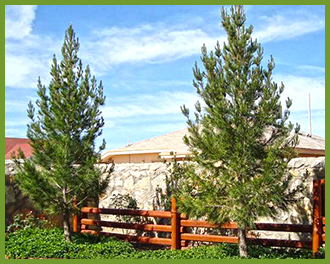 Eldarica Pine
If you've been If you've been looking for a way to keep that Christmas season alive all year long, look no further than the Eldarica Pine, which is also known as the living Christmas Tree. Native to the Caucasus Mountain of southern Russia, Afghanistan, and Pakistan, the Eldarica Pine is a very hardy evergreen pine that grows faster than other pine tree varieties, requires lower amounts of water, and it can provide a large amount of shade. It looks like a Christmas Tree with its classic cone-shape appearance and space between branches. Many customers purchase the Eldarica Pine and use it as a Christmas Tree before planting it in their landscape.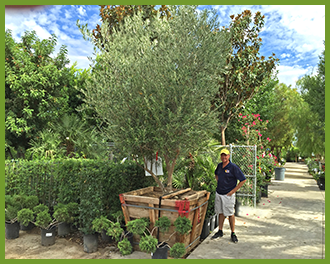 Fruitless Olive
As the title suggest, we offer the highest quality fruitless olive trees you will find in the Southwest. All of our olive trees come from our farm that has been producing olive trees and olive oil for more than 50 years. The unique, silver color appearance of fruitless olive trees have made them a must-have focal point for many homeowners. Its multi-trunk growth pattern creates an artistic look and will give off that 'wow' factor. Our olive trees will keep their leaves all year long and they thrive in both the hot and cold and require minimal water once established.
Moon Valley Nurseries is your one stop shop for all your landscape needs. Our experts have decades worth of experience and they will be able to assist you with any projects or questions you may have. Remember to change your watering schedule as we enter the winter and be sure to map a Moon Valley Nurseries location right here.