Lawn tips from the pros for winter lawn
It's easy to take for granted just how wonderful it is to be living in the Phoenix and Las Vegas area. Sure, it can get pretty cold by our standards, but at least it's not snowy with freezing temperatures.
One thing that we do take for granted is our beautiful landscapes during the fall and winter months. The majority of our trees keep their foliage, you can still have a vegetable garden, there might be some late seasonal flowers, and our lawns can stay green even in the coldest of Phoenix temperatures.
Our customers are always asking our nursery professionals how they can keep their lawn looking green and below are three of the most important aspects our nursery pros recommend to keeping your lawn looking green all winter long.
Proper Watering
Water is a crucial aspect of keeping your lawn looking green. When you first overseed you will want to keep your soil moist by watering it at least three times per day for very short periods of time. Once your seeds have begun to germinate and have grown to around 1-½ high you can cut back on the watering to just once per day. In time your lawn will become established and when that happens you can cut back to every other day.
You also want to water in the morning before the sunrise, This will make your water the most effective. Pro Tip: On nights when there is a chance of freeze, water right before the sun comes up. This will help create a microclimate that will reduce the chance of your trees and plants freezing in your landscape.
As we begin to hit early spring, it is important to remember to make the proper adjustment to your lawn, landscape and garden so they will continue to thrive into the growing season. Click on the blue button to subscribe for tips on proper garden and landscaping for the spring.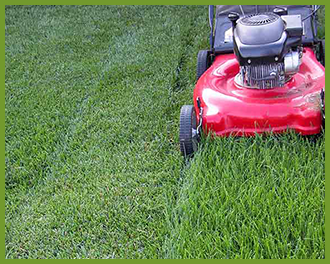 Proper Mowing
You need to wait at least 10 days before you give your lawn the first mowing after planting your winter grass. Keep in mind that you do not want to remove more than 30% of the leaf during mowing. Removing more than 30% may prevent the grass from its ability to photosynthesize and you may pull out the new seedlings. Once your ryegrass is established it's up to you to determine when you want to mow your lawn. If you like thick grass, let it grow. If you like shortener grass mow more frequently. Just remember that you can not mow more than 30% of the leaf at a time.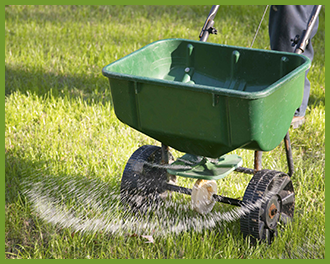 Fertilize
Our native soils can be tough at times, which prevents vital nutrients from being absorbed by our lawns. Whether you're having an issue or not, it's always a good practice to fertilize your lawn with a starter fertilizer to encourage growth. These are the main reasons why we created our Moon Royale Professional Turf Fertilizer. It includes a 19% (Nitrogen), 6% (Phosphorus), and 13% (Potassium) mix along with sulfur to heap breakdown tough soils and to fight the salts to keep your lawn looking green all winter long (click here to purchase today). Our Moon Royale is super easy to use either as a drop or broadcast type fertilizer spreader. Read the bag for complete instructions and application rates.
Now that you know all the crucial elements to keeping your lawn looking green all winter long you too can grow like a pro. If you have any questions be sure to visit any of our nursery locations. Our professionals will be able to assist you with anything you need.