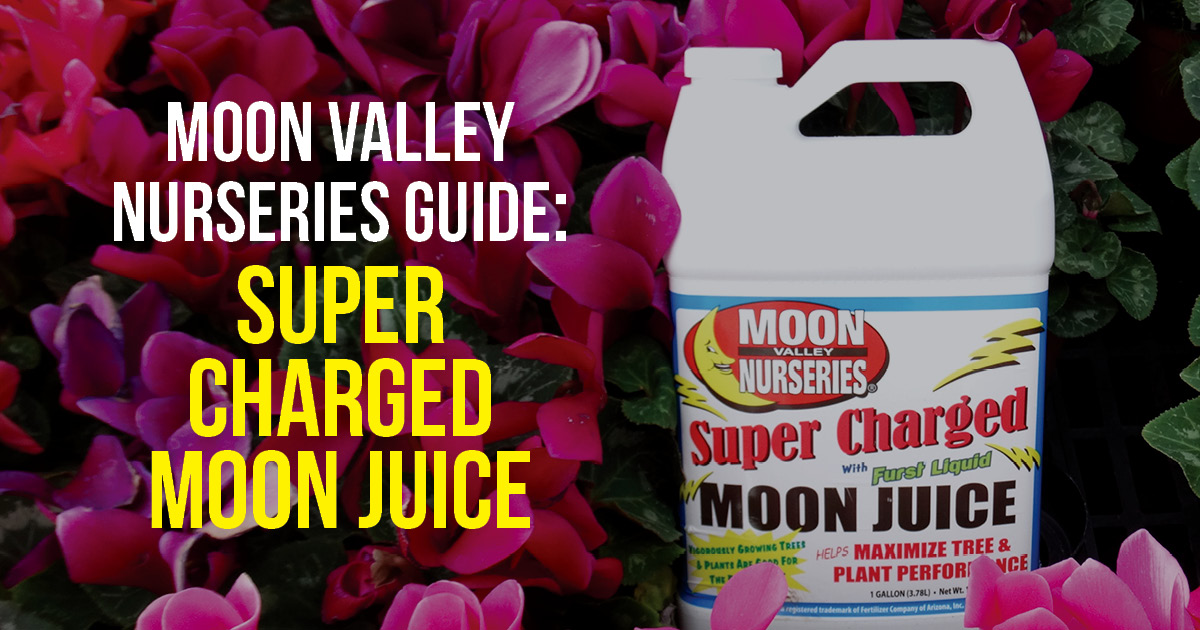 Maximize Tree and Plant Health in Your Landscape
Super Charged Moon Juice is designed to function similarly to the way adrenaline works in humans! It creates a burst of efficient growth-focused energy that's useful for trees and plants to recover from stress or to maximize new expansion during optimum weather conditions. Throughout each year, our trees and plants encounter many different types of stress, both natural and human-caused.
Natural stress can occur in any season, including cold, frost or freeze stresses in the winter, heat stress in the summer or wind damages during any season. Humans create stress for plants by transplanting, pruning, or even negligent care sometimes. Super Charged Moon Juice helps trees and plants recover better and faster. Even non-stressed plants will benefit from a burst of resilient growth during growing seasons.
How Super Charged Moon Juice Works
Each jug of Moon Juice contains Furst Class Concentrate. This is a patented, proprietary blend of organic vegetable proteins and amino acids. When this specific formula is introduced into a plant's vascular system, it triggers new growth in the foliage, branches, and root hairs. With that new growth comes the added benefits of improved water and nutrient uptake, allowing for more efficient photosynthesis. This results in a significantly improved appearance, nutrient usage, and overall health of the plant.
Along with our patented Furst Class Concentrate, we've added three essential micronutrients: Zinc, Iron, and Manganese. They are vital in helping to create various enzymes to maximize the photosynthesis process. Finally, we've included Thiamine mononitrate (B1) long known for its ability to minimize stress on new plants. This nutrient also has a beneficial effect that can help them grow larger than average!
Once your trees and plants begin the ever-improving health cycle that Super Charged Moon Juice enhances, you'll realize benefits in many areas. You will see more blooms, higher fruit production, better and greener foliage, and improved ability to resist diseases and recover from pest damage.
Using Super Charged Moon Juice Can:
Enhance the root growth

Improve the ability of plants to ward off diseases

Maximize tree and plant performance

Keep roots stronger through the winter and potential frost

Enhance the ability to ward off possible infections from outside sources

Help plants prevent and recover from the stresses caused by extreme events such as weather, transplanting, or heavy pruning.
How to Use Moon Juice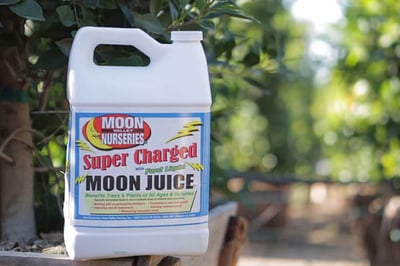 For Trees and Palms: Mix 5 tablespoons per gallon of water. Saturate entire root area with mixture.
For Shrubs and Vines: Mix 4 tablespoons per gallon of water. Saturate entire root area with mixture.
For Bedding Plants: Mix 3 tablespoons per gallon of water. Saturate planted area with mixture.
For Potted Plants: Mix 3 tablespoons per gal. o

f wate
r. Saturate potted soil until medium wet.
Don't worry, using Moon Juice is very easy! In fact, all you have to do is read the easy-to-follow directions labeled on the package! Just mix with water and apply to the root area of your trees or plants - it really is that easy! We recommend using Moon Juice three times a year at minimum during spring, summer, and fall. The amount you want to use will vary by the size and type of trees and plants, so be sure to read the usage directions on the label, and you are good to go! Always be sure to water trees and plants thoroughly after applying any nutrients and fertilizers.
Expert Tip: Apply Moon Juice monthly to keep your landscape in optimal health and looking great all year.
Where Can I Get Super Charged Moon Juice?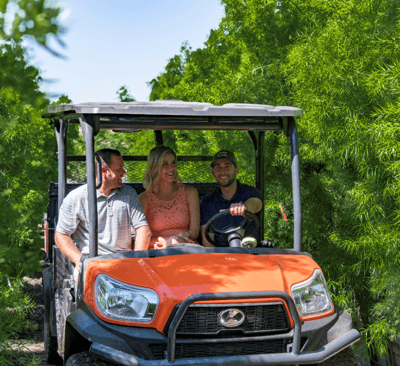 Moon Juice is available at any of our Moon Valley Nurseries locations and online! Anyone can take advantage of this fantastic blend to help your trees and other plants thrive under a slew of environmental conditions! Click here to find your nearest Moon Valley Nurseries location and be sure to check out our complete line of fertilizers and nutrients specifically for your area. Our Nursery pros can help you create a plan that is perfect for your yard so head on over now!