Back to main Blog
Luke Kalawsky
Luke Kalawsky has a passion for all things trees, plants, and landscape design. He has designed numerous landscapes as the head designer in the Surprise, Arizona region until he became a manager of our Central Phoenix Nursery. He now dedicates his knowledge, expertise, and creative capabilities to help the masses discover how to design, plant, and maintain their landscapes with his writings.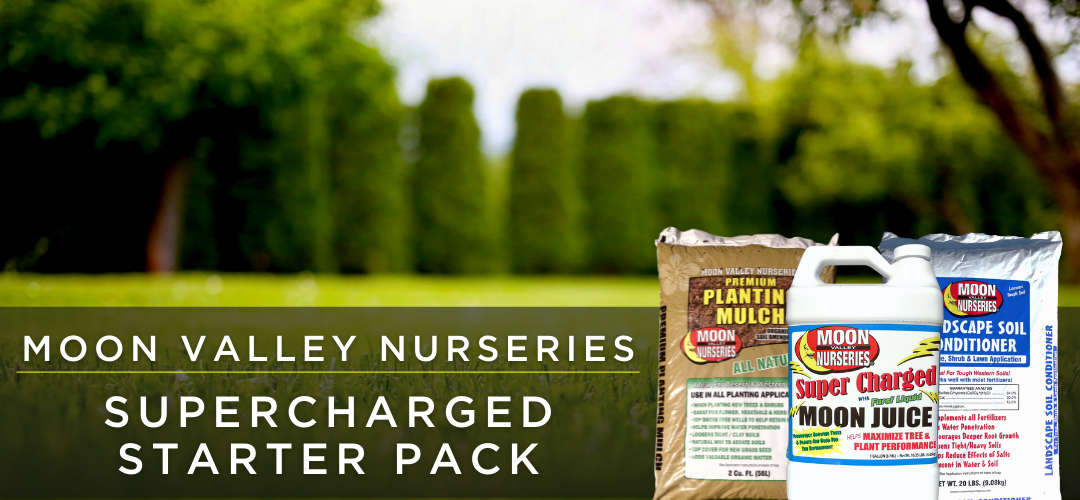 Why Use The Moon Valley Nurseries
Supercharged Starter Pack?
With the Moon Valley Nurseries Starter Pack, you can plant your trees and plants with the same proven nutrients, soil treatment, and mulch our pros use when planting yards! Put our 25+ years of experience to work and keep your trees and plants at peak quality all year round!
Our Starter Packs Include:
Moon Valley Nurseries Landscape Soil Conditioner™: We use our Soil Conditioner to amend the soil around each and every tree and plant we place in the ground. This proprietary mixture breaks up tough soils and balances the PH to offer your new plants maximum health, nutrient uptake, and growth potential.

Super Charged Moon Juice™:

This custom blend of nutrients and amino acids jump-starts your new trees, palms, and shrubs, helps them to establish more quickly and allows for stronger, more vigorous growth. We use this on every plant, in every one of our nurseries, and on every planting job.

Premium Planting Mulch™:

Our premium mulch is tailored to retain moisture and insulate planting areas. During our professional installations, we use our mulch in combination with a natural well created from native soil to provide a gradual release of water, supplements, and nutrients.
Our Starter Packs are available on all orders including "Cash and Carry" purchases. When purchased with a cash and carry order – this will give your tree or plant a 90-day transplant warranty just as if it had been planted by our expert planting teams.
How To Use The Moon Valley Nurseries Starter Pack:
After the hole for your new tree or plant has been dug, use Landscape Soil Conditioner to amend the soil at the planting location. Do this by applying the proper amount following the directions on the bag. Mix this with native soil prior to placing your new tree or plant in the hole.
After you have planted your new tree or plant, backfill with native soil, and create a well around the planting area using more native soil. Layer the inside walls of the well and up to the trunk of the tree with our Premium Planting Mulch. This helps hold moisture allowing the water to penetrate deeply and saturate the entire root system, while not evaporating too quickly.
Finally, apply Super Charged Moon Juice according to the instruction on the container and thoroughly water the mixture in.
Pro Tip: If you are inexperienced in planting trees and plants, we recommend cutting the bucket or container away from the roots before planting. Cutting, rather than pulling the container off, helps to preserve the root system of your new tree or plant.
After Planting:
Continue to apply appropriate water to your new tree or plant. You can find watering guidelines specific to your plants in our watering guides, found here! (link)
Use Super Charged Moon Juice weekly for the first month to help reduce transplant shock.
After your new tree or plant has been in your yard for a month, you can give it its first application of Moon Dust™, our all-purpose landscape fertilizer. We recommend fertilizing your trees and plants on a monthly basis from spring to fall, starting on Valentine's Day, and ending on Labor Day. If you do not have any Moon Dust, you can pick some up at any of your neighborhood Moon Valley Nurseries locations.
Using the Moon Valley Nurseries Starter Pack and following this guide will set your newly planted trees and plants up for success. Our nursery pros are always available to provide additional information and help. Feel free to give us a call, check out our website, or stop by your local Moon Valley Nurseries today!