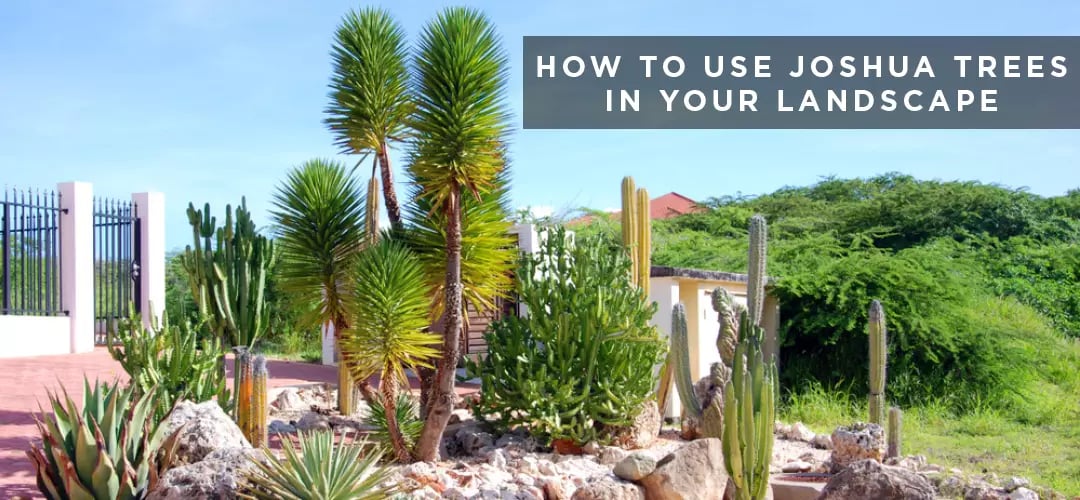 As the namesake of Joshua Tree National Park, Joshua Trees have created quite a stir over the years for their strange yet artful and majestic appearance. They have been featured as the subject of songs, movie scenes, and travel guides for the last several generations.
Recently, social media influencers, travel vloggers, and photographers have furthered the fame of Joshua Tree National Park and its unique denizens to world-renowned levels. The fact that Joshua Trees naturally grow exclusively in the Mojave Deserts of Arizona, Utah, Nevada, and Southern California nurtures an air of mystery surrounding these almost alien-looking plants.
So, What is a Joshua Tree?
Joshua Trees belong to a family of desert-native plants known as Yucca. They are also known by their botanical name, Yucca brevifloia, and are considered the most iconic plant in the species.
Joshua Trees grow slowly into a multi-branched tree-like shape with patterned, greenish-blue foliage. They produce clusters of creamy, white flowers during the late winter and spring.
These are a perfect accent plant to act as a focal point in Sonoran or Southwestern landscape styles, and they can act as a living work of art in modern landscape designs. Their unique, patterned growth and beautiful flowers help to add year-round interest and curb appeal wherever they are planted. 
Can You Plant Your Own Joshua Trees?
Of course you can! While you are not allowed to remove these yuccas from Joshua Tree National Park or other protected regions, you are able to bring home your own if they have been grown at a nursery. At Moon Valley Nurseries, we carry a large selection of Joshua Trees, each with its unique character and charm.
Because of the slow-growing nature of the Joshua Tree, we recommend having more mature specimens planted to enjoy the dramatic structure and appeal of these beautiful plants. Older Joshua Trees make for excellent statement plants and focal points in your landscape. They contrast wonderfully with other plant life in almost any landscape style and cause flowers and colorful plants to really pop!
On the flip side, younger Joshua Trees perform very well in pots and planters. They can be grown alone or alongside other plants, succulents, agave, or cacti to create an attractive arrangement with Southwestern flair.
In either case, we highly recommend installing landscape lighting to showcase the exotic shapes of your Joshua Trees at night. This way, you can have jaw-dropping curb appeal day and night!
How to Design a Landscape with Joshua Trees
If you need some more inspiration or are unsure how to incorporate these beauties into your yard, we are happy to help! Our professional landscape designers love creating gorgeous designs in a wide variety of styles. If you've been wanting Joshua Trees in your yard, but don't know where to begin, give one of our local designers a call. They offer free consultations at all our nursery locations and can come out to your home as well!
They will guide you through the process of expanding your landscape design to include Joshua Trees and any other plants. Whether you want to add one or two to your yard or completely overhaul your landscape, our designers are just a call away.
How Do You Care for Joshua Trees?
Joshua Trees are a favorite amongst homeowners looking to add a Southwestern showpiece to their landscape because they require very little maintenance and look fantastic year-round.
They prefer dry, well-drained soil and infrequent watering schedules. We recommend watering them at similar intervals to drought-tolerant cacti. You want to be careful not to overwater. Remember, these are desert native plants and can handle extended periods without water or rain.
Joshua trees do not need to be trimmed as the leaves become their textured trunks as they die off to make way for new growth. Occasional applications of cactus fertilizer, such as our Desert Juice™, can keep the leaves vibrant and full of color while also helping to increase the number of blooms.
For any other questions about caring for your Joshua Trees or any other trees and plants in your landscape, feel free to check out our library of plant care guides or give our nursery pros a call at any of our Moon Valley Nurseries locations. We are always happy to help you care for your yard and keep it looking its best.
Where to Find Joshua Trees for Sale?
At Moon Valley Nurseries, we have been growing Joshua Trees at our local farms for years and have a wonderful selection of the highest quality Yucca brevifolia.
Stop by any of our locations and our designers and nursery pros will help you choose the exact specimens with the shape and characteristics you desire. They will then coordinate to have our professional planting crews deliver and plant your new Joshua Trees so that you can relax and enjoy your own slice of Joshua Tree National Park right at home!
To learn more incredible yard care advice, design tips, and tree knowledge, check out our library of articles! We have a massive catalog of entertaining and informative articles written by our experienced nursery professionals to help you succeed with all of your landscaping goals.