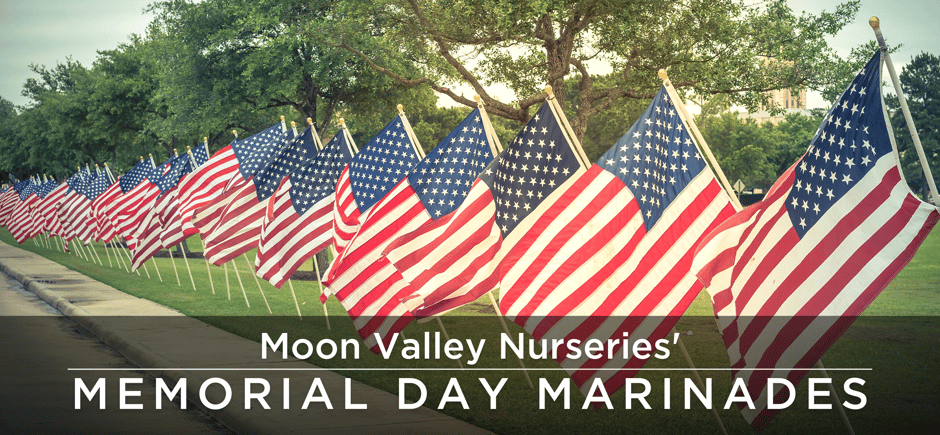 Memorial Day Weekend is here and before we break out the grill we would like to take a moment to honor those who paid the ultimate sacrifice for our freedom.

Many of us will be enjoying the beautiful weather this weekend with family and friends and if you're looking to make a statement at the annual BBQ, considering using fresh fruit and citrus as ingredients in your rubs and marinades.

Below are a few of our favorite recipes using homegrown lemons, limes, and apricots, as well as a few special herbs that are sure to impress your family and friends. All the fruit used in these recipes can be found on Moon Valley Nurseries' fruit and citrus trees and many of the herbs can be found at any Moon Valley Nurseries location as well!
Related: Check out these fresh fruit cocktail recipes for tasty & refreshing treats!
If these recipes inspire you to start your own fruit orchard or herb garden, feel free to talk to one of our nursery pros and we'll guide you to getting delicious produce right from the comfort of your own backyard!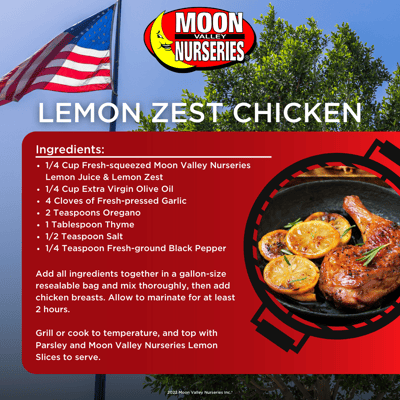 Lemon Zest Chicken
Ingredients:
1/4 Cup Fresh-squeezed Moon Valley Nurseries Lemon Juice & Lemon Zest
1/4 Cup Extra Virgin Olive Oil
4 Cloves of Fresh-pressed Garlic
2 Teaspoons Oregano
1 Tablespoon Thyme
1/2 Teaspoon Salt
1/4 Teaspoon Fresh-ground Black Pepper
Instructions: Add all ingredients together in a gallon-size resealable bag and mix thoroughly, then add chicken breasts. Allow to marinate for at least 2 hours.
Grill or cook to temperature, and top with Parsley and Moon Valley Nurseries Lemon slices to serve.
Cilantro
Lime
Steak
Ingredients:
1/4 Cup Fresh-squeezed Moon Valley Nurseries Lime Juice

1/4 Cup Extra Virgin Olive Oil

1 Cup Fresh-chopped Cilantro

4 Cloves of Fresh-pressed Garlic

1/2 Teaspoon Salt

1/4 Teaspoon Cumin

1/4 Teaspoon Chili Powder

1/4 Teaspoon Fresh-ground Black Pepper
Instructions: Mix in a gallon-size resealable bag and add steaks. Seal tight and allow steak to marinate thoroughly for at least 3 hours. Marinate overnight for best results.
After grilling, top steak with fresh Cilantro, Pomegranate seeds and a Moon Valley Nurseries Lime wedge as garnish!
Honey-Grilled Apricots

Ingredients:
4 halved & pitted Moon Valley Nurseries Apricots

3 Tablespoons Unsalted Butter

2 Tablespoons Brown Sugar

2 Tablespoons Honey

1 Teaspoon Cinnamon

1 Moon Valley Nurseries Lemon (cut into wedges)
Instructions: Lightly sear apricots on grill. Melt butter and brown sugar together in a large pan. Add grilled apricots to pan and thoroughly coat with butter mixture. Add cinnamon and honey to the mixture and continue to coat apricots thoroughly.
Once cooked, drizzle apricots with honey and Moon Valley Nurseries Lemon juice. Top with a scoop of creamy ice cream and a few mint leaves.
Grow Your Own Chef's Garden
Our nursery pros are available to help answer any questions about fruit or citrus trees for your garden. We'll guide you through the process of choosing the trees that produce your favorite fruits. You'll get to select the exact specimens that will be planted in your yard. Our expert planting crews will plant your trees with a complete 'white glove' service. Every tree and plant will be guaranteed and you'll have access to our full suite of informational and care advice resources. Give us a call or visit today and start growing your home orchard the right way!
To learn more incredible yard care advice, design tips, and tree knowledge, check out our library of articles! We have a massive catalog of entertaining and informative articles written by our experienced nursery professionals to help you succeed with all of your landscaping goals.