7 COMMON MISTAKES TO AVOID
The internet is filled with ambitious landscaping guides. Plans outlining lavish landscapes and lawns that seem nothing short of the divine. Yet for most families, such sophisticated guides end up becoming the ultimate source of confusion and frustration. Whether you're starting a lawn to enjoy the evenings with your family or to dazzle your friends with some lush green foliage in a beautiful landscape design — a list of things NOT to do in the yard is exactly what you need. Unless landscaping is more than a sporadic pastime for you, you'll be far better served by understanding and avoiding the blunders most beginners make. If that sounds intriguing, then you're going to love the following list of common yard landscaping mistakes curated by our experts. Be sure to take some mental notes as you read on.

1. NOT HAVING A PLAN
One of the surest ways to get overwhelmed is by starting a landscaping project without a proper plan. Unfortunately, planning for all the possibilities is easier said than done, especially for someone who lacks the experience. If that sounds like you, then you're in luck because our team of nursery professionals would love to design your yard for FREE. Our free design consultation is a simple 3-step process so you can stop worrying about the right number or mix of plants, and let our team bring your dream yard out of the dreams. You can learn more about our process here.
Sounds too good to be true? See it for yourself by exploring our directory of landscape designers.
2. NEGLECTING THE FRONT YARD
From water balloon fights with kids to barbecue with friends — the backyard is going to be a source of many joyful memories. However, don't let your pursuit of the perfect backyard stop you from focusing on the front. Doing so will be a huge mistake as the front yard has a massive impact on curb appeal and house value. A gorgeous yard with some large trees to shade the front and a few ornamental ones to create interest, then pairing it with exquisite flowering plants by the walkway can increase the value of your house by as much as 28%.
3. FORGETTING TO ACCOUNT FOR USAGE
When designing the yard, don't forget to make a list of things you and your family would love to do there. For instance, you may want a nice and soft shaded play area for your kids and pets. Maybe your spouse wants to attract butterflies and hummingbirds. Or perhaps the thought of having a lime tree next to the grill is an exciting thought. After all, who doesn't love a beer with some fresh lime when on BBQ duty? Perhaps the most important consideration is privacy from neighbors.
In any case, there's a lot that you need to account for and the thought of forgetting something might make your head spin. If that's the case, you should schedule a free landscape design consultation as all our designers are professionally trained to do one thing above all else: Design the yard with your needs in mind.
4. NEGLECTING PLANT PLACEMENT
Each plant in your yard may have different watering, sun, and shade needs. As such, you need to strategically plan the location of each plant. In fact, some plants may not be suitable for your yard altogether. That's why it's always a great idea to consult a professional first.

5. HAVING TOO LITTLE OR TOO MUCH COLOR
This is a tough one since the best color combination is subjective. However, if you want to use your yard for something more than a place of comfort, like say impressing your friends — some color density and combo rules are worth looking into. While a lot could be said on this, our experts recommend one rule of thumb to everyone: Don't put a lot of different colors in a small place. Why? Because our eyes simply don't love seeing a lot of colors at once.
6. FORGETTING TEXTURES AND FOCAL POINTS
Putting foliage of similar size, shape, and weight together can work wonders as far as appeasing the eyes. With strategic placement, you can put order to your landscape so it feels like a carefully planned design rather than a careless collection. On top of that, you can also divert eyes to a focal point by creating a sense of contrast with consistent textures around it. Your eyes want to go somewhere when you look at landscapes. With a focal point, you can give them that somewhere to look.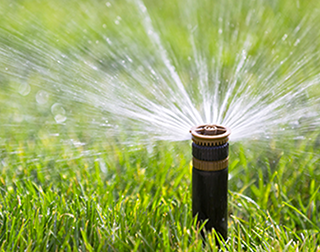 7. UNDERESTIMATING MAINTENANCE
Once your dream landscape has been brought to life, you may think that your job is done and that everything will take care of itself — but the truth is — landscaping a yard is a lifelong project. For instance, you'll have to trim and prune the trees and shrubs regularly. You'll also have to apply just the right amount of fertilizer at just the right time of the year. And you'll have to adjust watering routinely, which we have discussed in detail here.
Think of it like having kids or a new puppy. Just as a child or a puppy needs nurturing, plants need care too — only a whole lot less. Furthermore, you can simplify everything by keeping your ambitions in check with the amount of effort you're willing to put in. Luckily, this is another area our experts can help you in.
Want a low maintenance yard? We got you. Want an elaborate design that is absolutely enchanting? We got you. Want a more elegant garden you can hide from the outside world as you work on it? We got you. The point is, as long as you can imagine it, our experts can help you create it. To make your landscaping experience smooth and seamless, be sure to reach out to us with all your questions on landscaping best practices. Our nursery professionals would be delighted to help you.