Plant Now for Homegrown Fruit this Year
Having a yard filled with citrus and fruit trees is a rewarding experience for homeowners. Many of our citrus and fruit varieties grow at a moderate-to-fast pace, so you could be harvesting your own food in no time.
Not only are there amazing benefits to growing your own food, but our varieties also look great in any landscape style. Most varieties produce small, fragrant flowers for short periods throughout the year and add more shade to your yard!
Early spring is the perfect time to plant Moon Valley Nurseries citrus and fruit trees in Las Vegas Valley. Because of our custom-growing process and our quality rootstock, you can plant now and enjoy the tastiest citrus and fruit by the next growing season. Keep reading to see what you should start growing next!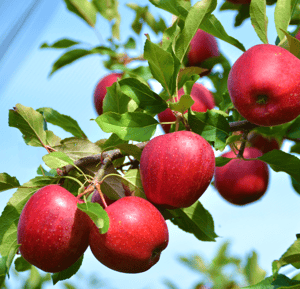 Apples have been a healthy part of our diet for more than 1,000 years, and these beautiful trees (with gorgeous flowers in the spring) will be a welcome addition to your yard. Apples can be used in so many ways, such as baking pies, juicing, and picking right off the tree and taking a bite!
The Anna Apple is perfectly suited for nearly all warmer regions like Southern Nevada. This variety is self-fertile with blooms producing in spring and fruit ripening in late spring to early summer. The Fuji Apple's juiciness, sweet flavor, and crispy texture make them ideal for eating fresh off the tree. Plant a mature apple tree now, and you might even get to harvest them before the season ends!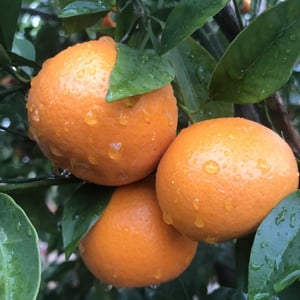 Tangerines are a hybrid of oranges, known for their distinctive bright orange coloring. One of the best perks of eating tangerines is how easy they are to peel, thanks to their thinner skin. They also come in handy for quite a few delicious cocktails!
The Sunburst Tangerine variety is popular because of their smaller size and intense sweet flavor. The fruit is in season from late fall through winter months and even bloom small, sweet smelling flowers.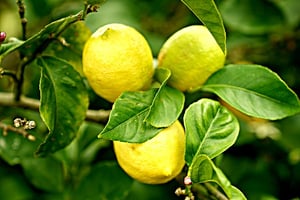 Lemon trees can be considered everbearing, as they often produce two crops per year. You can start harvesting your winter production any time between November and March, and your summer harvest between September and October. We offer different varieties, and our nursery pros can help you pick out the best lemons for your area.
The Meyer Lemon variety is considered to be a cross between a lemon and an orange. They are often smaller than regular lemons and taste less tart. The Lisbon Lemon is an excellent landscape tree that offers shade and fragrant blooms a winter/spring harvest. The Eureka Lemon tree produces large, juicy lemons with very few seeds. Once matured, this variety can also bring more shade to your yard.
Benefits of Planting Your own Citrus and Fruit Garden
Pesticide-free
Store-bought fruit is treated with multiple pesticides and chemicals. Unless you do your research, you have no idea what they are spraying on the fruit and citrus that are sold in our grocery stores.
Planting citrus and fruit trees give you control over how you grow your trees and what chemicals you do and do NOT use on them. There are many pesticide-free options, so be sure to ask our nursery pro for their recommendations!
Garden Fragrance & Flowers
Scented citrus blossoms in the spring are an intoxicating smell that can start taking over your yard by late winter, depending on the weather. The beauty of the flowers is also a great bonus for the landscape and overall curb appeal.
You Don't Have to Leave the House
Once you plant a few different citrus and fruit trees around your landscape, you can cut down on your grocery shopping. All you have to do is walk out and grab what you need from your own trees!
Fruit & Citrus Taste Better
Homegrown fruit and citrus will be sweeter, juicier, and more flavorful than store-bought, which are picked before they're ripe. Because they are picked too early, they can't develop the complex flavors and sweet sugar taste we all love. Growing your own food allows the fruit and citrus to ripen on the tree for the ultimate taste.
Moon Valley Nurseries Custom Citrus and Fruit Varieties
Moon Valley Nurseries owner, Les Blake, has a long history with citrus and fruit trees. His grandfather began growing citrus and fruit trees more than 50 years ago. Over these years, Les and his grandfather developed custom rootstock that is guaranteed to produce excellent tasting fruit and a plentiful harvest. We still use this custom rootstock at our farms to this day!
Come visit one of our many nurseries and see how decades of love and attention has led Moon Valley Nurseries to have the perfect fruit and citrus trees for our customers!
More from Moon Valley Nurseries Tips & Advice Blog
Click here to learn the best ways to improve your yard in just one day. Our pros go over different things to do in your landscape that can drastically improve curb appeal in no time.
Click here to learn about different landscaping styles you can create in your yard. Our experts go over the best trees for your favorite style.