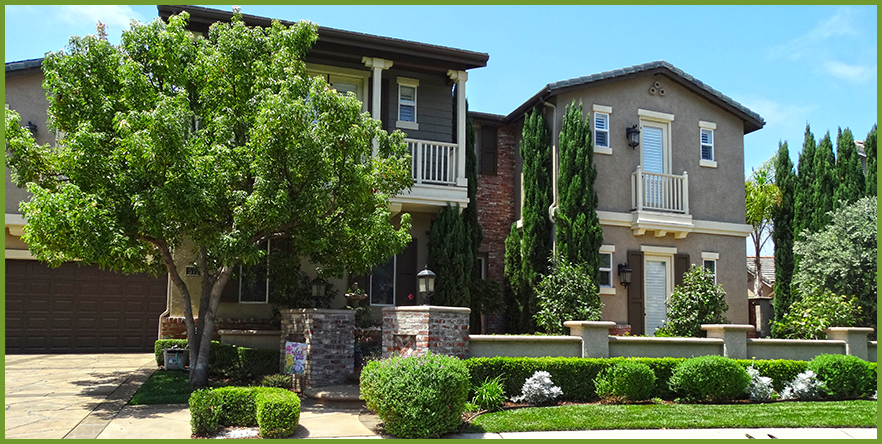 Whether you're a buyer or seller, the first impression of your home can make or break a deal, and it is quite often a home's landscaping is overlooked, underdone, and unmaintained. A well-thought-out and properly maintained landscape can add thousands of dollars to the value of your property. Research indicates that a professional looking landscape can add up to 15% to the value of a home. That's up to a $45,000 value increase on a $300,000 home!
Our nursery pros have laid out some important landscaping factors that can impact the value of your property.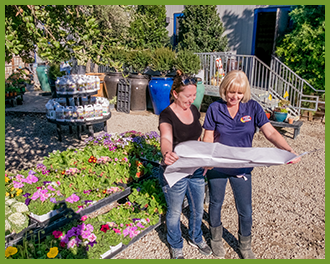 Design
We see this a lot. Homeowners do not have a thought-out plan, and their landscape often ends up looking messy and disorganized. Before you start planting, consider the style of your home. Would it look best with a water-wise, tropical, Mediterranean, or desert theme? These are important questions that can increase or decrease the value of your home. Consider speaking to one of our nursery design professionals or check out our blog for more landscape inspiration.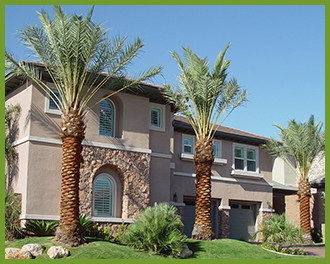 Planting Larger Trees
A quick and easy way to add instant curb appeal is by planting larger trees that can give off an estate feel to your property. Large trees such as the Ficus, Shamel Ash, Date Palm, and Chinese Elm add instant curb appeal and can really make your landscape stand out.
Tree and Shrub Placement
Planting trees and shrubs in ideal spots can really make or break your landscape. The last thing you want to do is to plant a tree or shrub that is too big for an area or one that is too small for an area. Remember to plant shade trees on an eastern or western exposure, which will help shade the home during the summer time which can lead to a reduction in utility bills. Before you plant, be sure to talk to a nursery pro about your landscape goals. They can help you pick out the best quality trees and shrubs for your yard.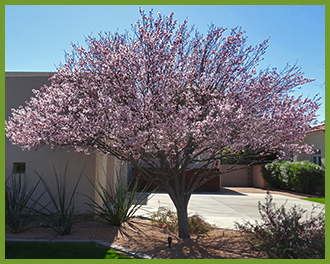 Color
Seasonal and year-round color are a fantastic way to really make your landscape stand out in the neighborhood. We are fortunate enough to live in a climate that allows us to plant a wide range of trees, shrubs, and seasonal flowers that produce some beautiful spring blooms and striking fall color. The color does not have to be a focal point as some of our varieties of trees are great for accent locations like the Purple Leaf Plum, which has deep purple foliage throughout the year and awesome pink blossoms in the spring.- a little wordy Other trees for color are the Jacaranda, Bottlebrush, Tipu, and Crape Myrtle which look fantastic from spring through summer. If you're looking for fall color, consider the deciduous trees, Arizona Ash, which has beautiful yellow leaves in the fall, or the Raywood Ash, which has rich burgundy leaves. For more color, check out our flowering trees and flowering shrubs.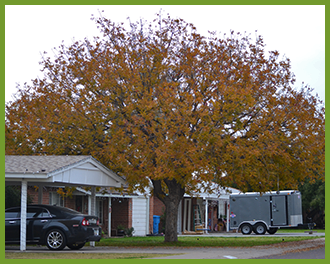 Think Through The Year
Seasons change and with that so does the look and feel of our the landscape. Landscapes that feature numerous deciduous trees may give off a dead or uninviting landscape in the winter. Evergreens such as the Ficus, Brazilian Pepper, and Magnolia are a great way to keep your yard looking green all year. Just remember to keep in mind that your landscape in the spring may look totally different in the winter.
Pruning
If someone wanted to live in a jungle, they'd move somewhere overseas (there are jungles in south America but i get what youre going for). No one wants to see a yard with dead branches and overgrown foliage. Regardless of the season, it's always a good idea to clean up your yard. It's a reflection of how you maintain your home.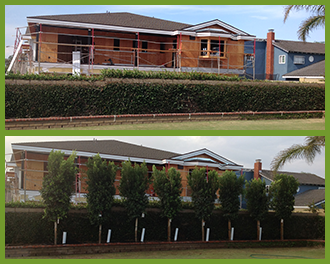 Hide an Eyesore & Block Nosy Neighbors
AC systems, pool pumps, and trash cans are a few of the obvious eyesores on our landscapes. The majority of landscapes have them and every homeowner wants to hide them. Fortunately, we are in luck, as these eyesores are usually just a few feet off the ground. Planting shrubs, hedge material, or small trees are a great way to block out these unwanted views.
Entry-way & Outdoor Pots
No one is going to want to walk inside your home if your entryway (which one is it?) looks like a spooky house from a horror movie with overgrown shrubs and dead branches. A properly maintained entry-way can really give off that wow factor. Consider edging the sidewalk or driveway with flowering annuals in garden beds or containers, which are super easy to maintain and they can be rearranged at any time. Many shrubs, agaves, and seasonal flowers thrive in our containers.
Weeds
Pulling weeds is without question the most loathed aspect of owning a home. We see thousands of landscapes with overgrown weeds and 99% of the time it makes the house look unsightly. In order to reduce the number of weeds or completely eliminate them, a pre-emergent should be applied at least twice a year. This is typically done at the beginning of the spring and fall growing seasons.
Keep it low maintenance
Sometimes it's best to keep it simple and even though you may love maintaining the lush vegetation on your landscape, the next homeowner might not like picking up leaves in the winter. Consider keeping your landscape clean with many trees and shrubs like the Ficus, Japanese Privet, Carolina Cherry, or Japanese Boxwood that keep their foliage all year long.
Add some curb appeal to your property today. If your looking to sell your home, trust the experts at Moon Valley Nurseries to help you accomplish your landscaping goals. Map the nearest location to you today.